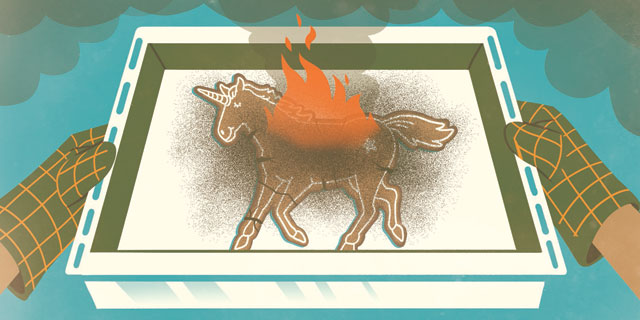 Which former unicorn went bust and is being sold for $7 million and is this really the beginning of the end for Silicon Valley?
CTech Daily Roundup: Fed chairman Powell's revolution has major ramifications for Israel's monetary policy
Analysis | Fed chairman Powell's revolution has major ramifications for Israel's monetary policy. Powell has initiated the first step towards a change that will alter the monetary policy that has ruled the Western world over the past 50 years. Read more
Covid-19 will go away, the tech talent crunch will not, says tech veteran Yuval Eshel. Eshel, the CEO of custom software company Giga Real Time wants to launch an internship program for fresh-out-of-school programmers and says he needs $5.9 million in government funding to do so. Read more
Cultivating a sense of belonging is the number one challenge for companies right now, according to IncrediBuild's HR manager. IncrediBuild's Head of HR Ayelet Hammar talks to CTech about some of the ways the industry is expected to change post Covid-19.
Once valued as a unicorn, trustees now seek to sell bankrupt InfiBond for $7 million. Founded in 2014, InfiBond, which has undergone several pivots throughout the years, remains one of the local tech sector's most enigmatic companies. Read more
Foresight subsidiary Eye-Net to pilot accident prevention technology for Japanese multinational. Should the pilot prove successful, the Japanese company may integrate Eye-Net's technology into its line of dashcams. Read more
Analysis | Covid-19 forced the Silicon Valley to break out of its bubble. Entrepreneurship is still thriving, but the world's tech epicenter is adjusting to a reality where geographic location is no longer as important. Read more
How can an event production company survive when people aren't allowed to gather? When the coronavirus pandemic hit, B.Y Creative and Productions had to think outside the box. Read more
Opinion | Tech employer? A financial crisis is not the right time to forego employer branding. Some good reasons not to neglect your image in the eyes of existing and potential workers, even when the world outside is crumbling. Read more
DiplomaTech | Israeli innovation in demand for German auto industry's next-gen vehicles. Trade rep to Munich says post-Covid business practices make linking Israeli and German companies easier. Read more
Analysis | What's behind the timed resurgence of lawsuits against Teva? The Israeli pharmaceutical giant was hit with three legal blows over the course of a few days.
Read more