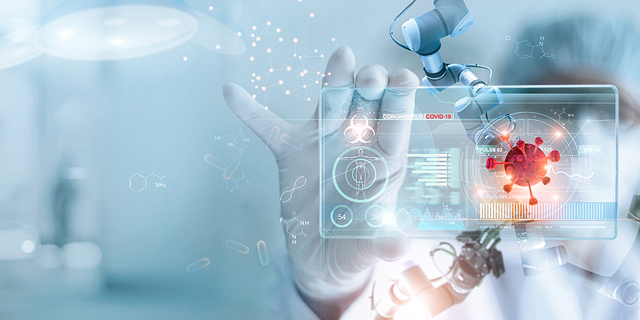 "Until a COVID-19 vaccine becomes available, modern tech can predict where epidemics will strike," says Johnson & Johnson's Chief Medical Officer of Global Public Health
Dr. Alan Tennenberg will speak at Start-Up Nation Central's interactive online conference "The New Digital Age: The Role of Technological Innovation in the Post-COVID-19 World"
Einat Paz-Frankel, Start-Up Nation Central, a CTech Partner
|
17:05 03.09.2020
How much has changed in the way we confront viruses since our ancestors were dealing with the Spanish Influenza of 1918? Is there anything we can do beyond hygiene, quarantines and social distancing until a COVID-19 vaccine becomes available?
To address these questions and many more, Start-Up Nation Central will host an interactive online conference entitled "The New Digital Age: The Role of Technological Innovation in the Post-COVID-19 World," where entrepreneurs, policymakers, corporate executives, and thought leaders will discuss the most urgent questions and attempt to answer some of the world's greatest concerns these days.
One of the world-renowned experts who will speak at our conference is Dr. Alan Tennenberg, Chief Medical Officer, Global Public Health, at Johnson & Johnson (see ad below for session information). Trained as an infectious diseases physician, he has 25 years of experience in the healthcare industry. At pharmaceutical giant Johnson & Jonson, he is responsible for building strategic partnerships with key stakeholders in the government, academia, multi-lateral institutions, and non-governmental organizations around the world.
Dr. Tennenberg was recently named to the U.S. National Biodefence Science Board (NBSB), which provides expert advice and guidance to the Secretary of the U.S. Department of Health and Human Services and the Assistant Secretary of Preparedness and Response on public health emergency preparedness and response.
We sat down with Dr. Tennenberg to talk about curbing the spread of the virus, and mitigating future pandemics.
Question: When should we expect to see the first COVID-19 vaccine? Johnson & Johnson, among other companies, is in the race.
Answer: We're looking at another year; we will see the first vaccines introduced very late in 2020 or early in 2021, but it's going to take months for those vaccines to be scaled up in terms of adequate numbers of actual vaccine doses.
The Johnson & Johnson vaccine is one of many vaccines that are being developed, and it's an experimental vaccine, so we still don't know how effective it will be, and there are still a lot of unknowns along the development pathway. We started human studies in July, and if all goes well, we'll go into larger-phase testing, after which the vaccine could be made available under emergency use authorization from regulatory authorities.
The challenge here is developing the vaccine, the science, and proving that it's safe and effective; then come manufacturing and distribution. We've never been in this situation before where we wish to immunize several billions of people in a short period of time. There are limits on the technology side, on the manufacturing side, and on the supply chain side. All those things need to be reconciled.
To read the full story, click here.