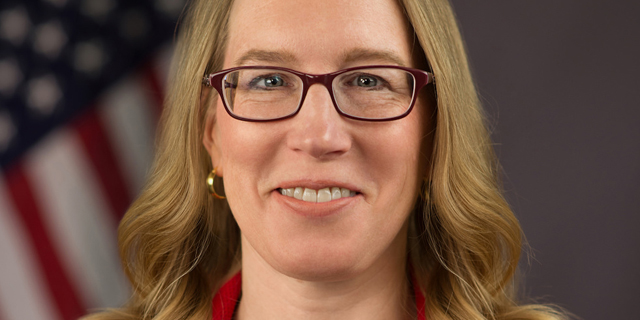 Interview
SEC Commissioner Hester Peirce talks about regulators' role amid widespread uncertainty
Peirce believes financial innovation can ultimately decide who is included and who is excluded from the marketplace and how increased participation can lead to a better economy as a whole
Allon Sinai
|
18:54 04.09.2020
With the pace of innovation seemingly on a parabolic rise, it has become quite clear to any country, big or small, whether it be the U.S. or Israel, that lagging behind comes at a steep price.
Regulators play a major, and often underappreciated role, in determining the speed and spectrum of innovation. This is especially true when it comes to financial innovation, which according to U.S. Securities and Exchange Commissioner Hester Peirce can ultimately decide who is included and who is excluded from the marketplace and how increased participation can lead to a better economy as a whole.
"We tend to be very conservative and very risk-averse as regulators. That is understandable because if there is a problem people will come back to us and blame us for the problem," Peirce told CTech this week. "Part of what I'm hoping to do is to convince others that it is worth taking more risks because some of that innovation in the financial sector is exactly the kind of thing we need to do to address some of the concerns that we are seeing in society in large. Financial innovation can be a way to rethink how financial services get delivered to people. It can make the delivery more efficient so maybe people who were excluded before are now included. I'm a big believer in the power of the capital markets and I really want participation in our capital markets to be as broad as possible. We want people to be benefitting from growth in the capital markets. We want people to be able to get funded through the capital markets. So to me it is really exciting to think about how innovation can make it easier for more people to participate so if we lose that we are really losing out on a lot. It is not just about losing out on people in the financial sector, it is really about hurting the economy as a whole."
Israel's tech ecosystem is a leading player in global fintech innovation, something Peirce is well aware of. "I think there is a lot of innovation going on in Israel. There are close ties between our two economies which is beneficial for people in both countries," said Peirce. "We have capital markets that people all over the world like to come and raise money and I think that is a wonderful thing. As with other things, if you decide to come to our markets you have to comply with our rules and I think that people come to our markets because we have a high-quality regulatory framework."
The SEC is an independent agency with the primary responsibility for enforcing federal securities laws, proposing securities rules, and regulating the securities industry, which includes America's stock and options exchanges. There are five commissioners at the commission, with one of them, currently Jay Clayton, also serving as the agency's chairman.
"The role of the commissioners is to vote on all of the regulatory actions and the enforcement actions that the commission takes. There are some things that the staff can do without a commission vote but ultimately everything cascades up to us," explained Peirce.
Peirce was sworn last month into her second term, which will last until June 2025. Peirce, a Republican, was formally nominated to serve a second term in June by U.S. President Donald Trump.
Peirce and the rest of the SEC employees are still working from home, with the Covid-19 pandemic presenting a range of challenges for the agency.
"We are fulfilling all the same functions that we did before Covid-19, but at the same time, we have new obligations and a new role. From March, our time was really spent on dealing with requests for relief from people. A lot of our rules are paper-based and assume that people are in offices so we provided relief with things like signatures," Peirce said. "Part of our concern was obviously how well will the markets function in dealing with processing the information about Covid-19. Because that is a big function of what the markets do. People are conveying their expectations about what will happen to the economy so we want markets to function really well. I was personally very happy to see how well the markets did function despite all the things that were going on. Despite the fact that people weren't in the office they were still able to keep the markets up and running. There was a lot of volatility and a lot of volume but the markets handled both of those things very well. But that is certainly always a challenge. And then I think just trying to figure out how to move forward with our regular agenda. Obviously we have got a workforce that is eager to work so doing that in a way that also respects the fact that there is other stuff going on so people outside will have a little less time and attention to what we are doing."
Peirce said that as a regulator she shouldn't be voicing an opinion on what the markets are doing and the ever increasing gap between the performance of markets and the struggles being experienced in the real economy. "It's not the role of the SEC to calm markets. It is the role of the SEC to have a regulatory framework in place that makes sure that markets can work during times of volatility as well as during times of calm. Markets react to things other than regulation and we respect the fact that markets go up and down," she explained. "I want our markets to be efficient and reflect what people are thinking about the future and their expectations about the long term value of companies. We want to make sure that markets are able to operate in a way that people can reflect that. It's really not about us trying to decide what is right or wrong in the marketplace or in prices. That is the role of the market participants and that is the beauty of the marketplace. It brings together disparate views and people all bring their knowledge from their personal experience, location, what their hopes and fears are, and that all gets reflected in the market. It really isn't our role as a regulator to try to centrally determine those kinds of things."
One particular aspect Peirce and the SEC are keeping a close eye on are special purpose acquisition companies (SPAC) that have become increasingly popular over recent months as a method to enter the U.S. stock markets without completing an IPO. SPACs have been around since the 1980s, with their goal being to list on the stock market without any significant activity and then raising money from public and private investors and using it to purchase another company. The company that is acquired is merged into the SPAC and essentially receives the funds raised by the SPAC and a backdoor entry into the stock market without having to go through public due diligence. SPACs were initially a popular tool to defraud investors, but once the SEC regulated the matter in 1992 it essentially stopped, at least until recently.
"It is certainly something that we are watching," said Peirce. "But there are different ways for companies to grow and come into the public markets and there are different ways for people to deploy their capital so this is one particular way that some investors seem to be choosing. My goal is to maximize investor choice but to also make sure that people have the information that they need to have.
"This ties into the same kind of theme that I think people are very well suited to make a determination about how to spend their money and what their skills and abilities are and what their risk tolerance is and so forth," she added. "I would prefer to see a system where we make sure that investors have opportunities but also make sure that they know what level of protection they are getting from the SEC and encourage a culture where investors are pushing to get information before they invest and to make decisions based on information rather than hype."
Peirce was one of three Commissioners to vote last week in favor of adopting amendments to the definitions of "accredited investor" and "qualified institutional buyer" (QIB) to bring additional categories of persons and entities within the scope of the definitions. In a statement released following the vote, Peirce said: "Why shouldn't mom and pop retail investors be allowed to invest in private offerings? Why should I, as a regulator, decide what other Americans do with their money?"
"The rule that we adopted last week was limited to financial professionals and made some changes on the institutional side so that more institutions would qualify to be accredited investors but it also opened the door to the idea that certifications or education could be the basis to determining whether someone is accredited," Peirce told CTech. "So I think it is a sign that there is an openness to moving forward."
Peirce's view on markets and position on the way cryptocurrencies should be regulated have affectionately earned her the nickname "Crypto Mom." She believes that U.S. regulators haven't been as nimble as other jurisdictions when it comes to the crypto space and haven't provided sufficient clarity.
"Part of that does stem from having a regulatory regime that is split up not just between Federal and State but also between so many Federal regulators. So in some sense, it is harder for us than it is for other jurisdictions. But I still think we have been a bit complacent. Crypto innovation has been happening quite quickly so I think it is difficult for regulators, in general, to get their arms around what the space is going to look like in five years and what kind of changes are we going to see from it," said Peirce. "There has been a reluctance perhaps because of a lack of vision to provide guidance so that people would want to do their innovation here in the U.S. and would want to involve Americans in their projects and that makes me sad."
Promoting innovation in the U.S. is in many ways at the center of what Peirce is hoping to achieve in her second term.
"My goals for the next five years are to continue some of the work I have done with respect to trying to open us up to innovation. Looking at different ways that we can ensure that companies all along the spectrum are getting access to capital and getting access in a way that is not prohibitively expensive," she explained. "Some companies have it very easy and it is easy for them to get capital but others have a much harder time. So trying to understand what it is that causes some companies to have difficulty based on location or other factors that shouldn't matter when you are trying to raise money. Another piece of what I'd like to do is just continuing to press on areas where we need to think better on due process and liberty considerations when we are making rules. And I think that post-Covid there will be a need for us to think how well did our rules work and are there changes we need to make in any of our rules to make sure that we are even better prepared if something like this happens again."