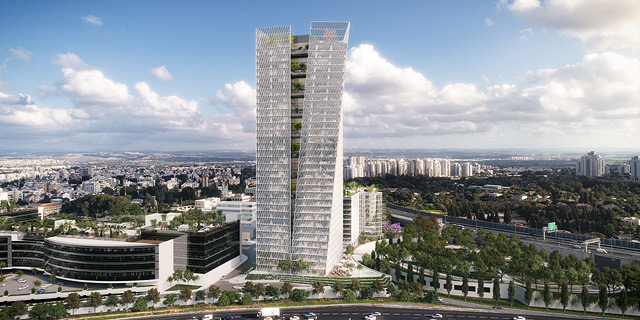 Office space market crunch forces construction companies to get creative
Israeli construction firms Reit 1 and Saan Zahav are investing $32 million in converting a basement in a Ra'anana tower into a server farm following Amdocs departure
Shlomit Tsur
|
10:39 07.09.2020
The uncertainty in the office space market is forcing real estate companies that began building prior to the Covid-19 pandemic to find potential tenants they wouldn't usually have considered. With software giant Amdocs, which
announced
a major layoff plan back in July, expected to vacate its offices in the Infinity Park Campus in Ra'anana, construction companies Reit 1 and Saan Zahav Development and Construction are planning to invest over $32 million in building a server farm in the basement of that same building to serve future tenants.
The two companies are currently building a 30-floor tower on the campus, which in all includes 150,000 square meters of office space and 10,000 square meters of commercial areas.
Major companies like the Azrieli Group and telecom giant Bezeq have entered the data centers space over recent years, building server farms and then renting their services to companies to save them setting up their own servers in their offices.
"The advantage of a server farm on a business campus is that during this current period many companies are combining work from home with work from the office and there isn't always a possibility to tend to incidents related to the server room, hurting employees' remote work and increasing the risk for security breaches," the construction companies said in a statement. "Outsourcing a server farm makes remote work easier and gives managers the confidence that precious working time will not be lost should the servers falter."