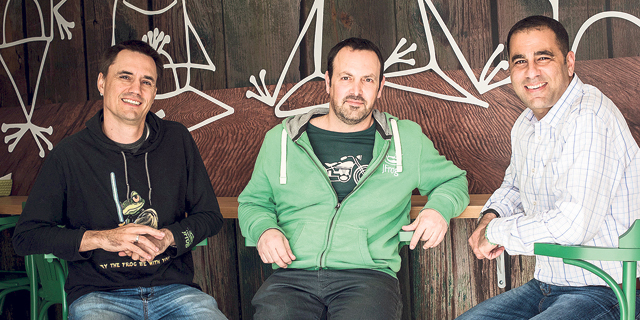 JFrog ready to enter Nasdaq with a bang
The Israeli DevOps company is selling shares to the public at $44 per share, which gives the company a valuation of almost $4 billion and makes it one of the largest IPOs of recent years by an Israeli technology firm
Meir Orbach
|
13:04 16.09.2020
The shares of Israeli DevOps technology company JFrog Ltd. will finally begin trading on Nasdaq on Tuesday under the symbol "FROG." JFrog announced on Monday the pricing of its initial public offering of 11,568,218 ordinary shares at a price to the public of $44 per share, which gives the company a valuation of almost $4 billion and makes it one of the largest IPOs of recent years by an Israeli technology firm.
Of the offered shares, 8,000,000 shares are being sold by JFrog and 3,568,218 shares are being offered by the company's existing shareholders. JFrog will not receive any proceeds from the sale of the shares by the existing sellers. The underwriters have the option to purchase up to an additional 1,735,232 ordinary shares from JFrog at the initial public offering price, minus underwriting discounts and commissions.
JFrog had initially planned to sell each share for $31, but increasing demand resulted in the price first rising to $41 and ultimately reaching $44.
The company will raise almost $430 million assuming the underwriters also purchase their stakes. JFrog was founded in 2008 by CEO Shlomi Ben Haim, Yoav Landman, and Frederic Simon. The founders will receive over $60 million for their shares in the IPO. Venture capital funds Scale Venture Partners and Qumra Capital will each also sell more than $40 million worth of shares. JFrog develops tools designed to streamline the coding process and automate software updates. Its technology is currently involved in most of the world's software updates. According to the company's filing, at the end of the second half of 2020 JFrog had more than 5,800 clients, including all 10 leading tech firms, eight of the leading financial services organizations, nine of the largest retail companies, and eight of the leading healthcare organizations. JFrog reported on sales totaling $128 million in the 12 months ending on June 30th, 2020.