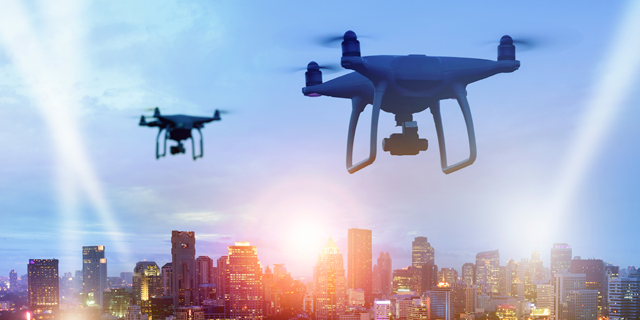 How high can JFrog jump and when will we see millions of drones in the skies?
CTech Daily Roundup: Israel and the UAE may have different dreams regarding the peace treaty
Analysis | Israel and the UAE may have different dreams regarding the peace treaty. While the United Arab Emirates hopes Israel will slowly help make it the next startup nation, Israeli entrepreneurs are hoping to land quick and lucrative investment deals.
Read more
"We'll save entrepreneurs the trouble of founding failing companies." Newly launched Team8 Fintech, which is focused on founding and scaling fintech companies, is aiming to fix the inefficient and wasteful process of founding a startup. Read more
JFrog ready to enter Nasdaq with a bang. The Israeli DevOps company is selling shares to the public at $44 per share, which gives the company a valuation of almost $4 billion and makes it one of the largest IPOs of recent years by an Israeli technology firm. Read more
A new $10 million MBA scholarship will support dozens of Israeli students at Wharton University. The Friends of Israel MBA Fund was established by Wharton alum Yuri Milner and his wife, Julia. Read more
Interview | "We're not yet seeing millions of delivery drones take to the skies, but we're taking giant strides to get there." Flytrex CEO Yariv Bash talks about his company's pilot program with retail giant Walmart and taking on Google and Amazon.
Read more
Radiology AI startup Aidoc raises additional $20 million for B round. Aidoc develops artificial intelligence-based medical imaging software designed to quickly analyze medical scans and help doctors prioritize the most urgent cases.
Read more
Tech experts agree: Covid-19 created growth opportunities for those who were quick to adapt. Israeli tech executives took part in a panel discussion on the future of Software as a Service. Read more
Firewall pioneer Check Point acquires Tel Aviv-based Odo Security. Odo Security developed cloud-based, clientless SASE technology that offers secure remote access to company assets by an unlimited number of users.
Read more
Life after oil: UAE aiming to tap into Israeli tech to meet future challenges. Edouard Cukierman, managing partner at Catalyst Funds and the chairman of Cukierman & Co Investment House, is convinced the relations between Israel and the UAE have a very bright future. Read more
The importance of finding and establishing your product-market fit according to Gigi Levy-Weiss. CTech presents a full chapter from Build Brilliant Brands, a new book released by Facebook, featuring articles by 22 tech executives from around the world. In this chapter, NFX co-founder Gigi Levy-Weiss explains the meaning of product-market fit, why it is so essential, and how both startups and major companies can go about achieving it. Read more
Horizon GreenTech Ventures 10-company portfolio acquired by SIBF. The deal is valued at $7 million, with part of the money going to the companies and the rest to GE. Read more
Opinion | Tech entrepreneurs, it's time to set your sights on Portugal. The government's pro-startup strategy makes it a contender to become a global tech hotspot. Read more