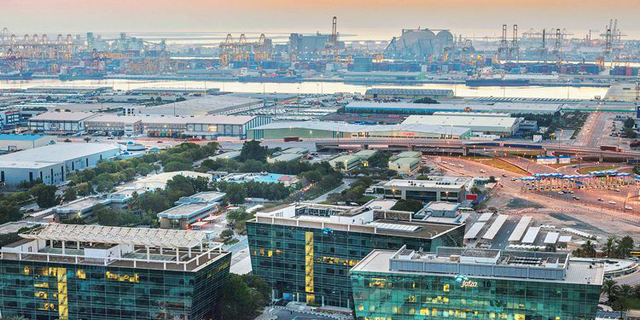 Why is Israeli tech's successful first half an illusion and how should you approach investors during Covid-19?
CTech Daily Roundup: It's time for Israel to capitalize on its strategic location, says DP World chairman
It's time for Israel to capitalize on its strategic location, says DP World chairman. Sultan Ahmed bin Sulayem tells Calcalist about his prior visits to Israel and his plans to make Haifa a bridge between continents. Read more
Interview | Co-founder of Team8: "Success requires that the stars align for you. We know how to align them." In the seven years since his discharge from the command of the Israeli army's elite intelligence Unit 8200, Nadav Zafrir has turned Team8, the cyber company group he established, into a mini-ecosystem. Now he's warning about the gap exposed by the coronavirus pandemic between cyber attacks and the defense systems meant to repel them. Read more
Analysis | Once you POP you can't stop? The POP surges of tech shares on their opening day of trading are showing no signs of slowing down, but not everyone agrees this is a good thing. Read more
Israeli tech's successful first half is an illusion, travel constraints will stifle the sector, warns investment banker. Edouard Cukierman isn't one to ring the alarm bells for no reason, but the current Covid-19 crisis in Israel and the belief by many people that Israeli tech is immune has got him deeply concerned. Read more
Interview | If you regulate them they will come: "Israel can be a leader in setting the stage for autonomous vehicles." Former Deputy Attorney General Avi Licht warns Israel not to fall behind in the race to be an early adopter of the technologies of the future. Read more
The 3 layers that affect human capital during Covid-19, according to Minute Media's Chief People Officer. Continuing our Post-Covid HR series, Liat Shahar joins CTech to outline three challenges that impacted human capital at Minute Media.
Read more
Israel's LGBT tech sector is finally being seen. The organization offers members of the LGBT community opportunities to network and celebrate their identities without fear of discrimination. Read more
Touchless.ai's speech-enabled technology will make touchscreens touch-proof. The technology can be used on menus or kiosks to help stop the spread of Covid-19. Read more
Celebrity content platform KRE8.TV raises over $1 million seed round led by Benson Oak Ventures. KRE8.TV's platform allows users to order custom made video content from their favorite creators, who can register for the application for free and have the freedom to charge as much as they choose.
Read more
Now more than ever, Israel's trade attachés are proving their worth. The Foreign Trade Administration directs Israel's trade policy and promotes Israel's tech and traditional industries worldwide by supporting and boosting Israeli exports and attracting foreign direct investment to Israel. Read more
The FinCEN Files: Israeli journalists expose local fallout from leaked bank documents. The Shomrim - Center for Media and Democracy - and Israeli journalist Uri Blau revealed on Sunday the involvement of Israeli companies and businessmen in suspicious money transfers exposed by thousands of leaked documents.
Read more
Ionir raises $11 million led by JVP for cloud service. The company, formerly known as Reduxio, announced the launch of a platform that allows the transferring, copying, restoration, and management of data of any size from the different cloud platforms. Read more
PipelBiz partners with the American-based Republic to fast track Israeli funding. The collaboration between PipelBiz and Republic will help ventures raise awareness to potential investors and consumers.
Read more
Best Practices on how to approach investors during Covid-19. As the cliché says, this is exactly the right time for the best to prove how great they really are and to rise above all odds. Read more