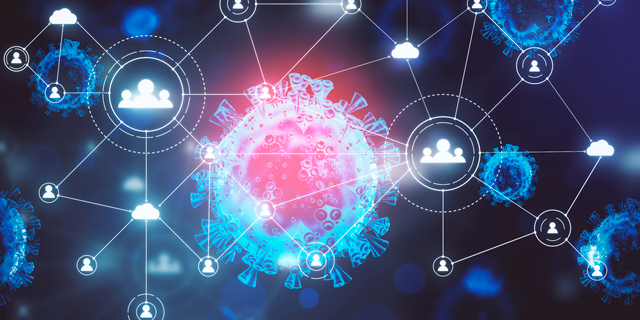 Executives from the WHO, IBM and Johnson & Johnson weigh in: Can technology prevent the next pandemic?
Global, open-source collaboration among governments, public health bodies and researchers will likely provide the gateway to a forthcoming vaccine, and to better pandemic tracking, containment and treatment, experts say
Start-Up Nation Central, a CTech partner
|
10:14 01.10.2020
The day before COVID-19 struck, it seemed that technology could solve nearly every problem we came across. Now, seven months later, we have learned that nature works in mysterious ways, creating threats and challenges, like a global pandemic induced by contact with a bat, that even technology cannot surmount.
In a panel discussion hosted by Start-Up Nation Central's CEO Prof. Eugene Kandel during the recent New Digital Age conference, Dr. Alan Tennenberg, Chief Medical Officer at Johnson & Johnson, Global Public Health; Dr. Peter Singer, Special Advisor to the Director General and Assistant Director General of the World Health Organization; and Dr. Michal Rosen-Zvi, the Director of Healthcare Informatics at IBM Research, shared their insights on the application of technologies and data to address the issue of global pandemics in general, and COVID-19 challenges in particular.
The panelists agreed that overall, global, open-source collaboration initiatives among governments, public health bodies and researchers are on the rise, and will likely provide the gateway not only to a forthcoming vaccine, but to better pandemic tracking, containment and treatment in the future.
In assessing how technology stands to improve our response to pandemics, Dr. Singer of the WHO asserted that areas for applying data and technology should be considered according to the three levels of existing pandemic response: At the first level are national and global leadership, which are inextricably tied to the support, engagement and trust of communities that are exposed to disseminated information. At the second level are measures to test, identify and isolate every case, which are data-rich exercises that, according to Dr. Singer, rely on a well-trained public health workforce. Finally, at the third level are new tools and approaches, such as the application of genomic data and translating it into a tool for diagnostic tests and vaccine development. Technology has a role to play at each of these levels, and, as Dr. Singer puts it, "In each of these, there are examples of good practices, and I think that there are opportunities for improvement."
One major area of improvement is in multi-stakeholder collaborations among researchers, governments, and national and international public health and medical institutions. One area where such collaborative efforts have been particularly successful in the current pandemic is in the development of vaccine candidates. According to Dr. Tennenberg, "there are about 320 vaccine candidates that are in studies, and 10% of those are now in human testing. This has never been done so quickly, and the focus on safety has never been so great."
To read the full story, click here.