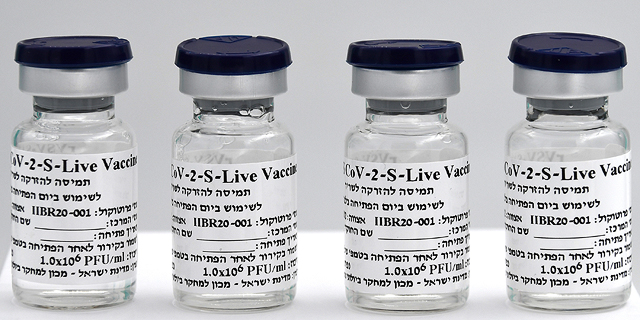 Interview
Israeli-made Covid-19 vaccine to be ready next summer
Head of Israel Institute of Biological Research says he is excited for what the future holds, adding "if there were five vaccines on the table, I'd choose the Israeli version"
Adir Yanko, Ynet News
|
18:31 26.10.2020
Prof. Shmuel Shapira, who serves as the Director of the Israel Institute for Biological Research in Ness Ziona said on Monday that an Israeli vaccine against the coronavirus (Covid-19) will be ready by next summer. "July 2021 will be a new realistic goal," he told Ynet News a few days prior to the start of clinical trials on humans.
The Ministries of Defense and Health along with the Biological Research Institute plan to commence the first clinical trials next week, on the first of November. In the trial, 80 healthy volunteers between the ages of 18-55 will be tested at the Tel Hashomer and Hadassah Medical centers. On Sunday, the trial vaccine will be administered to two volunteers, and their reactions will be documented. The vaccine will then be administered gradually to the rest of the 80 participants.
"We have come a long way, and there aren't any shortcuts. Other companies were able to take shortcuts, but we dealt with stringent Israeli and EU regulations. In the end, we aren't concerned about reaching the finish line first, our main concern is that our vaccine will be efficient and safe," he said.
So quality is more important than the time it takes to develop a vaccine? The Israeli vaccine is one of the best, and I'm speaking as both a doctor and an average person, not as the head of the Biological Institute. If there were five vaccines today, I'd choose the Israeli one." Would you have one of your children try out the vaccine? "I'd like to volunteer myself, but unfortunately have passed the age cutoff. Some of our researchers offered to be vaccinated, but this was dismissed for ethical reasons."
Will there be sufficient vaccines for the entire Israeli population? "I'm not sure, but our rate speaks for itself. Currently, we have 25,000 live vaccines in vials, and we need to produce an additional one million. The product has a short expiration date, which starts once it's put into a vial, but so far we have 25,000 vaccines that are ready to go." During the second stage clinical trials, which are set to begin in December, 960 healthy volunteers aged 18 and above will be tested. The test will be conducted simultaneously at various medical centers across the country and will further ensure that the vaccine is safe, while pinpointing the right dosage, and measuring its effectiveness. During the third part of trials, which are set to begin around April or May 2021, 30,000 volunteers will be given the vaccine. That will be the final step before it gains approval, and if all goes well, it will then be administered to the general population. Due to existing regulations, it is likely that part of the testing will be done overseas. "We won't have an issue finding volunteers for the second or third stage of the trials," Shapira said, "we have more people than we need. However, for the third stage I believe that to make it quicker and more efficient we might conduct most of the testing in other countries."