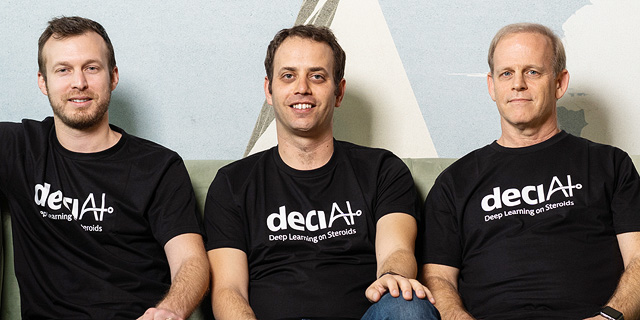 Deci raises $9.1 million in seed to help build platform that 'crafts' the next-gen of AI
The company has already partnered with industries relating to autonomous vehicles, manufacturing, communication, and healthcare
James Spiro
|
13:12 27.10.2020
Deep learning platform Deci has announced a new seed round totaling $9.1 million. The round was led by Israel-based VC firm Emerge and global VC fund Square Peg to help the company build an AI-based platform that can automatically craft robust, scalable, and efficient deep neural network solutions for production at scale.
"Deci is leading a paradigm shift in AI to empower data scientists and deep learning engineers with the tools needed to create and deploy effective and powerful solutions," said Yonatan Geifman, CEO and co-founder of Deci. "The rapidly increasing complexity and diversity of neural network models make it hard for companies to achieve top performance. We realized that the optimal strategy is to harness the AI itself to tackle this challenge. Using AI, Deci's goal is to help every AI practitioner to solve the world's most complex problems."
"It was clear to us that Deci has a highly innovative product that allows businesses to fully utilize their AI potential, but what sealed the deal for us was its people," added Philippe Schwartz, Partner at Square Peg. "We haven't seen such an experienced and driven team in this space and are sure they will only progress from here, innovating industries across the board."
"Deci's ability to automatically craft top-performing deep learning solutions is a paradigm shift in artificial intelligence and unlocks new opportunities for many businesses across different industries," added Liad Rubin, Partner at Emerge. "We are proud to have partnered with such incredible founders and be part of Deci's journey from day one."
Deci has already partnered with industries relating to autonomous vehicles, manufacturing, communication, video editing, healthcare, and more. Deci was founded in 2019 by Geifman, Jonathan Elial, and Ran El-Yaniv. Its Automated Neural Architecture Construction (AutoNAC) technology autonomously redesigns an enterprise's deep learning models to squeeze the maximum utilization out of its hardware. Square Peg usually invests in technology companies in Israel, Australia, and Southeast Asia focusing on series A and B stages. Emerge is an early-stage venture capital firm currently managing over $100 million. It has invested in companies from a variety of sectors, including Dynamic Yield, Aidoc, and more.