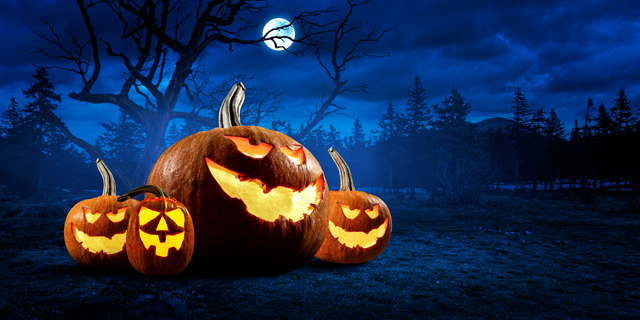 Opinion
Five patents you should know about for Halloween 2020
Masks, decorations, and social distancing - here are the patents that are keeping us safe in a Halloween spooked with Covid-19
Adv. Nathan Renov
|
19:09 29.10.2020
With Halloween approaching, inventors everywhere are hard at work thinking about better ways to set up their spooky decorations, easier ways to carve their pumpkins, more creative costume designs, all while being mindful of the global Covid-19 pandemic. In the spirit of having some Halloween fun while staying safe and healthy, here are five Halloween-related patents you should know about this year.
1) Chemiluminescent illuminated costume safety mask
This invention may be the perfect way to "wear your mask" while safely trick-or-treating at night in your favorite glow-in-the-dark mask costume! As explained in the patent, "It is well known that masks restrict visibility of the wearer and when the mask is worn when lighting is poor, the combination is most dangerous since safety is then dependent upon someone else, such as an automobile driver." The inventors therefore invented "a mask that can be shaped to simulate a human, robot, alien, animal or other feature such as a face, heart, kidney, spine, limb, veins, appendages," etc. The mask "consists of two pieces of plastic that are sealed together to create at least one cavity or passageway therebetween. The cavity houses chemiluminescent reagents that, when activated, provide self-illumination for safety as well as novelty use."
2.) Self-standing display figure
For those who are concerned about interacting with hordes of children during the pandemic but want to make sure all the visiting kids get their candy, this may be the perfect solution! According to the inventors, "a self-standing toy skeleton display includes a skeleton body that has a human form and is made of a plurality of connectable body parts that are each formed of bone structures…. The skeleton toy display also includes an inner frame for supporting the skeleton in a standing manner." Importantly, "(the) tray assembly and inner frame… are configured to hold up to 30 pounds of candy or the like." Just set up old Bones in front of your door and you'll stay safe while the kids get their treats – a win-win!
3) Weather and climate adaptive Halloween costume
With the pandemic and flu season upon us, now is not a good time to catch a cold. Typical Halloween costumes are made of thin, flimsy material which provide no warmth or protection from the elements. But who wants to wear their winter coat over their costume? And costumes made of heavier materials can be stiflingly hot inside. Fear not: these inventors have you covered – literally! The invention provides a weather and climate adaptive Halloween costume which "comprises several garment member portions which completely define the appearance of the Halloween character. The insulative material is disposed over at least a portion of the first garment base member portion. Another portion of the costume comprises a venting material which functions as a ventilator for the Halloween costume. At least one decorative member is secured to the Halloween costume. The decorative member further outlines the appearance of the Halloween character."
4) Pressure sensitive composite for decorating surfaces of fruits and vegetables and use thereof
Everyone enjoys a good jack-o'-lantern carving. However, it is impossible to know who previously touched your pumpkin and whether it is germ-free and safe to handle. Admittedly, this was clearly not the issue the inventors were trying to address (the filing date is pre-Covid-19!): their invention "is directed to a method and kit for transferring a pattern onto the surface of fruits and vegetables after which the pattern may be cut to present a decorative appearance." However, as can be seen in the figures, the invention enables the user to easily transfer a design to a pumpkin with minimal contact to the surface, keeping one's hands clean while preparing to carve. And as a bonus, the user of this invention may actually win this year's pumpkin carving contest!
5) Trick or treat toy
Finally, with children (and adults) practicing responsible social distancing, there is a challenge of giving and receiving candy from "six feet away." Thankfully, the inventors of this design patent have provided a monstrously good solution: the "Trick or Treat Toy." Treat-givers can place treats into the goblin's mouth, extended sufficiently far from the children holding the other end. Alternatively, children can reach into the mouth of the beast to retrieve candies placed there…if they dare!
All photos in this article are borrowed from the U.S Patent office files.
Nathan Renov is a Partner in the Patents Group at Pearl Cohen's New York office