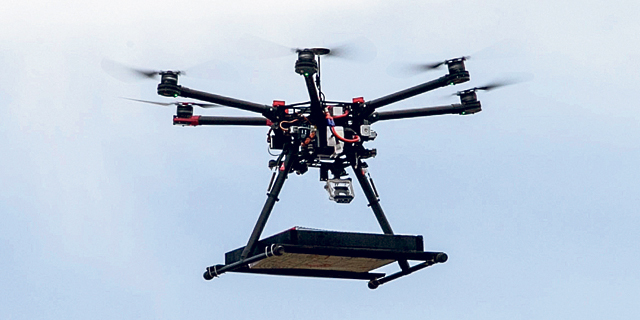 Delivery drones edging closer to becoming a reality in Israel
Drones are now being used at the Ziv Medical Center in Safed to deliver medicine and test kits within its complex
Udi Etsion
|
12:14, 03.11.20
The pilot for a national network of delivery drones in Israel continues to expand, with the Ziv Medical Center is Safed recently becoming the latest health organization to use UAVs for deliveries within its premises. The pilot began at the Dorot Geriatric Center in Netanya several months ago and the drones will be used at the Ziv Medical Center to deliver medicine and test kits within its complex, reducing, as a result, the contact between people, and the workload on the hospital's manpower, as well as accelerating the time of delivery. The main goal of the pilot is to allow the state to test out the regulation it is currently creating for the sector as part of the pilot programs for testing and demonstrating drone technologies in managed airspace (UTM).
Unlike military or recreational drones, autonomous delivery drones aren't controlled by humans at all times. Disrupting their GPS reception could cause them to lose their way and crash into a dense urban area. The goal is that in the case of a loss of signal the drone will automatically return to its launch site, or land at predetermined points along its route. However, in the case of a spoofing attack, the drone may not recognize that it has lost its way and could continue to fly according to its new instructions.
.
There are several companies that currently offer anti-jamming systems in the defense sector, but these are expensive and aren't suitable for civilian and commercial activity. "The sector of protecting civilian drones from disruptions is in its infancy and will grow together with the regulation in the space," added Baranes.