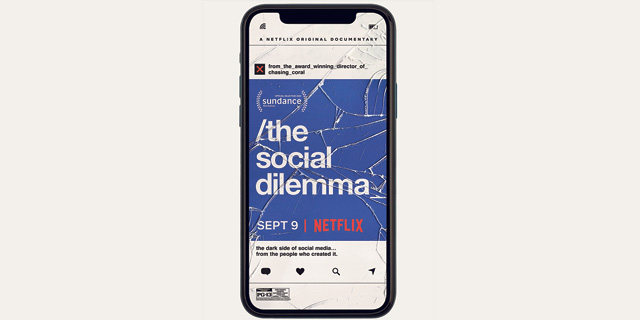 Opinion
Three things they didn't tell you in Netflix's 'The Social Dilemma'
The documentary is a case of good intentions that got a little off course and could use some fine-tuning.
Gal Ringel
|
14:54, 18.11.20
Unless you've lived under a rock for the past weeks, you've probably heard of Netflix's 'The Social Dilemma,' which made a serious splash worldwide. The movie, which includes interviews with executives from tech giants and discusses the danger of social media and data tracking, is the first documentary to make the list of most popular movies on Netflix. It has caused a Twitter storm and even got Facebook to release an official statement addressing some of the issues it touches. As someone who deals with online privacy challenges all day, every day, I was eager to watch it to find out if it provides any new information for a privacy-obsessed individual like myself. I was also curious to see how the movie explains this complex topic. While the creators did an excellent job discussing some severe concerns regarding the use of our data, here are three things they didn't tell you.
It's not the first time Netflix features a documentary about data privacy, the previous hit being 'The Great Hack' - both movies make me wonder if whether Netflix is unaware of the role it plays in the user data game - the streaming giant uses our data and tracks our viewing habits to draw us to watch more content. The company is even said to be tracking our physical activity. Most of the issues discussed in 'The Social Dilemma' are true to Netflix almost as much as they are relevant to Facebook or YouTube. When watching interviews with team members from Instagram's early days who shared the thought process behind data collection schemes, I couldn't help but wonder if an interview with a Netflix previous employee would have sounded any different.
You might say that companies like Google make a living by selling their ad space and targeting specific users based on their data, whereas Netflix's business model doesn't include ads. But while that is true, it is still a commercial platform that generates a pretty penny from our data. According to Greg Isaacs, CMO &CPO at BEN, 74% of Netflix's content features at least one product placement. Also, just because Netflix doesn't include ads today, doesn't mean its business plan won't be different tomorrow. Remember when WhatsApp was promised to be ad-free but later sold to Facebook, which decided to bring on the ads only to eventually back out? Business plans change, but data-collecting mechanisms and smart algorithms remain. Netflix is a stone-throwing company living in a glass house. #2: Meet your interviewees One of the main narratives the interviews promote is that we are being fed specific content to alter our thoughts and behavior. The thing is, this is a movie that is trying to precisely do that, and some of its biggest stars would currently benefit from such a change.