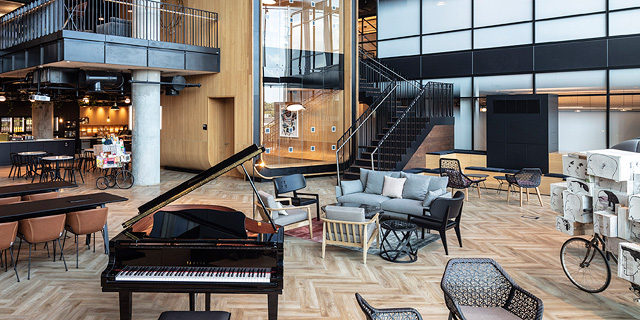 What will you find in Microsoft's green new Israeli mega campus and why is the customer always right?
CTech Daily Roundup: Vast majority of Israeli tech companies planning to raise salaries in 2021
Business as usual: Vast majority of Israeli tech companies planning to raise salaries in 2021. Despite Covid-19, a new report shows that 84% of Israeli tech firms intend to increase wages next year.
Read more
After a coronavirus vaccine is approved, what happens next? On Dec. 10, the FDA is expected to announce whether it will approve Pfizer's new vaccine, but 2 trillion people will not receive it until the end of 2021. Read more
U.S. firms set to be barred from Israel Aerospace Industries' $5 billion IPO. A fear of litigating in American courts means Israel's largest aerospace and defense company will be looking for funding elsewhere. Read more
A peek into Microsoft's green new Israeli mega campus. The campus, which spans 46,000 square meters, will serve thousands of local and visiting Microsoft employees. Read more
Survey: This holiday season Americans are flocking to digital gift cards. In a study conducted by Rise.AI, consumers are adopting digital gift card payments to help boost local economies while maintaining social distancing measures. Read more
Work-from-home fatigue? Cybereason told employees to get off Zoom. For one week every quarter, cybersecurity company Cybereason ended all Zoom meetings to avoid fatigue. Here's what happened. Read more
DiplomaTech | Israeli tech companies should heed China's calls to 'Go West' urges Chengdu trade envoy. Agriculture, water, life sciences, cleantech, medical equipment and automotive are among the leading sectors in which Israeli companies are active in southwest China. Read more
Who needs an office? Working outside is Israel's hottest fall trend. With people weary from sitting at home, public gardens, sidewalks, and parks give 'open space' a new meaning. Read more
Analysis | Eytan Stibbe will blast off toward a new future of spaceflight. With plans for the next Israeli astronaut to fly aboard a SpaceX craft, commercialized spaceflight is bringing about a new era. Read more
Opinion | 40 years on, we can thank the Bayh Dole Act for enabling Covid-19 vaccines. The law effectively allows universities, small business, and non-profits to claim the ownership of patented inventions developed with US Federal research dollars.
Read more
Round B | Even when they're dead wrong, the customer is always right. Shaul Olmert breaks down the importance of putting your product in front of real people as early in the development process as possible.
Read more
Appointments | Mark Oun named as CEO of Gett Delivery. Oun will aim to build on the recent growth experienced by the company while also continuing in his role as CEO of Gett-IL. Read more