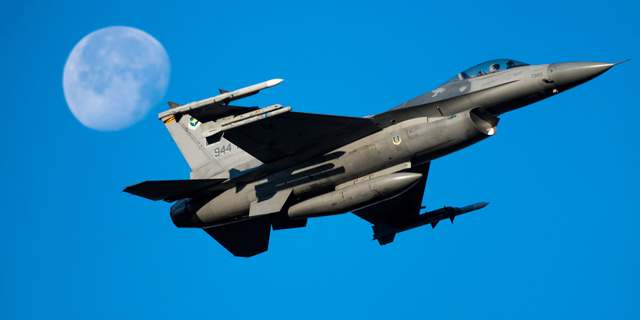 Who is buying Israel's surplus F-16s and do showrunners have an obligation to historic accuracy?
CTech Daily Roundup: Amit Avner and partners establish $40 million fund to invest in startups
Israel to sell surplus F-16s to Canadian company for $100 million. Defense Ministry is in negotiations to sell 29 used planes to simulate enemy forces in a deal set to be the largest sale of Israeli Air Force surplus yet.
Read more
Amit Avner and partners establish $40 million fund to invest in startups. Operator Partners is expected to grow to between $50-70 over the next year and has already invested in a massive 57 early-stage companies in the six months since it was founded.
Read more
The agency said it observed an 11-minute reduction in the average time spent clearing incidents off the roadway by using Waycare's tools. Read more
Israel's Jolt is set to help UK citizens with training program for high-tech jobs. Under the British plan, Jolt will be training young British people in England to make them more desirable for the high-tech sector.
Read more
Romance on the go: Bird and Bumble partner to help create meaningful connections. For the next four weeks, users can swipe and scoot for new opportunities to ride into the sunset. Read more
Former health ministry director general in talks to set up healthtech investment fund. One of the leading figureheads in the fight against
Covid-19 in Israel is in negotiations with Discount Capital, an investment subsidiary of Israel Discount Bank. Read more
Dubai Conference | "Israel will soon become a central axis for trade, just like it was during the Ottoman Empire." Israeli and Emirati business people took part in a series of roundtable discussions on various ways to cooperate.
Read more
Dubai Conference | Now is the time for global business leaders to capitalize on new developments, UAE minister tells Israeli delegation to Dubai. Bilateral agreements and projects are a testament to the many opportunities that lay ahead as we embark on a new era of economic growth, says Thani bin Ahmed Al Zeyoudi. Read more
Israeli cleantech startup Tipa raises $4 million from Millenium R&D partnership. Tipa has raised a total of $53 million for the development of its compostable flexible packaging. Read more
Emirati airline joins Israeli accelerator program for tourism startups. Etihad Airways joins other leading travel companies such as Booking and Amadeus. Read more
Interview | "Eytan Stibbe is leading the next wave of private astronauts," says head of Ramon Foundation. The former fighter pilot turned businessman is breaking new ground for private space exploration, demonstrating the pioneering Israeli spirit. Read more
Analysis | Eytan Stibbe will blast off toward a new future of spaceflight. With plans for the next Israeli astronaut to fly aboard a SpaceX craft, commercialized spaceflight is bringing about a new era.
Read more
Inventors of self-flying crop duster sue IAI for squeezing them out of project. Defense giant says the lawsuit is 'baseless' after former employee says he was fired so the company could develop the project behind his back. Read more
Communication was the number one priority for JP Morgan, amid Covid-19 in 2020. Speaking with CTech, JP Morgan Israel's Head of HR, Moran Dori highlighted just how employees and managers kept up morale during a turbulent year. Read more
Interview | New collaboration let's Israeli institutional investors dabble in tech while throwing startups a lifeline. TASE UP is a unique collaboration between the headstart group, the first and largest crowdfunding group in Israel, and the Tel Aviv Stock Exchange (TASE), aimed at connecting private companies interested in raising funds with accredited and institutional investors.
Read more
Opinion | Do showrunners have an obligation to historic accuracy? Popular culture is shaping people's perception of the real world, but Hollywood often plays fast and loose when combining fact and fiction. Read more