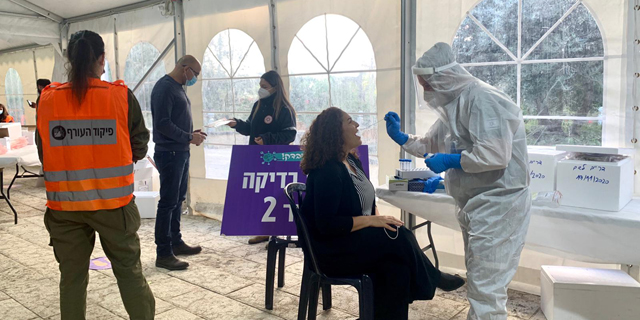 Defense contractor Rafael carried out Covid-19 testing blitz, finding just three cases among 3,500 employees
The Israeli defense systems giant completed a pilot of mass testing last week in cooperation with the IDF's Alon Command Center
Udi Etsion
|
11:42 01.12.2020
The Alon Command Center set up by the IDF Home Front Command completed last week a pilot of mass Covid-19 testing during which almost half of the employees at Israeli defense contractor Rafael Advanced Defense Systems Ltd. were tested. According to a source who spoke to Calcalist under the condition of anonymity, there were only three positive results from among the approximately 3,500 people tested in what was the largest concentrated coronavirus testing initiative in Israel to date, which is meant to serve as a blueprint for similar programs at large employers. The number of positive cases was less than 0.1 percent, which is far lower than the national average, which over the past week has been around 2%. The three employees and 40 of their colleagues who were exposed to them were sent into quarantine. The tests were conducted at two of Rafael's centers in the north of Israel, the David Institute and Leshem Institute.
"The testing wasn't compulsory, but there was a high turnout by employees," said Dovev Weiss, Rafael's VP of administration and infrastructure. "While we were explaining the reasoning behind conducting the tests we encountered large gaps in knowledge among the employees, with many fearing that they would have to go into quarantine simply for doing the test. That is something which was required at the beginning of the pandemic, but is no longer the case. When I presented management with this idea I warned them that there is also the risk that dozens of employees will test positive and that would result in hundreds of employees going into quarantine at the same time. But fortunately, that wasn't what happened."
Mass tests at large companies can not only identify outbreaks at certain employers, but also in specific regions in which those companies are located. "Rafael is the largest employer in the north of Israel so if the region had a Covid-19 problem we would have uncovered it in our testing," explained Weiss. "The conclusion from the pilot is that large companies should begin testing on a weekly basis and we passed on that recommendation to the Ministry of Health and the IDF Home Front Command."