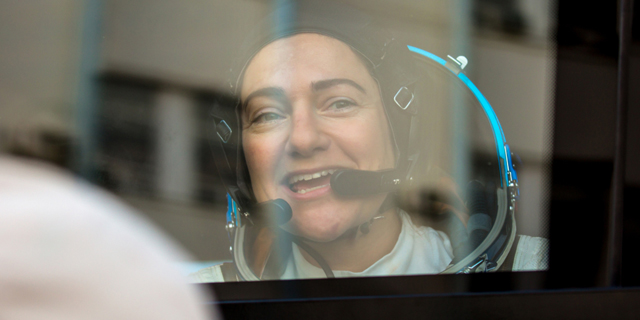 Analysis
Jewish astronauts reach for the stars
Eytan Stibbe, the second Israeli astronaut isn't alone, to date 16 Jewish astronauts have made it to space
Yafit Ovadia
|
17:00 02.12.2020
While nearly 600 people have flown in space, Israel and the Jewish people have left their mark with no fewer than 16 Jews and Israelis having so far left Earth's atmosphere. Eytan Stibbe will be the 17th person of Jewish descent to reach for the stars, but he has a long and impressive list of astronauts and cosmonauts from three different countries behind him. Stibbe is set to be the second Israeli astronaut in space, and will take off for the International Space Station (ISS) in October 2021. The former Israeli Air Force pilot-turned astronaut will also be one of the first astronauts to be launched by a private nonprofit organization and not an official government agency. The first Israeli astronaut, Ilan Ramon, spent 16 days aboard the ISS in 2003, before dying upon impact when the Columbia space shuttle deteriorated upon re-entry into the Earth's atmosphere.
Last year, saw NASA astronaut Jessica Meir make headlines as the fourth Jewish woman in space, and the first of Sephardi or Middle-Eastern descent. Her father immigrated to Israel from Iraq. Meir spent six months aboard the station, and conducted the first all-female spacewalk with colleague Christina Koch. Meir is a physiologist by trade, and joined the increasing trend of scientists who later become astronauts, aside from engineers and physicists.
Historically, most astronauts were men, who had trained in air forces to some extent, but all that is changing as the sky is opening up to new possibilities - namely, female scientists training to be astronauts. Meir studied physiological traits of northern elephant seals off the California coast, emperor penguins in Antarctica, and bar-headed geese in the Himalayan mountains. She also has a background in medicine, after she served as an assistant professor of anesthesia at Harvard Medical School, prior to joining NASA.
Other Jewish females in space include Judith Resnick, a young school teacher, who died in the Challenger space shuttle disaster of 1986, Ellen Shulman Baker, a former physician, in 1989, and Marsha Ivins, a flight engineer in 1990. The first Jewish astronaut, perhaps surprisingly, was Boris Volynov who was chosen by the Soviet Union to represent the country in space in 1969 after several setbacks due to prejudice because of his heritage, and mishaps and complications aboard Soyuz rockets. Born in Siberia, he completed his military pilot training in Kazakhstan, and later attended astronaut studies in Moscow. Upon his return, he was celebrated in the USSR and greeted with a parade promoting space exploration and Soviet ideals. He was awarded illustrious Soviet titles such as the "Hero of the Soviet Union" and the "Order of Lenin."
In 2004, Russia sent another Jewish astronaut into space, Yuri Shargin. Perhaps, with the increase of private astronauts the skies will open for more Israelis and Jews who can join future space endeavors, and continue to reach for the stars.