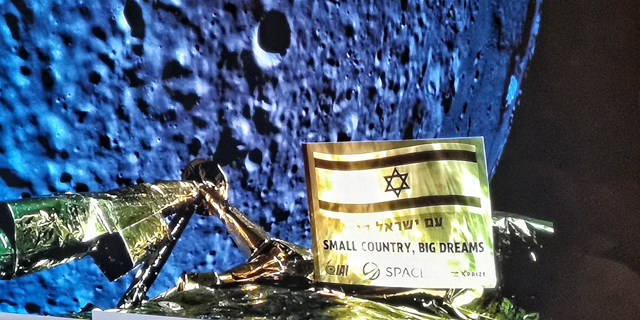 "Israel is going back to the Moon," announces SpaceIL co-founder
Beresheet 2, Israel's second attempt at a lunar lander is set to launch in 2024
Yafit Ovadia
|
14:58 13.12.2020
After the crash-landing of Beresheet two years ago, the Israeli space startup SpaceIL announced the newest private venture of Israel's next Moon mission on Wednesday. "Israel is going back to the Moon," said SpaceIL co-founder Kfir Damari during a live streamed announcement from the Israeli President's Residence in Jerusalem.
Boaz Levy, IAI's recently appointed new CEO said that he hoped for further collaboration between space startup-SpaceIL and his company. "Together we've ignited a spark of interest in science and technology for Israeli children. IAI's advanced technological capabilities brought Israel to its historic mission to the moon, and we are happy to join our partners SpaceIL on the next mission – Beresheet 2. IAI will continue to lead Israel's space industry to develop new technologies based on its engineering and knowledge, its capabilities and human capital, which are the best in Israel," he said.

Shai praised SpaceIL co-founders and all of its partners. "Entrepreneurs like Kfir and Yariv know how to do amazing things. Our country was founded by people who believed they could do something, and they've created something out of nothing. Every high tech company in Israel was founded by entrepreneurs. We are proud to be partners of this launch of Beresheet 2," he said, adding "we are among the 12 countries in the world who can accomplish feats such as this." Similarly to the first attempt, the spacecraft will be designed and built by Israel Aerospace Industries, with local and international funding, including private donors such as businessman and billionaire Leonard Blavatnik. Israel is expected to partner with countries such as the United Arab Emirates, who recently launched a craft of their own to Mars, and signed a peace agreement with Israel in September. The project is estimated to cost $100 million. Turning to Israeli schoolchildren who continued to watch the speeches as they were broadcast via video, Damari said: "This mission is for you. I want to invite you to join us, and also to tell you that we're looking to you to be the next generation of scientists and inventors. I want to tell you that despite all the difficulties and challenges, you will also continue to dare to dream," he concluded. Udi Etsion contributed to this report.