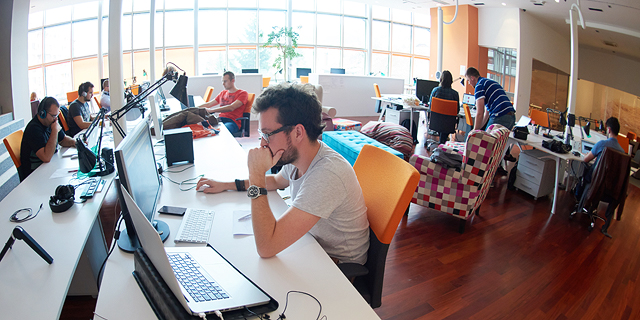 Startup+ Competition: These startups create innovative products for everyday use
Reducing the risk of bodies' rejecting implants, easy-to-use information about real estate data, and a support network for abused women are just some of the tech solutions featured in Calcalist's Startup+ competition that can be used every day
Meir Orbach
|
16:42 14.12.2020
Fifteen companies advanced to the semifinals of Calcalist's and Bank Hapoalim High-Tech's StartUp+ competition and will face off for a spot in the finals. A representative from each company gave its 3-minute pitch presenting their solutions, and afterward answered judges' questions. Batsheva Moshe, Head of Poalim High-Tech at Bank Hapoalim spoke at the event.
The judges' panel consisted of Eti Ben-Zeev - CIO, Head of Information Technology at Bank Hapoalim; Natalie Refuah, Partner at Viola Growth; Emanuel Timor, General Partner at Vertex Ventures; Sigalit Klimovsky, Partner at Grove Ventures; Ayal Itzkovich, Pitango managing partner; Yuval Cohen, Founder & Managing Partner of StageOne Ventures; Netalie Nadivi, Partner at Triventures; Nofar Amikam, Partner at Glilot Capital Partners; and Rotem Eldar, Managing partner at 10D.
Plant
Effective customer service The company, founded in 2019 by Dan Leshem and Itamar Isaac (from OrCam), helps companies improve their customer service and user experiences. The technology analyzes previous conversations of the company with its customers and creates a behavioral pattern of users to spot bottleneck issues and common customer issues. Through its exact mapping of customer experiences, companies can spot a customer's needs in real-time, provide them with helpful, automatic, and proactive service, while saving time, and increasing sales. It employs 10 people, most of whom are based in Tel Aviv. Matricelf Tissue and organ implants The biotechnology company, which was founded in 2019 based on a technology that was developed at Tel Aviv University, is active in the field of regenerative medicine and tissue engineering. The company is developing a platform to produce implants by using 3D printing to create otological implants of tissues and organs. The implants are built from a matrix of cells that are taken from the implantee's body, which lowers the risk of the body rejecting the implant. The implants yielded good paraclinical results in a variety of diseases such as Myocardial infarctions and Parkinson's disease. The company's technology has been used to 3D print the first artificial heart in history. The company is developing motor implants for patients who are paralyzed or have spinal cord injuries and is planning its first experiment on humans for 2023. It currently employs seven people. Gina Life Diagnostics Early detection of cancer
The company, which launched in January of this year, is developing technology in the field of women's health, for the early detection of ovarian cancer. Potential customers are women who are at increased risk of ovarian cancer, like those who carry the gene mutation of BRCA-1 or BRCA-2, women with a history of ovarian, breast, colon, and pancreatic cancers as well as post-menopausal women. The company employs two people. Peech
Automatic video production The company, which was founded in May this year by Danielle Dafni and Johnathan Kanarek, has developed a fully-automated video creation tool. Previously, Kanarek was at Kaltura and became Peech's CTO. The two co-founders are video professionals and have combined their knowledge of video editing and video streaming content to the cloud. The company participated in WOSNA, the women's accelerator of Startup Nation. Lagoon Providing information about investments The company, which was founded in February this year, has developed a non-coded platform for professional investors that allows them to access information about investments and future options. It already has a few customers, including a U.S. hedge fund that invests in real estate as well as three pilot ones in Israel, on in the U.S., and one in Singapore. The company is active in Tel Aviv and employs six employees and four advisers. Appwrite An open-source code for organizations The company was founded in October 2019 as a complete open-source code that is designed mainly for independent developers, but with further improvements, it plans to be available for organizational use too. The product has a following of 4,500 developers around the world and is constantly growing. The open-source code project has more than 200 code contributors, and many help to expand its knowledge base through writing posts, video tutorials, and even a book. The company completed its first financing round, has two employees, and employs additional external contractors.