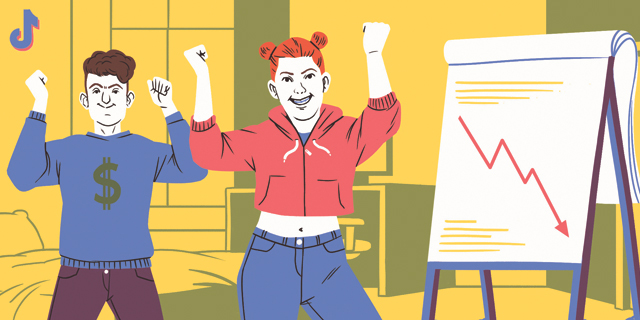 The rise of FinTok: TikTok fraught with danger for fledgling investors
Financial advice videos have been gaining steam on the preferred social network of Generation Z, but should someone be regulating who is educating youngsters on investing?
Viki Auslander
|
09:13 16.12.2020
TikTok, the social network of Generation Z, known mainly for its short viral videos, has been attracting a new crowd over recent weeks. These people are joining in order to receive financial advice. The app is trying to appeal to those who are seeking advice on anything from alternative investment channels to pension fund management. Financial advice may not be what first comes to mind when thinking of a platform which made its name with viral lip sync and dance videos and which has a very young user base. Nevertheless, these extraordinary times have also allowed self-proclaimed finance experts to blossom on TikTok and for young users to find an interest in economics.
The traditional market makers immediately cried out that this incident is a prime example of the danger in trading for the masses. This was an opportunity for them to defend their territory and loudly voice their objection to the easy access uneducated investors received to the investment world. They pushed regulators to investigate, punish and regulate platforms like Robinhood, as well as TikTok.
3. The medium is not the message Alongside the accessibility provided by TikTok, the platform also creates unique problems. Information on all social media platforms is delivered at a blinding pace aimed to provide its users with a constant sense of satisfaction while flooding them with endless and filterless content. TikTok has taken it up a notch, with the application's algorithm helping videos become viral at a far greater pace than any other platform. This system is necessary for TikTok's survival as it creates more stars with more followers who then create many incentives to create more videos and so on. The same mechanism is also applicable in videos focused on dry financial topics. Therefore, it can be assumed that fact checking and professional accuracy are not at the top of the creators' priority list. There is no question that young people can make level-headed financial decisions if they are given the opportunity. The fact that young users are less sophisticated and seasoned than investors and market makers is not their fault, and the solution shouldn't be limiting or blocking their access to information. The blame falls on the shoulders of the regulators who turned the economy into what it is today, an inaccessible and daunting world, as well as a society that doesn't provide them with tools and skills that will help them make better decisions and deal with the challenges of information.