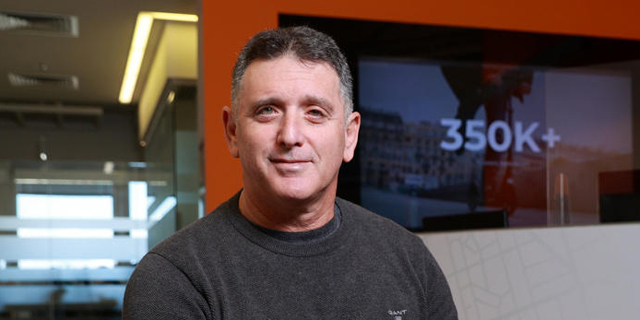 Interview
Moovit's CEO explains why there's more to its new public transport payment scheme than meets the eye
After two exits in one year, Nir Erez talks about what keeps him motivated and his vision for the future of transportation
Sophie Shulman
|
14:01 17.12.2020
Nir Erez is the CEO of Moovit, which was sold to Intel's Mobileye for $1 billion in May of this year. He is also the founder of OptimalTest, which was acquired by U.S. giant National Instruments for $360 million in June. Moovit was also one of the companies who won the tender to support fully digitized payment through mobile apps in Israeli's public transport system. The new payment method will allow users to pay for rides using their phones, with the system automatically applying all relevant discounts as well as a maximum daily cap, without requiring a physical bus pass. Moovit partnered with smart parking operator Pango Pay & Go Ltd. as part of the tender, with additional winners including, Isracard Ltd., a Tel Aviv-listed credit card that spun off of Bank Hapoalim; and public transit payment app developer HopOn Ltd. in collaboration with Bank Discount's peer-to-peer payment app PayBox.
Is this going to kill the traditional public transport pass?
"Initially we will use both, but physical passes get lost and people forget them. No one forgets their phone. Another advantage is paying in retrospect. People don't like to pay in advance. With the app you will accumulate rides during the month and you will be charged at the end of it and receive any relevant discounts." For many people, the main obstacle will be the requirement to enter their credit card details in the application. From that standpoint, Isracard may be in a better position than you. "Entering credit card details is indeed one of the obstacles that we have also witnessed abroad. That is the reason that we partnered with Pango, which is a brand Israelis know and trust and have already given their credit card details to. Both we and Pango have around 2-3 million registered users in Israel, who aren't completely overlapping, and as soon as you have an account with Pango you'll just need to scan the code with the Moovit app and the ride will be paid for and you will be charged on the same credit card you use with Pango. There is no need to enter new details and Moovit will not hold on to the data. We also don't transfer information to advertisers and have insisted for the past nine years not to have advertising on our platform as not to harm the user's experience. The tender also doesn't offer any actual profit and we will share the expenses with Pango. Down the line, this will allow us to offer additional related services, for example, an option to rent a scooter or the use of a shuttle service. We may also launch an autonomous shuttle service with Mobileye in 2022. As far as I'm concerned it is good that there is competition like Isracrad and HopOn so people can understand the added value in each app, which in our case is the detailed information on the route of the journey." You already have 900 million users across the world and are part of Intel. Didn't they tell you to let go of the idea? "We entered the tender and won it before we were bought by Intel in May. It is true that this project isn't that interesting from a financial standpoint, but we are looking for Moovit to become a mobility platform. That is also why Mobileye and Intel see this as another part of the transportation mesh. The expectation for us today is not only to provide information but to also ensure a comfortable service in which you can both plan your journey and pay for it. The thinking with Intel and Mobileye is that down the line we will be able to include an autonomous shuttle as part of the service alongside other public transport systems. This past January we signed a deal with the Cubic Corporation, a public transport provider that controls 70% of the U.S. market. They are building something more advanced there in which there will be a joint layer for external sources of public transport, like Uber or Lyft, that you will be able to log on to and pay with. We don't have any profit margin in that project either."
What is your business model? Where are you making money or is this the reason you accepted Intel's offer?
"There are places in which the application is operating without branding and we receive an annual payment from municipalities or local authorities in a SaaS model. We also receive payment for the statistical data that we accumulate and which allows authorities to plan their public transport." You didn't sell out of pressure? "Quite the opposite. We saw an opportunity to take our mobility vision and make it a service by joining a company that is going to play a very significant role in autonomous vehicles. We didn't have to sell, but this was an opportunity and we could have chosen from a number of offers." Who else were you in talks with? "There are the natural buyers, such as big mapping companies and there are the ridesharing companies (Uber, Lyft, S.S.) all of whom we received offers from. There are also big tech players that aren't directly connected to the industry but want to own these types of assets. Specifically this year there were three bodies that displayed interest at the same time and we had to choose between them. All of the offers on the table were of a similar magnitude and it was more a matter of where do we see ourselves in five years. We didn't want to sell and disappear. We looked ahead to where would be best for us and Mobileye is the place we preferred to be in."
With this type of demand, you could have gotten more than $1 billion.
"There were other considerations and not all the details of the agreement were announced. We are supposed to lead, together with Mobileye, the world of autonomous vehicle supply. Even today there are only a few dozen auto manufacturers in the world and there will also be a relatively small number when it comes to autonomous vehicles. Another important aspect was that we are continuing to operate as a private company. Many big companies have realized over recent years that this model works a lot better than breaking up a company and assimilating it." So what do you get from being part of Intel if you are continuing to operate as an independent unit? "The sale gives up more space to maneuver. For example, since the sale we have recruited many employees, increasing our workforce by 30% bringing us to 250 employees. We want to also grow globally. Moovit is the world's biggest resource for public transport. We cover 70% of the world, some 3,400 cities. We currently cover over 60% of Google Maps, which is essentially our only competition. The only place we aren't entering is China because there is a regulatory issue there when it comes to foreigners and they already have their own big players." The billion dollars were split between the entrepreneurs, investors, and a group of 200 employees. In shekel terms that makes them millionaires. "The answer is yes. The Moovit employees were very very well recompensed. But there weren't any departures. People experienced a very significant financial change, but they all also stayed because very little changed in their work." And this was just your first exit. Less than a month later OptimalPlus, which you founded, was sold for $360 million to National Instruments. "I left Optimal in 2010. I was one of two founders and had a nice amount of shares, but wasn't involved in the sale in any way. One day I was notified that it is happening and I was happy for the employees there. It makes me happy because the chances of a startup making a successful exit are small. But the very fact that we changed the lives of several hundreds of people from a financial perspective is one of the most exciting things that happened to me this year." What do you know that others don't? "In order to succeed you need to fit into a very narrow spectrum between having a very big vision, but realistic and not too big, and execution."