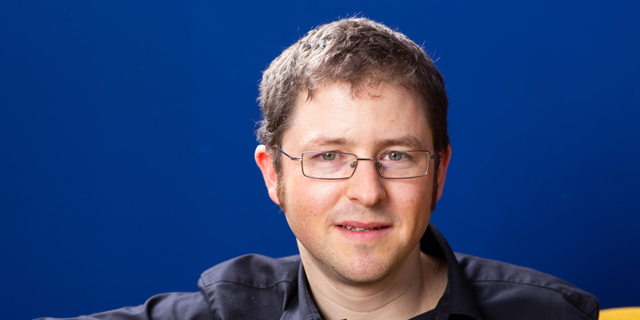 IL Tech in NY
Shared office cultures between New York and Israel is a 'fool's errand', says Augury
When opening up an office in the U.S, Augury had to adapt to a whole new set of values and norms. Here's how they did it
"Workplace culture is something you can guide, not something that you can control," said Augury co-Founder Saar Yoskovitz. "In the beginning, we tried to force a unified culture on both sites - we quickly learned that that is a fool's errand."
While Yoskovitz moved to New York City to help build Augury's Sales and Marketing base, his co-founder Gal Shaul stayed in their Haifa office to oversee operations. They soon learned that different offices - in different countries - thrived with different cultures, even though the core mission was the same.
Israeli Tech in NY
, where the company discussed the different cultures and norms that are sometimes challenged when companies relocate overseas.
Company name: Augury
Field of activity/product: Machine Health Solution Provider Founders: Saar Yoskovitz and Gal Shaul Year of founding/start of New York operations: 2011 Number of employees and whether the company is active in other locations: 100 Sum of total funding to date/funding rounds completed: $106 Million Names of investors/VC backers: Insight Venture Partners, Eclipse Ventures, Qumra Capital, Qualcomm Ventures, Munich Re Ventures, First Round Capital, Lerer Hippeau
General background on the founders/senior managers:
Saar Yoskovitz: I've been working in New York City since May 2015. After Gal and I laid the groundwork for our engineering and development office in Haifa, Israel we knew we needed to have a strong Sales and Marketing base in the United States to connect with the largest manufacturers in the world. So, I relocated to New York and Gal stayed to oversee our operations in Haifa. Before founding Augury, I worked at Intel as an Analog Architect and Gal was a Software Engineer at a medical device startup, Endymed Medical.
Background on the product/service/platform/solution: We help eliminate downtime, reduce maintenance costs, and maximize productivity for critical machines in industrial and commercial applications ranging from bottling and food processing to paper products and pharmaceuticals. Our Machine Health solutions combine advanced sensors with powerful AI capabilities and collaboration tools to help teams understand when machines are at risk. We provide actionable recommendations so customers know what to do to prevent failures long before those risks can threaten production or productivity. Why New York? What advantages does it offer? How does the market differ from Israel? How does the competition differ? The decision of where to place our HQ was less about competition and more about the ability to tap start-up ecosystems - both for funding and for talent. We knew we needed the strongest people on our team, people that have seen the motions of scaling a category leader from the ground up. We also knew that our market - Industrial Manufacturing companies - are mostly in the Midwest/Northeast regions of the U.S. Because we have half of the team in Israel, proximity, and convenience - both for flights and time-zones - was really important to us. So New York City made more sense for our U.S. HQ rather than the Bay area. Two things you learned about the U.S. market from operating in New York: My main lesson is that from a customer perspective, being located in New York is very convenient. You can fly to almost any place for an in-person customer meeting with little overhead. What is important is to have a local presence in the U.S. The flexibility to get on a plane to connect with customers (or potential investors) in-person with a day's notice is very hard to replicate if you are in Israel. Obviously, things have substantially changed in recent months due to Covid-19, but the notion still holds true. Two things you learned about American investors as a result of starting operations there: Our first seed investment, in 2014, was with New York-based firms - First Round Capital and Lerer Hippeau Ventures. Since then we've seen the market change and become much more accessible. VCs are much more open to investing in both coasts and most have opened offices in the city.
The vicinity to your board members and investors is really important - the ability to walk to their offices and have some face-time is quite helpful as you go through the ups and downs of building a company.
Two suggestions for Israeli entrepreneurs on what to do in New York: When you move into a new neighborhood, you should really get to know your neighbors. The first thing I'd do is start to build my network in the local ecosystem. There is a myriad of groups for startups in different stages, markets/segments, and topics. I would try to join them and build the support network as well as for hiring. I'd also recommend setting aside some time to reach out to your fellow entrepreneurs on LinkedIn. Connect with the people that you've seen making waves and don't be afraid to ask for some time to set up a Zoom meeting. Two suggestions for Israeli entrepreneurs on what not to do in New York: Don't lose your spark. Embrace that you are an Israeli - New Yorkers are very open and accepting of other cultures, but at the same time, try to adapt your style to fit into the local norms and behaviors. Understand that Americans appreciate their personal space may be less direct than you're used to. On a scale of 1-10 how much did the Covid pandemic impact your work? Please expand in your own words the positive and negative effects the outbreak had on your company: Covid-19 has impacted our company by 8 out of 10. At Augury we work with the largest manufacturers, like Colgate, to make their production lines more reliable and productive, so they can restock the shelves in your local supermarkets. The early chaos and challenges of Covid-19 thrust us into a new reality-- a reality where the world's near-total dependence on supply chains, and the machines that drive them, has never been clearer. We are in a new reality where agility and resiliency in manufacturing operations have taken the front seat. This has accelerated the adoption of digital tools that provide insight into machine health to fuel remote collaboration, increase worker productivity, and inform better risk management. This lead to substantial growth in our business. What are the differences when it comes to recruiting employees (advantages and disadvantages)?
When Covid-19 hit, like many other companies we became a fully-remote team. We now believe that even after the dust settles, we will remain in a hybrid remote/in-person mode of work. This led us to open up the talent pool and search for talent outside of the greater New York City area and Haifa. Our challenge now is to maintain our culture, when we are not able to meet in the same space frequently, as we plan to double our team in the next year.
What are some of the workplace culture differences between Israel and New York?
Workplace culture is something you can guide, not something that you can control. The best way to guide and create the culture you're looking for is to hire great people that believe in the values and vision of your company and then incentivize the behaviors you want to see.
In the beginning, we tried to force a unified culture on both sites - we quickly learned that that is a fool's errand. The aspiration should be that while there is a core set of values and norms, every site and team represents a variation of them. So when you step into Augury's New York office, you know that you're in Augury and that you are in New York. And when you step into our Haifa office, you know that you are in Augury in Haifa. This is not just about countries - different teams have different cultures as well - we have an engineering team, where we celebrate failures and experimentation, and a field deployment team where Safety First and following playbooks is the guiding principle. Building that flexibility into your culture is crucial as you scale globally.
The IL Tech in NY project is a collaboration between CTech and Israeli Mapped in NY.
For more information: Franklin@israeliMappedinNY.com