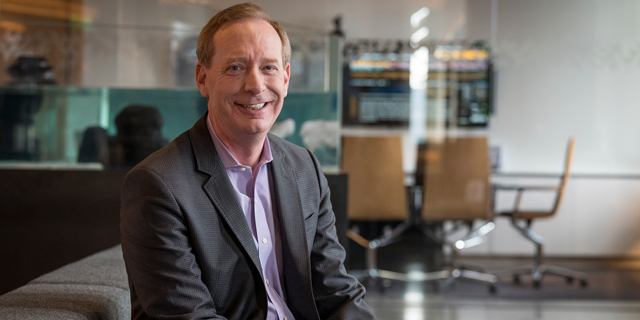 Microsoft president calls out Israel's NSO Group, says it's part of the reason for cyber-assault on U.S. government
In a blog post, Brad Smith suggests Biden Administration should weigh in on a court case involving the Israeli cyber company
Hagar Ravet
|
19:23 18.12.2020
Microsoft President Brad Smith posted a blog post on Thursday in which he addressed the string of
cyberattacks against the U.S. government
. In it, he pointed a finger at Israeli cyber company NSO Group for being among the causes for what he described as the "cyber-assault." In a
blog post
titled "A moment of reckoning: the need for a strong and global cybersecurity response," Smith offers his main takeaways from the attack on several branches of the U.S. Government that have been attributed to Russian hackers.
Smith dedicated the second half of his lengthy post to what he believes should be the response to the threats, noting that a more effective national and global strategy is required. He writes that an early opportunity for the Biden-Harris Administration to tackle the issue is to weigh in on an appeals court case involving NSO. He noted that NSO has argued that "it is immune from U.S. law because it is acting on behalf of a foreign government customer and hence shares that government's legal immunity. NSO's proposed recipe would make a bad problem even worse, which is why Microsoft is joining with other companies in opposing this interpretation."
"As the first company in the world to lead the formulation and adoption of regulatory principles and compliance policies in the field, we join Microsoft's calls to pursue a binding global policy that will enable countries to defend themselves against cyberattacks by irresponsible state powers and private actors," NSO said in response.