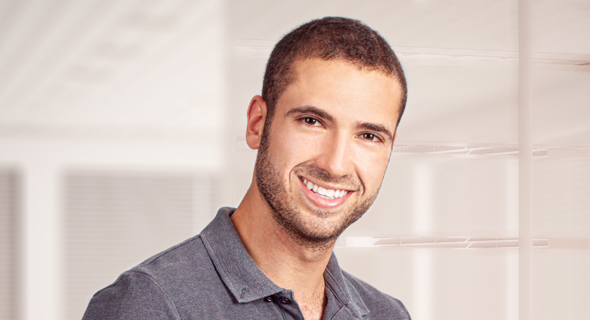 20-Minute Leaders
"I'm sitting right in the junction between engineering, business, and product and that's my sweet spot"
Yaron Yaniv from the Silicon Valley Bank talks to Michael Matias about the digitalization and automation trend that's taking over the banking sector and the challenges of finding solutions for tech companies of all sizes
Imagine having the responsibility of accounting for over one billion financial transactions every day. That is a daunting task, and Yaron Yaniv, a former chief architect at Visa and current member of the CTO office at Silicon Valley Bank, was part of the team that managed that huge number of transactions. Yaniv was one of the individuals responsible for the architecture of Visa's revenue streams, a fairly stressful position considering all transactions had to be accurate down to the penny. While at Visa, Yaniv gained valuable experience in the fintech space. However, he soon developed a desire to work more closely with startups and young entrepreneurs. Now, Yaniv is part of the CTO office at Silicon Valley Bank which caters specifically towards businesses in the innovation economy. Silicon Valley Bank designs products for a variety of companies that range from startup level all the way to established, public businesses. Yaniv's position allows him to work at the junction of business, product, and engineering and he thoroughly enjoys the fact that he is able to contribute to the innovation ecosystem. Yaniv has been in many high-pressure and high-profile situations and has a countless amount of knowledge and experience that he is now able to impart to the companies and entrepreneurs he works with. Yaniv sat down for an interview with Michael Matias, creator of the 20-Minute Leaders video podcast, and told him about the lessons he has learned along the way
Click Here For More 20MinuteLeaders
What does it take to lead the enterprise architecture for Visa's revenue streams?
Visa is in more than 200 countries. It processes over a billion transactions every day in a short time span which is challenging. You also need to apply more than 10,000 rules on each of these transactions whilst ensuring everything is well-secured, compliant, and working seamlessly. These challenges encourage innovation and further development of the infrastructure.
Is it stressful managing such a critical piece of the financial puzzle?
There's a lot of stress involved. On some occasions, we have a deficit of a few pennies or a few dollars and in such situations, we need to make sure everything is well-recorded and that the clients are charged the correct amount.
How many people were involved with this whole engineering feat?
100 to 150 across the board.
What is Silicon Valley Bank, and what is your role there as part of the office of the CTO?
Silicon Valley Bank is a commercial bank, which serves the innovation economy. In fact, 65% of all the innovation economy money in the U.S. is processed through Silicon Valley Bank. We have representation over all the main innovation hubs — we have a branch in Israel, UK, Canada, and Germany.
What do you mean by 'a bank which serves the innovation economy'?
We have a set of unique products tailored and geared toward start-ups and private equity firms. When we say start-ups, it's everywhere from series A, series B, series C, all the way up to established companies that are already in the NASDAQ and are already public companies.
How does that differ in the mindset when you're working at an organization that is tailored to innovation compared to the average company that has a big account?
An early-stage founder has different needs from a well-established company, but they are all entrepreneurs that need to get banking and financial products from us. So that requires us to have different facets of products that can cater to these different sectors.
You're strategically positioned within this financial tech industry. What excites you about it? Why choose to go into banking and finance?
It's because of that very close interface with entrepreneurs. Silicon Valley Bank is more than just a bank — we're actually building relationships. So as an architect, I have the opportunity to speak to and work with numerous companies and give them an insight on what it takes to work with regulated financial institutes. That is very precious information and something that companies value. We can also connect between different clients of ours because we know that client A might be well-integrated with client B. Sometimes, we even adopt technologies that are coming in from our clients, which we always look at favorably. Getting to work within that innovation ecosystem was appealing to me and Visa stood out in that sense.
I'm guessing it's also a different number of employees around the world and the magnitude must be different, right?
It's a juggernaut. Silicon Valley Bank is a medium-sized bank with a smaller presence in California and in other areas in the world.
You're a technology architect within Silicon Valley Bank. So, it's an engineering leadership role, correct?
I'm sitting in the junction between engineering, business, and product, and that's my sweet spot.
What does it mean to talk to the entrepreneurs and your customers while having all of these different hats on?
It requires you to think like a product manager, engineer, and businessperson. So, if you think like a product manager, what features make more sense to invest in? If you think like an engineer, how do you build your stack in an open way with your APIs that you want to expose? Where is your encryption of the data that you're going to save your sensitive data?
You're also an Limited Partner at the J-Ventures Fund. Where does that interest come from, and how do you balance that interest with being inside of a big corporate?
Working with entrepreneurs in the last four years triggered my interest in the VC community and the capital funding community. I also feel very strongly about J-Ventures' mission of closing the gap between Israelis and American Jews.
When you see entrepreneurs, do you ever envision yourself going on that entrepreneurship adventure as well?
At the back of my mind, I'm always toying with different ideas but the opportunity hasn't presented itself yet. It's all about timing and the right location.
Give me a little bit of your insight into what's happening in 2020 with finance and how consumers are interacting with their banks. And where are we headed from here?
Interacting with your bank digitally is a big thing. If you own a company, if you own a startup or a private equity company, you want to have APIs, which are ways to interact with your bank without needing to even use a mobile app. You just hook in your systems through APIs and you've got everything done automatically for some of your needs. So, digital and automation are big right now in the ecosystem and even more in the commercial ecosystem.
You also want to have different payments and different ways to pay. The cards industry and the products on cards are exploding, so loyalty and the ability to do numerous things with virtual cards is another aspect that we'll see in our future.
And how does trust play into all of this, especially as things are transitioning to paperless?
Being able to transact financially in a safe way is huge. And for that, there are different technologies such as voice recognition and behavioral biometrics. There's also multi-factor authentication that ensures you are who you say you are.
Which three words would you use to describe yourself.
Humble, curious, and very focused.
Michael Matias, Forbes 30 Under 30, is the author of Age is Only an Int: Lessons I Learned as a Young Entrepreneur. He studies Artificial Intelligence at Stanford University, while working as a software engineer at Hippo Insurance and as a Senior Associate at J-Ventures. Matias previously served as an officer in the 8200 unit. 20MinuteLeaders is a tech entrepreneurship interview series featuring one-on-one interviews with fascinating founders, innovators and thought leaders sharing their journeys and experiences.
Contributing editors: Michael Matias, Amanda Katz