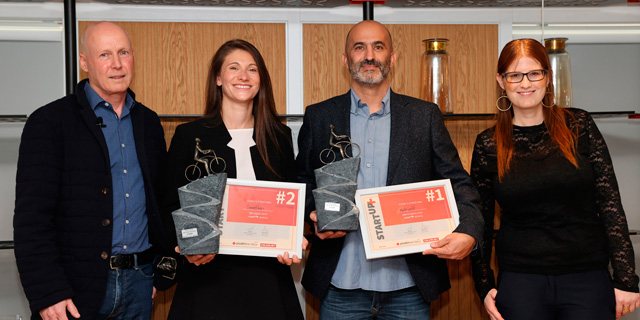 Israeli biotech company Matricelf wins Calcalist's StartUp+ competition
The company developed a platform for 3D printing of tissues and organs. Genetika+, which developed a personalized technology for digital health took second place; winners awarded monetary prizes and office space
Meir Orbach
|
16:16 30.12.2020
The young Israeli biotechnology company Matricelf, which is active in the field of tissue engineering, won first place in the StartUp+ competition hosted by Calcalist and Poalim High Tech. Boaz Dan, Central Business Manager of Business Growth at the Commerce Branch of Bank Hapoalim, and Batsheva Moshe - Head of Poalim High Tech Activity awarded Matricelf with first place and wished them success. The competition was conducted at the Mixer co-working space, in Herzliya. The judges' panel consisted of Eti Ben-Zeev, CIO, Head of Information Technology at Bank Hapoalim; Natalie Refuah, Partner at Viola Growth; Emanuel Timor, General Partner at Vertex Ventures; Sigalit Klimovsky, Partner at Grove Ventures; Ayal Itzkovich, Pitango managing partner; Yuval Cohen, Founder & Managing Partner of StageOne Ventures; Netalie Nadivi, Partner at Triventures; Nofar Amikam, Partner at Glilot Capital Partners; and Rotem Eldar, Managing partner at 10D.
Finding the right drugs for patients suffering from depression
Second place went to Genetika+, which was founded in 2018 by Talia Cohen and Daphna Laifenfeld, who have several years of experience in developing and selling personalized drug technologies in order to find the best treatment options for patients suffering from depression. The company's potential customers are health organizations, including hospitals, doctors, insurance companies, and sick patients, as well as pharma companies that are developing new drugs to combat depression and can take advantage of their rapid tests to speed up new medications' clinical trials. The company employs seven people full-time and is located in Jerusalem.
Reading and understanding text
Competition finalist Suridata.ai developed a system that is based on artificial intelligence from the field of natural language processing (NLP), which mimics the human ability to read and comprehend texts and their meaning. The unique technology allows organizations to easily locate, identify, and categorize sensitive information for their organizations without human interference or hand-typed processes. The system connects in a simple and seamless way to data sources in the organization, scans and analyzes the data while spotting similar sensitive information to allow the organization to control and protect its data.
Lynx.MD, which was founded in 2018 by Omer Dror, Ofir Farchy, and Dr. Robert Eisdorfer, developed a SaaS platform that allows health organizations to take advantage of the medical data it collects over time and to access it in a safe way, and while protecting patient privacy, to develop new drugs, medical devices, and diagnostic testing based on artificial intelligence. In this way, it shortens the long process for awaiting FDA approval by basing its findings on real-world evidence. The company is working on a number of different hospitals in Israel and the U.S. and is in advanced stages with additional health centers in Israel and around the world.
With its help, health organizations can share many types of data (including tabular information, such as tests and procedures, as well as videos, images, and genetic information) with external companies, while the data remains in complete control of the health agencies. The company employs 12 people today, most of whom are involved in research and development
An open-source code for organizations
Appwrite has developed a complete open-source code that is designed mainly for independent developers, but with further improvements, it plans to be available for organizational use too. The product has a following of 4,500 developers around the world and is constantly growing. The open-source code project has more than 200 code contributors, and many help to expand its knowledge base through writing posts, video tutorials, and even a book. The company completed its first financing round, was founded in 2019, has two employees, and employs additional external contractors.
The path to a successful startup
During the course of the competition, eight meetings dealing with how to found and manage a successful startup were filmed. The sessions were led by top of the line professionals and consultants from the local tech industry. The meetings dealt mainly with ways to develop a product, managing teams during the working from home era, raising capital investments, managing marketing and business development, managing a young company board, presenting a successful pitch to investors, and the financial and legal aspects of entrepreneurs at the beginning of their journey, especially during crises.