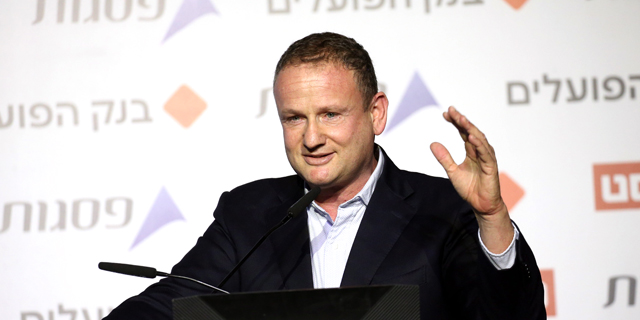 Israel Aerospace Industries chairman to depart after leading company to $4 billion annual revenue
During Harel Locker's tenure, which began in September 2017, Israel's largest defense contractor presented its largest profits since the company was established
Chairman of the Israel Aerospace Industries (IAI) Board of Directors, Harel Locker, announced on Thursday his intention to step down in 90 days.
Locker assumed the position in September 2017. During his tenure, the company, Israel's largest defense contractor, underwent significant changes to its business structure. The company improved its bottom lines and for the first time passed the $4 billion sales threshold. In addition, for two consecutive years, IAI presented its largest profits since the company was established.
The company's revenue reaches $4.1 billion annually and its backlog orders are valued at $13 billion. The company is one of Israel's largest exporters and totals $3 billion in annual exports to a hundred countries.
Parallel to the business achievements, IAI made technological breakthroughs during Locker's tenure, including test-launching the Arrow 3 weapon system in Alaska, launching the Ofek 16 satellite, launching the Beresheet lunar lander, developing Israel's national communication satellite 'Dror 1'and more. The company received the Israel Security Award twice under Locker's leadership.
A month ago an Israeli government ministerial committee approved a plan to offer IAI stock on the Tel Aviv Stock Exchange. This strategic move was years in the waiting for government approval and Locker succeeded in finally seeing it through.
"Today I announced my intention to step down from my position as chairman of Israel Aerospace Industries Board of Directors. I conclude my tenure with great pride and with a feeling of satisfaction," said Locker. "In the last years the company reached extraordinary technological, defense and business achievements, the best since its establishment. The company recorded a record profit in 2019, and despite the Coronavirus pandemic, reached record results in 2020 as well. These results are testimony to the company's business and financial robustness, its excellent human capital, and the success of its new strategy. IAI maintains its moral compass and we continue to preserve the State of Israel's qualitative security edge."