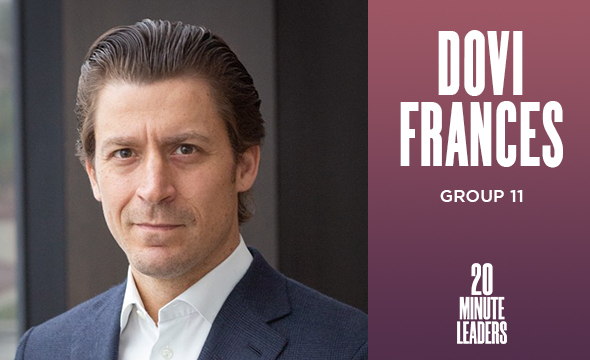 20-Minute Leaders
"I think that the only answer at times of uncertainty is: do you have a fundamental belief that tomorrow will be better?"
Group 11 founding partner Dovi Frances talks to Michael Matias about what it means to have a winner's mentality and the losses it sometimes takes to get there
Whether it's gaining customers, raising capital, or striving to be the top innovator in a category, entrepreneurs are always in a state of competition. However, as Dovi Frances, founding partner of Group 11 explains, having the mentality of a winner is just as important as the outcome of the event. Frances has seen his fair share of successes and failures throughout his career, and though he admits there is no "secret sauce" to success, he does look for certain key traits when deciding whether or not to invest in a new startup. For example, Frances seeks out companies that are redefining their industry and have founders with a winning mentality and an optimistic attitude. Frances talked with Michael Matias, the creator of 20Minuteleaders about the reasons he thoroughly enjoys working with and mentoring the entrepreneurs he invests in and his hopes that he can continue to leave a positive impact on the lives of those he connects with.
The following interview was recorded on June 10, 2020
Click Here For More 20MinuteLeaders
Tell me a little bit about what motivates you.
I love winning, and I love collaborating with other people who have a similar mindset of defining or redefining industries where they operate. For me, that's FinTech innovation. I also choose to collaborate with people who have a winner's mentality and not a victim's mentality.
I do not want to be a victim of circumstances unless it's a force majeure like Covid-19. I want to take charge of my own life and where I can choose who joins me on that journey.
CEOs have handled the pandemic effects differently. Some are suffering but opting to wade through with a positive mindset. Others are paralyzed and don't know what to do. What's your opinion on this?
None of us know what to do, and I think that the only answer at times of uncertainty is: do you have a fundamental belief that tomorrow will be better? We invest in the future, so I cannot make significant decisions related to my existing investments or make new investments based on a moment in time because I consider this a moment in time. Right now, I have to make a decision of how I view the world, and, for me, I believe things will get better. I accept that the pandemic (in the short term) will drive prices down for new investments, and I plan to capitalize upon that.
What type of investments do you make, and how do you identify who is going to be a category winner?
In general, it has a lot to do with what time you are investing, which categories you are investing in, how long you have been investing, who are you investing with, and how lucky you are. For early-stage companies where we have little data, we use the guiding principles we've created. For me, I have little to no interest in these businesses: non-FinTech, non-B2B, companies not led by established entrepreneurs, companies without early signs of growth, companies with no indication of future performance, companies that are in a super competitive space but don't have an edge that'll make them market leaders, and companies not based in Silicon Valley with ties to Israel or without ties to Israel. And even within FinTech, there are certain areas that I'm excited about and others that I'm not. For example, I think Neobanks are super cool, but for me to invest in a Neobank, I need to find one that is unique, and that's why we invested in Lili Bank. We also look at non-tangible things, including the strength of the energy between us and the management team when we meet in person.
Talk to me about your experience in Bahad and how it influenced your leadership style.
I spent almost two years in Bahad at first as a team leader and then as a company commander. It was the first time in my adult life where I felt like I could do something substantial with my life and add value to people's lives given I was a mediocre high-school student who left without a diploma. My experience in the army brought with it grit, discipline, and emotional intelligence, which influenced the way I manage my staff and build relationships with my founders and investors.
What's the secret to success when it comes to entrepreneurship?
There is no secret sauce to success. It's easier to build a company if you have experience building a company. Proven entrepreneurs have been through the whole shebang – they've raised money, they've built a team, they've sold the company, they've failed, they've succeeded, and they've built that muscle memory.
What advice would you give to a young entrepreneur?
Be curious, agile, and confident, and find a mentor. Be creative and insightful – when you are an outsider to a problem, it's easier to revolutionize or re-invent. Eventually, you'll build your team, bring on investors, conquer your first few clients, and your story will be built around that.
Tell me about the Guinness World Record that you broke.
I sold the world's largest life insurance policy when I was running SG, which was a multi-family office where we managed the wealth of a few families out of Santa Barbara and Montecito. We had different visions in the company, and one of them was life insurance where we collaborated with a licensed insurance company and syndicated term and whole life insurance policies. That's how we sold a $201 million life insurance policy.
How did running SG shape your career?
Running that firm through its various divisions helped me a lot in understanding high-net-worth individuals and their needs. It also helped me acknowledge that I was not interested in the service industry, where you were only as good as your last deal. I wanted something with more longevity, and that's how I got into venture capital.
Describe yourself in three words.
Complete. Husband and father. Winner.
Michael Matias, Forbes 30 Under 30, is the author of Age is Only an Int: Lessons I Learned as a Young Entrepreneur. He studies Artificial Intelligence at Stanford University, while working as a software engineer at Hippo Insurance and as a Senior Associate at J-Ventures. Matias previously served as an officer in the 8200 unit. 20MinuteLeaders is a tech entrepreneurship interview series featuring one-on-one interviews with fascinating founders, innovators and thought leaders sharing their journeys and experiences.
Contributing editors: Michael Matias, Amanda Katz