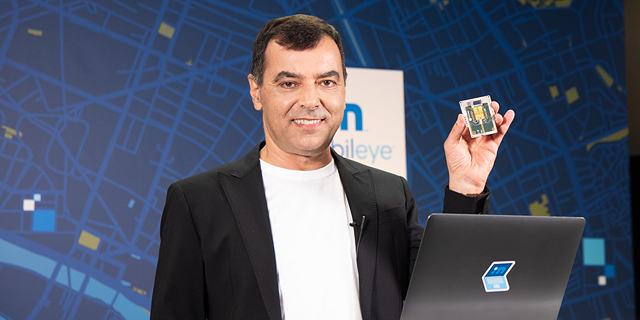 Analysis
Mobileye's Shashua makes sobering predictions on future of autonomous vehicles
Announcements promising an autonomous car for every worker by the year 2025 are no longer being heard, with Shashua now saying that "one in every 10 cars will be autonomous by 2030"
Tomer Hadar
|
15:12 12.01.2021
Mobileye held its annual CES press conference on Monday, and with the prestigious event being held online this year due to the Covid-19 pandemic, electronic and auto manufacturers, including Mobileye, were left somewhat exposed. All the presentations of new models, technologies or products were revealed to the entire world at the exact same moment without any filters. That is perhaps why this year's announcements were both honest and accurate.
There is quite a bit that can be learned from Mobileye's statements, like the slow pace in which the company anticipates autonomous vehicles to be adopted by the market, the volatile relationship with the Chinese car manufacturers and the frequent changes taking place in the technology required to implement autonomous vehicles.
One day prior to the start of CES, China's most notable car manufacturer Nio, which is backed by Tencent, unveiled its new flagship car, an electric sedan named ET7, which is already being branded in China as an 'anti-Tesla weapon.' Nio's press release included plenty of superlatives regarding the autonomous capabilities of its new flagship vehicle, which according to the company includes 33 sensor, including 12 ultrasonic sensors, 11 8-megapixel cameras, five millimeter-wave radars and two positioning units based on NVIDIA's Orin system, a Mobileye rival.
Mobileye announced just three years ago that it would be collaborating with Nio, but the two parties have gone their separate ways since Nio's star has risen.
The discontinuing of such a partnership is rare in the global auto industry, with car manufacturers often working with the same suppliers for decades. Nevertheless, this move is another example of the instability that currently mars the global auto industry when it comes to the development of autonomous vehicles.
Announcements promising an autonomous car for every worker by the year 2025 are no longer being heard, with car manufacturers running out of money and the autonomous car transforming instead into a ridesharing shuttle, or "robotaxi." Right now, it is difficult to even define accurate goals for the penetration of autonomous vehicles into the auto market.
In December 2019, Amnon Shashua, co-founder and CEO of Mobileye, told Forbes that by 2030 driving will mainly be a sport. Yesterday, he made a completely different prediction, saying that "one in every 10 cars will be autonomous by 2030." Announcements are usually made based on the known information at the time and particular expectations regarding the development of a product. But for a company that was sold to Intel for billions of dollars, such widely differing announcements are problematic. Shashua's new predictions are no coincidence and he is clearly trying to temper expectations and set a more realistic goal regarding the penetration of autonomous vehicles.
In the meantime, the biggest problem facing Mobileye is the cost of its products. Mobileye is selling autonomous kits, but Shashua estimated that they will be starting at a price of $20,000. In 2025, the price of the kit is expected to drop to $5,000, which will still increase the cost for the consumers of autonomous vehicles by about $10,000. In 2030, the price is meant to be just a few thousand dollars.
It is important to note that these kits still don't provide full autonomous capabilities, but up to Level 4 automation in which cars do not require human interaction in most circumstances, but a human can still request control.
Even with the instability opposite Chinese manufacturers, the unclear timetable regarding Mobileye's experiments in Israel and the countless changes the auto industry is undergoing, including due to Covid-19, Shashua is predicting that 10% of all cars will be autonomous by 2030. That prediction could of course still change, but for now, it is the most accurate estimate Shashua has given regarding the future of autonomous vehicles.