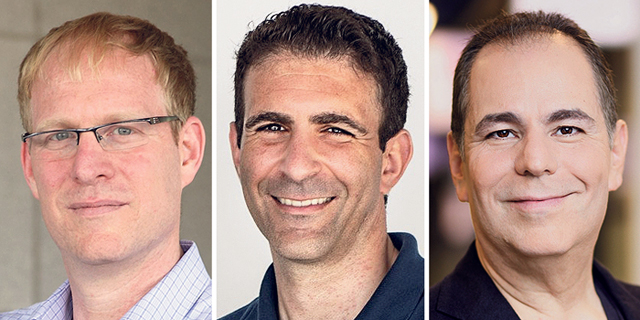 Top tech CEOs demand Israeli government stop dollar depreciation against the shekel
"Israel is about to lose a leading growth engine due to the apathy and indifference of the government of Israel and its economic establishments," wrote executives and entrepreneurs from the likes of IronSource, SimilarWeb and AppsFlyer
Naomi Zoreff
|
13:58 17.01.2021
Leading Israeli tech entrepreneurs have written to Minister of Finance Israel Katz demanding that the government immediately formulate and implement an emergency plan to rescue Israeli export, with a focus on tech, due to the shekel's recent strengthening against the U.S. dollar. The letter, signed by 14 tech executives, entrepreneurs and venture capital fund partners, warns that without such a step, "the current crisis that the Israeli economy is in will only worsen as hundreds of thousands of people will join the unemployment ranks, beyond those that have already lost their livlihoods during the Covid-19 crisis."
The letter was signed by Tomer Bar-Zeev, CEO of IronSource, Or Offer, CEO of SimilarWeb, Oren Kaniel, CEO of AppsFlyer, Ron Yekutiel, CEO of Kaltura, entrepreneur Zohar Levkovitz, Moshe Lipsker, Israel Site Manager at Imperva, Modi Rosen, managing partner at VC Amiti, Gal Gitter, managing director at Ibex Investors, Shahaf Shakuf, GM Israel at Chegg, Ronni Zehavi, CEO of Hibob, Tom Livne, CEO of Verbit, Eran Ben-Shushan, CEO of Bizzabo, Raz Roditti, CEO of Razor Labs, and Alon Rosenthal, CEO of Whizzco.
"Unfortunately, despite the consensus regarding the importance and contribution of Israeli export to the economy, including that of the tech industry, Israel is about to lose a leading growth engine due to the apathy and indifference of the government of Israel and its economic establishments," the letter read. "The erosion of the USD will result in severe repercussions, some immediate and other more long term. The figures show that in the past week alone the USD lost 2.5% of its value against the shekel, which comes following a 10% drop throughout the past year. Should this situation continue it will force most of the sectors that rely on export to initiate layoffs in the near future, and over time to move their R&D centers abroad."
The exchange rate had reached a low of NIS 3.11 to one dollar last Wednesday, but has since rebounded and risen to as high as NIS 3.27 after the Bank of Israel announced last week that it will buy $30 billion in foreign currency in 2021.
"It is clear to any intelligent person that the current rate of the dollar and its depreciation make it very difficult for tech exports, which is one of the economy's leading export sectors," Zohar Levkovitz told Calcalist. "When I raised money two years ago for the last company I founded named L1ght, the exchange rate was close to NIS 4.0. The Bank of Israel Governor promised that he would not let it fall below NIS 3.6. We make our calculations according to a certain exchange rate because ultimately our expenses are in shekels. Therefore, I currently have 25% less than I had to start with. We are a strong company and we are okay, but this exchange rate is killing startups, especially as salaries in tech have risen by 15% over the past three years."
According to Gal Gitter, any blow suffered by the tech industry has repercussions for many other sectors, with lawyers, accountants, restaurants and even cleaners all depending on the income generated by tech companies.
"Every blow or collapse suffered by a tech company effectively hurts everyone," Gitter told Calcalist. "Many companies have already started moving some of their tech manpower abroad, mainly to Eastern Europe and India. I predict that this trend will continue and significantly strengthen in 2021 should the exchange rate not change. It isn't out of the question that we will see a new breed of Israeli tech companies with the management and technological core being based in Israel, sales in the U.S. and a significant part of the technological workforce being based in Eastern Europe."
The Governor announced on Thursday a plan to purchase $30 billion. Isn't that good enough?
Levkovitz: "No. This is no more than a band aid. We can't always depend on a band aid policy. There needs to be a plan."
What steps need to be taken?
"The Governor has all the tools, including lowering the interest rates, even if that means having a negative interest rate. There is an entire basket of monetary tools that can be used."
What will happen if they don't do that?
"My greatest fear is that there is some economist at an international company like Intel, Apple or Microsoft and he is saying to himself that Israel is too expensive and they will leave and we'll see R&D centers closing. Israel has benefitted from a very positive sentiment to date, but if that sentiment changes and Israel gets branded as an expensive country it will take a long time to change, a lot longer than it will to reduce prices. That is my greatest fear."