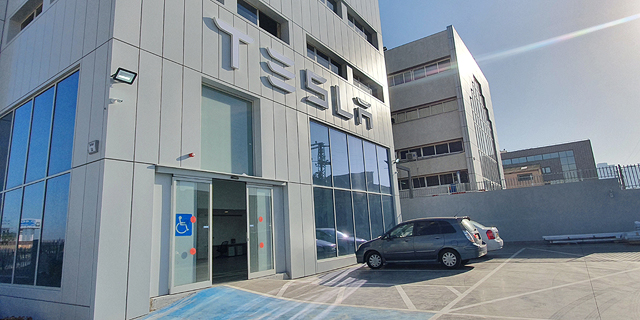 How much will a new Tesla cost you in Israel?
The company is considering reducing the NIS 295,000 price tag for the basic Model 3 to encourage competition with existing brands; service center to be unveiled soon
Tomer Hadar
|
15:40 25.01.2021
Tesla is preparing to unveil its new service center in Israel within the next few weeks, opening the door for it to begin its sales campaign. Calcalist has learned that Tesla's center in the central city of Petach Tikva is in the final stages of construction. Calcalist has also learned that over the last few days internal discussions are taking place over a possible reduction in the price of the electric vehicles -- for the basic Model 3 version, down from the threshold price of NIS 295,000 ($90,000) to around NIS 290,000 ($88,500), in an effort to encourage competition against existing non-electric vehicle offerings. Last week, the price of Tesla vehicles in Europe began to fluctuate as the company cut down prices of the Model 3 version being sold in Germany and France by thousands of euros.
approved
Tesla-Israel's import license. How much will a Model 3 cost? Tesla-Israel will sell three vehicle models in Israel, according to a release from the Ministry of Transportation — Model S, Model X, and Tesla 3. The Model Y is currently absent from the list of local offerings. The starting price of the Model 3 will be NIS 295,000, which is for the most basic rear-wheel drive model. Tesla data shows that the price refers to the basic battery Range Plus package, which includes the ability to charge the vehicle up to 415 km (258 miles). Buyers will be expected to pay thousands of shekels extra if they want a color other than white. Tesla will also sell the more luxurious version, the Long Range, which can accelerate up 100 kmph (60 mph) within 4.4 seconds and travel up to 530 km (330 miles). Long Range versions will also require an additional fee for models that aren't white, and the price is expected to be around NIS 365,000 ($112,000). Tesla Model 3 Performance versions are expected to start around NIS 399,000 ($122,000). Tesla has yet to publish the final prices of additional models to be sold in Israel, such as the Model S and the Model X. It is important to note that Tesla buyers will benefit from a low (10%) purchase tax compared to hybrid vehicles (45%) and regular vehicles (83%). Despite the reduced purchase tax, the initial prices offered to Tesla customers show that these cars aren't necessarily cheaper than the existing supply of non-electric cars. The Model 3, for example, has been offered to buyers at a higher price than that of its competitors, such as the Lexus IS and Audi A4. Despite that, as of the beginning of 2021, Tesla-Israel is expected to have a backlog of hundreds of waiting customers and that's even before launching the official marketing campaign. The new Israeli center Tesla-Israel's new service center is made up of three floors and a wide basement floor. An external inspection suggests the service center doesn't include a showroom, at least not on the ground floor. The center does include several car maintenance and charging stations, as well as special hardware required by the Ministry of Transportation to care for electric vehicles.