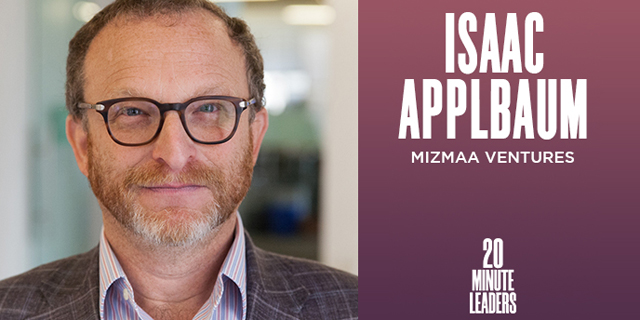 20-Minute Leaders
"Get yourself a mentor, and not one but three if you can"
MizMaa Ventures co-founder Isaac Applbaum talks to Michael Matias about the importance of connections, leadership....and wine
He has more than 3,500 bottles of wine in his cellar in California and another 1,000 bottles back in Jerusalem, but Isaac Applbaum, co-founder of MizMaa Ventures, is not your average wine connoisseur. Applbaum is a prominent figure in the business world and a former SVP at Bank of America, where he helped the company find and invest in early stage internet companies. After leaving the organization, Applbaum went on to found his own VC firm and began to develop a set of key characteristics that shaped his investment strategy. As Applbaum explains, it is extremely common to have dozens of social media connections, but what distinguishes the good founders from the great founders is their ability to work, respond, and produce efficiently. Speaking with Michael Matias, the creator of 20MinuteLeaders Applbaum explains how as a founder and investor himself, he understands the importance of finding a supportive mentor and his desire to assist the young entrepreneurs he now works with.
Click Here For More 20MinuteLeaders
You're actually one of the largest Kosher wine collectors in the world, right?
Yes, it's a real passion of mine and something that I've been doing for many, many years. We did our first winery in 1989 when we lived in Sacramento. There were maybe 10 Kosher wines you could choose from at the time, so my partner Art Huntley and I went out to make really great wines, and we eventually sold them to Herzog (the largest producer of Kosher ones in the world). I've been doing wine projects both here and in Israel for the last 25 years.
Isaac, you're one of the most world-renowned entrepreneurs, investors, and tech executives. What's the deal with wine? Why wine?
One of the things that really drives me is, and we can talk about this a little later, is being a connector. How do you get people together? And for me, wine is that connector. It's the middleman. I find that wine is a real common bond between people of the whole world—young, old, middle-aged, and globally. So, I started collecting, making, producing, and drinking, and it all fits together.
How many bottles of wine would you say you've produced over the years?
Well, the better question is how many do I have in my cellar because what I produced is gone. In my cellar here in Oakland, I have about three and a half thousand bottles, and in Jerusalem, I have about a thousand more. They're from every known place on the planet: Spain, Italy, Israel, California, France. It's quite diverse.
How many of them are unique? How many of them are different?
That's a really interesting question. We make one barrel of something called Harlan, which is a hundred-point Parker. It's the best non-Kosher wine pretty much in Napa. I have a partner, and I make a barrel every year. So that's definitely the most rare, but I have some very old wines. I have a beautiful cellar and quite a few rare bottles. I have some of the great Herzogs from 1996 and '98 and '99 that are still good. I have the old Yardens from 1984 and 2000. I have quite a few interesting bottles.
Isaac, talk to me a little bit about your role as SVP at Bank of America.
I was an SVP at Bank of America a while ago, and I'd like to think that everything that has shaped my career, unlike your generation that gets to plan, has been accidental. I say that because my dad was a rabbi in the same synagogue for 52 years. His father was a rabbi for 65 years in the same shul. I had no plan for myself and meandered a lot. I studied technology in the early days and ended up co-founding a company that was pre-internet but still had a lot of the components of the internet. We did banking software applications for banks, and Bank of America bought my company. They were my exit, and I spent two-plus years with them simply helping them find early-stage internet companies both in the US and in Israel. In 1999-2000, I started taking monthly trips to Israel, and I learned a lot about what corporations want and need from these early-stage startups. Then, when I got recruited to Lightspeed, it was kind of like going to the dark side, which is where entrepreneurs go to retire. You really end up working six times harder than you ever worked in your life. I was able to apply my knowledge from what I learned at the bank to Lightspeed and then again into future investing.
Do you have an investor persona for how you approach this role? What are things that you'd like to see when investing and what things would you not like to see?
My answer is the most common answer you'll get: it's about the people. Most of what I do is in Israel, but it's also about the nexus of California and Israel. That was all true up until MizMaa, which I started in 2016, because that's much more focused on the East. But up until then, the vast majority of my focus was really building companies in California and Israel. For me, great entrepreneurs have a great work ethic. That's about as important as anything else that I look for. How quickly do I get my emails returned? How quickly do I get my phone calls returned? If someone in Company X wants to meet and two weeks later they send me that information, I'm not interested in investing anymore.
Can you expand on this approach of yours?
I started in the '80s, and even then, if I got a phone call, I returned that phone call. If I had a list of to-dos for the day, I didn't go to bed until I finished that list of to-dos. So for me, work ethic has been part of my DNA from the beginning. I think the problem with today is that there's always someone better than you. There's always someone working harder, there's always someone more engaged, and at the end of the day, that person is going to win the race. Clearly intellect and working efficiently are important, but there are so many people who are so connected and so energetic that I think you have to be one step more in order to really beat the guy next to you.
Besides responsiveness and clarity, what other aspects are you looking for during the due diligence process?
I rely heavily on a network of people. At MizMaa, we have an ex-Air Force pilot, Yoav, who will look at you and in 30 seconds know. We also have my oldest son, who studied cybersecurity at Princeton, and Rick Kaplan, who is the former CEO of IBM in Israel. So I'm able to use and combine all of their knowledge. It's kind of like a two-phase approach: I'll know everything there is to know about you, and I'll also know what you're doing and who the competitors are.
You've had the pleasure of seeing a few bad moments in our economy during your tenure as a venture capital partner. How do your entrepreneurs deal with these crises? What should leadership look like in hard times?
We talk about crisis control right away and come up with solutions after the first meeting. We've created this really cool concept called a growth committee in which we take two of our partners, another VC who's in the deal, and the CEO, and we meet every 10 days to talk about how we can help the company during these hard times. Some CEOs change their direction and then ask us for help. So we've been seeing a lot of differences both in the CEOs and also in their reaction to crises.
What are some pro tips that I can take with me as I start my own journey?
To me, there is nothing more important than mentorship. Get yourself one, two, even three mentors from all the different areas that you think you want to participate in. You can't just put up a dollar bill and get a mentor—it doesn't work that way—but it's very, very important and something I would suggest to any person starting out. So that's number one. Number two is define your goals. Define a problem that fits your criteria or define the criteria that fits the problem you want to solve. Who are the best people in that space? Who are the best companies? Who are the best mentors? Who are the best venture capitalists? Be strategic about it without overthinking it and then go after it.
I need three words that you would use to describe yourself.
Connector, focused, and fun.
Michael Matias, Forbes 30 Under 30, is the author of Age is Only an Int: Lessons I Learned as a Young Entrepreneur. He studies Artificial Intelligence at Stanford University, while working as a software engineer at Hippo Insurance and as a Senior Associate at J-Ventures. Matias previously served as an officer in the 8200 unit. 20MinuteLeaders is a tech entrepreneurship interview series featuring one-on-one interviews with fascinating founders, innovators and thought leaders sharing their journeys and experiences.
Contributing editors: Michael Matias, Amanda Katz