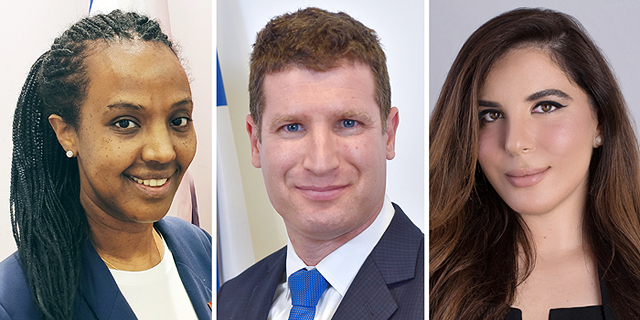 DiplomaTech
Israel's tech envoys identify challenges and opportunities of the post-covid world
Bareket Knafo (Romania and Ukraine), Shai Zarivatch (Australia) and Esti Ayalon Kovo (Beijing) discuss the biggest lesson they learned from the pandemic and what they believe will be the trends of 2021
Allon Sinai
|
20:53 30.01.2021
The Covid-19 pandemic has forced the Foreign Trade Administrations (FTA) at the Israeli Ministry of Economy & Industry, and its economic attachés across the globe to completely rethink their role in the world of economic diplomacy. While facing an unprecedented financial crisis and a fog of uncertainty, the attachés discovered that many of their previous strategic tools became almost irrelevant. Simultaneously, the Israeli industry found that they needed them more than ever. After all, how else could an Israeli exporter promote cross-border trade transactions in remote regions, where technology cannot bridge the closed sky and cultural differences?
CTech asked five of Israel's Economic & Trade attachés to discuss the biggest lesson they learned from the pandemic and 2020, as well as what they believe will be the trends of 2021 and where they intend to focus their efforts in the coming year.
Part one of this two article series will feature Bareket Knafo (Romania and Ukraine), Shai Zarivatch (Australia) and Esti Ayalon Kovo (Beijing).
"We are here, on the ground, speak the language, understand the history and local mentality, and the interrelations between the public and private sectors. And we know how to bring tangible results," said Knafo. "As the head of the Economic and Trade Mission of Israel to Romania and Ukraine, I have learned invaluable lessons on the importance of flexible management and how to turn challenges and obstacles into opportunities."
Zarivatch spoke of how after a short period of adjustment, the economic missions shifted their work to the online virtual space and in no-time, many conferences and business events started to emerge. They began from fairly small and dedicated webinars focusing on Covid-19 and healthcare-related matters and grew to dedicated and professional business events, and then large exhibitions and conferences with professional speakers and pre-scheduled 1:1 business rooms, thus largely copying the experience of attending a global conference and exhibition.
"This change and the adaptation to the new way of doing business, bridging and connecting between companies and representatives from both countries and markets which are far from each other, made us rethink altogether how we lived, worked and engaged before Covid, and how things will be after," explained Zarivatch. "It became evident that so many meetings could be held and so much time saved when using online platforms and indeed the volume of events, direct business interactions, and commercial engagements have skyrocketed after our work-plan for the second part of the year had been utterly disrupted and a new, modified plan for the Covid era was put in place instead." Ayalon Kovo hailed 2020 as "a year of great trials" for the economic missions. "Wherever there is a crisis, there is an opportunity," she explained. "We witnessed distress and suffering from a threatening and unknown virus, but on the other hand, we were amazed at how resilient people can be. Taking this opportunity to research for new methods of coping with Covid-19, such as the development of remote monitoring, online treatment and digital health, things that usually take years to develop and produce, were put on a super-fast track and have been successfully implemented to the market in a few weeks. "We still see a strong economic relationship developing with major trading partners. For example, the export of medical devices from Israel to China in 2019 accounted for 17% of Israel's total export to China. During Covid-19, in 2020, Israeli medical product export to China increased by more than 2%, reaching almost 20% of Israeli total export to China."