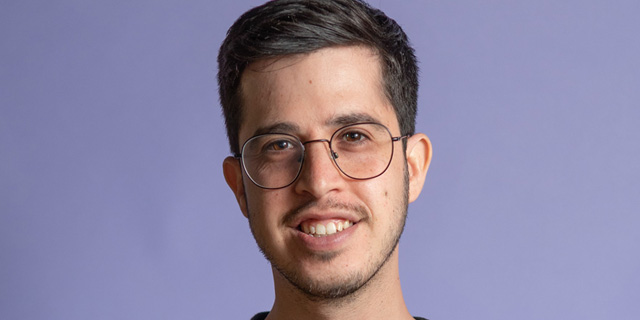 20-Minute Leaders
"After 10 years of hands-on developing, I woke up one day and decided I wanted to change something in my career path"
Mine co-founder and CEO Gal Ringel talks with Michael Matias about the importance of taking back control of your personal data
More than 350 companies across the globe can access an individual's data at any time, and Gal Ringel, co-founder and CEO of Mine, is on a mission to help consumers regain control over their personal information. After ten years in the tech industry, Ringel decided to transition to the business sphere and leverage his technology skills in a new way. While working at VC firms, Ringel developed a unique business-centered skill set that ultimately proved useful as he co-founded Mine, an organization that helps individuals manage their data. As Ringel explains, it is extremely easy for a company to acquire and exploit an individual's information, and Mine is designed to protect personal data from unwanted intrusions. Whether it's birthdays, addresses, or voting preferences, our data is more public than ever, and Ringel is hopeful that he can help consumers do a data detox and regain autonomy over their online information. In an interview with 20MinuteLeaders creator Michael Matias, Ringel also reveals how Mine raised $9.5 million in Series A funding in the midst of a pandemic.
Click Here For More 20MinuteLeaders
Gal Ringel, who are you?
I have a diverse and strange career. It all started 25 something years ago. When I was eight years old, I started to write code and then hack stuff, and this is what got me to work with the 8200 Unit in the Israeli army.
How did you get to start coding at eight years old? How did that even happen?
I'm a gamer. I used to play Counter-Strike, and this got me my first job in one of the leading gaming companies in Israel where we actually did LAN parties. I was in charge of running all the networks and all the servers, so this is how I learned networks, and routers, and even coding some things. So this is how I got into the coding and hacking stuff.
When you say "hacking stuff," give me a little bit of context. What does that mean to you?
I was around 12 years old when I started to hack stuff, and this was security hacking. Back when the internet started, it didn't have any proper security in place, so I started to hack stuff and train my skills.
Later, you make this interesting quick transition to the business world. How do you find yourself then going into investments?
After 10 years of hands-on developing and dealing with technology, I woke up one day and decided that I wanted to change something in my career path. I was good in technology, but I didn't want to take that to the next level and be a VP R&D or a CTO. I decided I wanted to take my tech skills and leverage that on the business side. But I had to go study that somehow. I had my first computer science degree, but I didn't want to go and do an MBA back then. I found myself going into the venture capital community. I started with Nielsen, the market research company, for two years doing early-stage investments, and then I moved on to Verizon Ventures doing later-stage investments. What was so special about that is that I had an amazing chance to get a glimpse into the startup ecosystem by investing in early-stage and first-stage companies and to learn business skills, product marketing, hiring. Eventually, in four and a half years, I had the chance to invest in 20 companies. I saw them developing and advancing from the very early stage to the very growth stage. It was an amazing experience to acquire a skill set that I'm putting into action right now.
Now most recently, you're running your own startups. Tell me a little bit about how you moved from VC to creating a startup.
After four and a half years doing investment, I decided that I'm ready to go back and do what I'm passionate about, which was to start my own company. I grabbed two friends; one of them is our CTO Gal Golan and the third co-founder is Kobi Nissan. After a few meetings, we quickly discovered that the three of us understand personal data and how valuable and precious it is on a personal level. But we quickly realized that many of us dealt with personal data of different people from all kinds of different angles throughout our career. We know how easily our personal data can be exploited. This is how we thought about Mine. We knew that we wanted to bring a consumer product that can help people understand what companies are doing with their data but also to take action and to do something about it. I'm talking about the end of 2017 when the GDPR was legislated.
We started to research, and we quickly identified that the GDPR had changed the history of the internet because it defined that personal data is our own asset and it gave us powerful rights. But we knew that regulation wouldn't be used by people because it's very hard and complex. So we went all around the streets of Europe and asked people whether they heard about the GDPR and whether they exercised any of their rights. Most of them did hear about it, but none of them could exercise these rights because it was very complex. This is how we knew that we had to make it accessible to millions of people because it's a very powerful right. This is how Mine started.
Give me a little bit of context for those who don't understand the magnitude of the problem of private data and personal data. What is the trend, and how compromised is our personal data in 2020?
We believe that the entire market has shifted from privacy into what we identified as data ownership. The worldwide average digital footprint consists of 350 companies, so it's 350 companies that have actively collected your data from sign-ups, purchases, things that you're doing in your day-to-day. In the U.S., it's even higher: 550. So we quickly identified that the problem is managing our data on an ongoing basis and how we can make sure we leave our data only where we're still using it. This is why we developed Mine. Mine allows you to always know where your data is and who has what about you.
What I love about what you're doing is you're taking back control over choosing where I want my data to be stored. It's saying we understand that our data is going to be shared, but I want to be able to control where it's going to be shared in the world.
We call it bringing you back the choice. What we wanted to do with Mine is give you the choice to decide. The first phase is to understand who has what: this is the accessibility, the 350 companies that most people don't have any idea of. After you do have that understanding, you have the choice to take your data back. We give you all the information that you need in order for you to make an informed choice and in order to understand what services you need to delete and what services you need to keep. But you have the choice—we are not deciding for you. We will also be there to update you when things change. Our job is to help you do a data detox and reduce the amount of data that is out there about you.
I have to spend a few minutes talking about your most recent Series A raise because it's phenomenal to be able to do it. It's even more phenomenal to do it all on Zoom. So, tell me what happened over there.
After we raised our seed round in early 2019, we worked for the entire year in sales to develop our product. When we felt it was ready to hit the market, we did our official launch in Europe but also in Product Hunt. We won the second place App of the Month on Product Hunt, and that got a lot of attention from investors. We started to speak with a lot of investors at the end of January (2020). I jumped on calls with investors just to share our story, to share our vision, what we're after, and to develop relationships with those investors. When Covid-19 hit in March, the entire worldwide VC community shut down, but most VCs were back in business in three months. Luckily for us, Covid-19 increased the need for data privacy and data protection with contact tracing, location tracing. In May, we were lucky enough to get a term sheet, and around June we closed the entire round. Everything was done through Zoom from start to finish.
What are three words you would use to describe yourself?
I would say calm, fearless, and funny.
Michael Matias, Forbes 30 Under 30, is the author of Age is Only an Int: Lessons I Learned as a Young Entrepreneur. He studies Artificial Intelligence at Stanford University, while working as a software engineer at Hippo Insurance and as a Senior Associate at J-Ventures. Matias previously served as an officer in the 8200 unit. 20MinuteLeaders is a tech entrepreneurship interview series featuring one-on-one interviews with fascinating founders, innovators and thought leaders sharing their journeys and experiences.
Contributing editors: Michael Matias, Amanda Katz