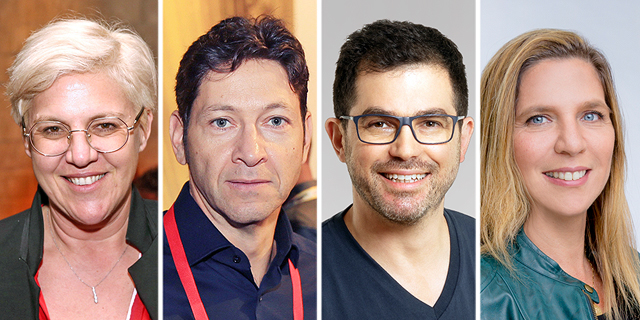 Covid-19 taught us anything is possible, admit Israeli VC executives
"We ended up having a record year in which we invested in more startups than ever before," said Pitango's Eyal Niv
Omer Kabir
|
16:46 04.02.2021
"At the start of the pandemic, we promised all our companies that they wouldn't run out of money. The idea was to give them 18 months of runway. After 18 months we will assess what survived, a little like in the movie 'War of the Worlds,' and move on from there," said Fiona Darmon, General Partner at venture capital fund JVP, during a panel at Calcalist's Innovation Week.
According to Darmon, the past year didn't end up unfolding as people were predicting at the start of the pandemic. "It is very interesting to look at the evolution of the past year," she said. "When March arrived a lot of people found themselves in isolation. We thought the world was falling apart around us. The first thing we did at JVP was promise our portfolio companies that they would have funds. No one knew how long the crisis would go on for and how extensive the damage would be or how the economy, company or clients would react. But ultimately something crazy happened. If you look at the market you can see that more money entered the market. You can see big deals and surging stock markets. This past year ended up being a record year in the number of investments which we led. Not only did investors put in a lot of money to secure investments, but they also saw this as a time to take advantage of opportunities."
Eyal Niv, Managing Partner at VC Pitango, explained how the past year changed many of the underlying premises regarding the tech industry.
"We learned that everything that we thought was impossible is actually possible, and that everything we thought could never happen will happen. We thought that you couldn't make investments without meeting the entrepreneurs, but learned that it is indeed possible. We thought that you couldn't conduct due diligence without meeting companies, but learned that is possible too. We ended up having a record year in which we invested in more startups than ever before. It was a year in which we underwent a significant change and learned that anything is possible."
Yossi Moldawsky, co-founder and chairman of Plus Ventures, which focuses on early-stage startups, said that even with the relative difficulties of recent times, startups are managing to raise money. "It isn't simple to raise money in times like these but it depends who and what you are raising for," explained Moldawsky. "An entrepreneur who answers all the criteria: studied at the right places, has the right experience from the army, worked at the right startups or big companies, and presents tech that is relevant to this period will still be very successful in raising money and will even be fought over by investors. If you are an entrepreneur who doesn't fit all the criteria it doesn't mean that you're a bad entrepreneur or that your project isn't good, just that it will be more difficult for you to raise money. Many of the angels that aren't from the sector or aren't professional investors moved aside and maybe lost a bit of confidence. Many of the foreign investors are gone as it is difficult to invest remotely in a small startup in Israel. That leaves the sphere open to local investors, and there is something nice and even patriotic about that. It isn't simple to raise money, but if you are good you will raise and raise well."
Merav Weinryb, Managing Director at Qualcomm Ventures, spoke about the activity of the corporate investors over the past year. "At the beginning of the pandemic I thought there would be some changes and there were reports that corporations would halt investments because we are regarded as being more conservative. But what ended up happening this year is that much like the rest of the industry, we accelerated or at the very least maintained the same pace as before when it comes to the number and size of investments. I thought that the industry would slow down, but several things happened and many new players joined the party as this is one of the industries that accelerated due to the pandemic. We had a very good year at Qualcomm Ventures both in Israel and globally."