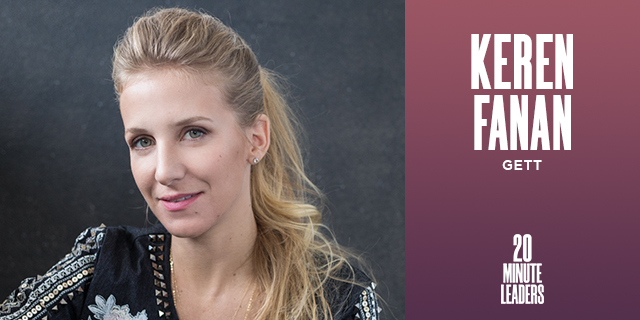 20-Minute Leaders
"When you approach something as if it's the most important thing and you execute it in the best possible way, that is a critical thing"
Michael Matias speaks to Keren Fanan, chief commercial officer of Gett about passion, being an "intrepreneur," and climbing volcanos
One of the biggest lessons Keren Fanan, chief commercial officer of Gett, has learned in her career is knowing what is not working and being able to let it go. She helped launch Gett Delivery and then narrow the on-demand options offered. The experience of creating a new venture within an existing company led her to realize she could be an entrepreneur without going out on her own. She says people with an entrepreneurial mindset are exactly who founders want in their companies. Another thing that she says is critical is treating every task as if it is the most important thing for your company. These attitudes have helped her rise through the ranks and bring value to her employers.
Click Here For More 20MinuteLeaders
What prompted you to climb the largest volcano?
"I've always been a big fan of extreme sports. It's quite common when you finish the army, you usually travel for a few months. I did my trip to South America, and when I got to Ecuador, I was told there was the tallest active volcano, Cotopaxi, and if you want you can climb it."
How was that experience for you?
"It was extremely difficult. In order to climb to the cliff, you have to start at 12 a.m. By the time of sunrise, you reach the top. It was a once in a lifetime experience."
What is the responsibility of a chief commercial officer at a company like Gett?
"The responsibilities include driving revenue from our core business units, managing all of the sales organization as well as the account management and also managing the marketing activity. I also overlook the acquisition and retention in our consumer business. Essentially, everything that generates revenue for the company sits within the commercial unit."
What is a B2B initiative of a ridesharing company like Gett?
"After the launch of the consumer service, Gett also launched a B2B service for corporations and developed a technology that helps companies to manage their taxi rides for their employees. For a company where there's a lot of travel, you used to have to take a taxi, keep the receipt, and expense it. Now everything is managed by the Gett system. It's as simple as that. We have also integrated with other providers such as Lyft, Ola Cabs, and Carey International. We're slowly creating a global ecosystem of all of the existing consumer providers that we all know, and we make it accessible for business purposes."
Tell me a little about how you transitioned from R&D product management and tech to working your way up in Gett from an entry-level position of a marketing operations manager to now the chief commercial officer.
"Transitioning from R&D and tech was a massive change because everything was different. Gett gave me the opportunity to move from tech to operations without any experience in marketing because they believe that if you have the skillset and the motivation, you do not necessarily need to have the super-specific relevant experience. I really believe in that. I joined Gett as marketing operations manager. Since then I've started a crazy journey or roller coaster. Several things helped me in the journey. I'm very much focused on getting things done, and I took every opportunity to execute on something as if it was the biggest thing for the company. I believe when you approach something as if it's the most important thing and you execute it in the best possible way, that is a critical thing. I was lucky enough to work in a company that embraced innovation and execution. When my manager saw that I'm capable of executing, he gave me more challenges. So, the next challenge was to launch Gett's on-demand delivery for all sorts of products: pizza, flowers, courier on demand, etc. We started by launching verticals at Gett, different products that you can get on-demand. We actually had to do everything exactly like building a startup in your own garage, as if it's the first time for the company. But the only thing that was well adopted by the market in Israel but also in other markets was the courier service. I had to decide to shut down some of the activities. It's never a fun decision, but it was another step in the journey. We invested more in Gett Delivery, and we expanded the service. At this time, I was also promoted to lead Gett Delivery globally also in the UK and Russia. So, for the first time in my life, I had to manage teams abroad and hire people in different countries, different cultures, different languages, which was another critical step."
What was the hardest part about shutting down the on-demand products?
"Dave Wiser as my mentor challenged me to think on whether I could be more successful focusing on what works. It wasn't the most difficult thing because later on in my career I shut down ventures that had 30 people working on it. If you allow yourself to be innovative, to try new things, you just have to take into consideration that some things work amazingly well, but some just don't. And if it doesn't work, then you better shut it down and move on. Otherwise, it's just going to pretty much drag you down."
In addition to market research, what else do you consider before deciding to launch or shut down a service?
"In Gett, something that we do quite a lot is to look at the data, look at the numbers and figure out business decisions we need to take based on this data. Now, I'm not saying that everything has to be solely based on data. You always have to bring your point of view. And I'm also a firm believer that even intuition has something to do with it. But when you have clear facts and you look at the numbers, it makes it easier."
Why did you opt to be an entrepreneur within an organization like Gett as opposed to launching your startup from scratch?
"As an entrepreneur, I believe I need an environment that allows me to be innovative rather than starting something from scratch. The understanding that you can be an entrepreneur inside a company, what I call an "intrepreneur," was something that for me was a great revolution. In my mind, the definition of an "intrepreneur" is working for a company, building stuff, and acting as if you are the owner. So you don't see yourself as another employee, you see yourself as the owner. You see yourself in the same way as the founder sees himself or herself, and you also think like a founder, you just work for a company. And the thing is that for the actual founder, this type of people, the "intrepreneurs," they're the best kind of employees because any founder would want his team to have people that see the company as if it was their own. And to me, it was a great understanding that I could feel comfortable bringing my entrepreneur urge inside a company rather than just building something of my own."
What three words would you use to describe yourself?
"'Find your passion' because when you're passionate about what you're doing, it's like you're a different person. Nothing is difficult enough. Nothing is hard enough. Everything is possible. When you are not passionate, things become a hassle. It took me five or six years before I really got this passionate feeling."
Michael Matias, Forbes 30 Under 30, is the author of Age is Only an Int: Lessons I Learned as a Young Entrepreneur. He studies Artificial Intelligence at Stanford University, while working as a software engineer at Hippo Insurance and as a Senior Associate at J-Ventures. Matias previously served as an officer in the 8200 unit. 20MinuteLeaders is a tech entrepreneurship interview series featuring one-on-one interviews with fascinating founders, innovators and thought leaders sharing their journeys and experiences.
Contributing editors: Michael Matias, Amanda Katz