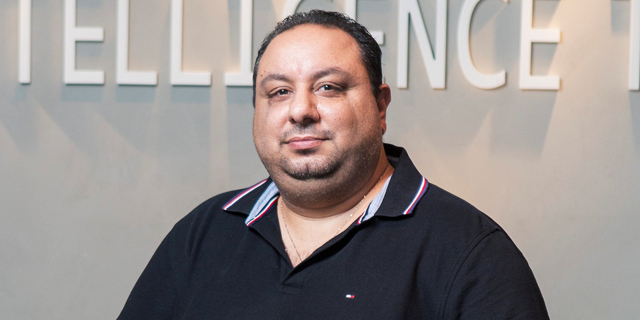 Israeli cybersecurity startup CYE raises $120 million series A led by European VC giant EQT
Hyver, CYE's flagship product, uses advanced algorithms and graph modeling to conduct a comprehensive and accurate cybersecurity assessment, covering the entire organization, as well as third-party vendors
Meir Orbach
|
16:01 10.02.2021
CYE, a global leader in cybersecurity solutions for organizations, announced on Wednesday the completion of a $120 million series A funding round led by EQT Private Equity.
This is the first time the giant European VC, which in 2018 secured $13.3 billion for its eighth fund, has invested in an Israeli company. CYE plans to use the new investment to continue its accelerated global growth. North83, the first VC to invest in CYE, also participated in the round. The round included a small secondary element in which shares were bought from the company's executives and employees, with the company refusing to reveal its exact size. CYE's valuation was also not disclosed. EQT will receive a minority stake in the company.
CYE was founded in 2012 by Reuven Aronashvili, who served in the secret elite military unit Matzov, an abbreviation for the center of encryption and information security in Hebrew. Matzov is dedicated to developing encryption and information systems security technologies. The unit is Israel's highest authority on encryption and cybersecurity and offers its services to all of the country's security organizations.
CYE employs 70 people in its offices in Herzliya, as well as hundreds of ethical hackers across the globe.
"We don't need the money, but are really interested in having this partner, with whom we have been working since 2016. We know their capabilities and were enamored with the idea of having them as a minority share partner," said Aronashvili. "The investment wasn't due to a financial need. The company's valuation is progressing very nicely and the investor received a small share of the company as we want to avoid being diluted as much as possible. We are a profitable company and we will now be able to expand globally, including in North America and western Europe and have a global operation headquartered out of Israel. In addition, we are looking at acquiring other companies, assuming we find a company that has a technology that interests us that we don't have, or a technology that will improve our's or a company that has a lot of talent which we would be happy to take under our wing. This round and the money we have allows us to make interesting acquisitions."
Aronashvili said CYE grew by more than 100% over the past year. "Cyber threats have grown exponentially and the demand for our products increased considerably, especially in the U.S. where we brought in new clients," he explained.
Aronashvili wouldn't rule out another funding round in the future and has also already got one eye on going public. "We didn't need this round either, but on the other hand, if we have an opportunity to connect with a good partner I will definitely consider it favorably. I'm following the happenings in the world of IPOs and SPACs and it is very interesting. We are still not at that stage and we will see in two years if we will be there."
Hyver, CYE's flagship product, uses advanced algorithms and graph modeling to conduct a comprehensive and accurate cybersecurity assessment, covering the entire organization, as well as third-party vendors. Highly experienced 'red teams' then perform real non-simulated attacks, allowing CYE to accurately predict possible attack routes, giving customers the ability to prevent such attacks before they occur, as well as the knowledge of where resources need to be invested.
Over the last several years, there has been an explosion in the number of cybersecurity solutions introduced to the market, and concurrently, a significant increase in corporate security budgets. And yet, inefficiencies and vulnerabilities in organizations have dramatically increased during the same period. The resulting surge in security breaches has led to substantial business losses, such as unprecedented financial and reputational damage, underscoring the need for organizations to shift their approach to cybersecurity.
"The backing of CYE marks EQT's first deal in Israel, which is a highly attractive market for technology investments, and a country in which EQT intends to increase its activity going forward," said Florian Funk, Partner at EQT. "We have followed CYE's development closely over the years and we are truly impressed with the company Reuven and his team have built to date. Their approach of pairing AI-based technology, services and cyber expertise is unique in the marketplace and well-positioned for continued accelerated growth."