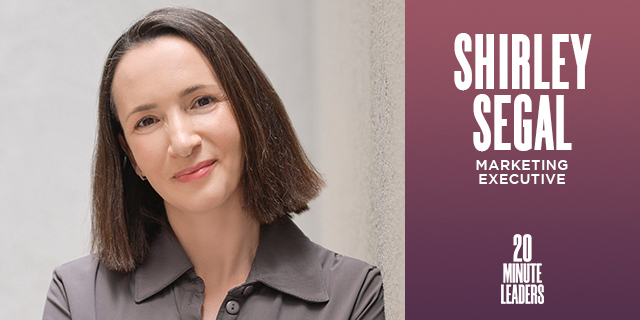 20-Minute Leaders
Get your hands dirty because that's when you learn
Shirley Segal talks to Michael Matias about the changes tech has brought to marketing over the past two decades
Many people don't love drastic change, but for Shirley Segal, being in charge of customer retention at Cellcom when leaving fees were suddenly canceled was an amazing and invigorating time. She has always sought out tough challenges in her marketing career and advises others that they need to get out there and try, even if they will fail badly sometimes. Today, Segal uses her talents to lead 8200 Alumni International and work in the Cybermarketing Team at Allot. She is passionate about being hands on and loves the changes tech has brought to marketing in the past two decades. Speaking with 20MinuteLeaders creator Michael Matias, she talks about why meeting customers' needs is always her focus, and how companies now get faster and better feedback about products and campaigns.
Click Here For More 20MinuteLeaders
Tell me a little about your marketing journey.
I first fell in love with marketing during my marketing 101 class, and as I did my MBA, the more I realized that understanding people's behavior and influencing them was my natural element and what I wanted for a career. My aim was to go to the best places in Israel and international, the best places with mind-blowing marketing challenges. So I started working for Bezeq, but it was Cellcom that formed my marketing personality. Cellcom deals with big numbers, and for me, that's the real challenge with marketing, taking a whole world of numbers and trying to find the story behind them and making your story so that it works. I understood with numbers you could identify needs. This is what marketing is all about: it's about identifying the needs and finding the right product to match those needs. You can identify needs from Excel sheets, consumers, focus groups, or even by talking to colleagues. We had some of the greatest success stories coming not from focus groups or talking to customers.
And when it comes to launching new products or services, sometimes we've had ideas that people believed won't work, even the consumers themselves, but when we launched, they worked like a charm. So sometimes it's about good intuition and believing in something logical and going with it all the way. So a lot of the time you just have to try something new and go against the flow and know that you're going to fail, sometimes miserably, but you have to give it a good try every once in a while because this not only benefits the organization, it also benefits yourself. And other times you will get great success and you understand that it's not always about harvesting these needs from the Excel sheets or customers, but it's also about finding the ideas that will later generate good growth options.
Tell me a little bit about Cellcom. How did you succeed in this role, which is incredibly difficult and competitive?
Being in charge of customer retention was great, but the timing of when I joined was also unbelievably amazing because, at that time, the minister of communication canceled leaving fees. We knew this was coming, but we couldn't have prepared enough for it. The fee cancellation started an unbelievably fierce price war between the companies because suddenly, there were no barriers to leaving any companies; there were no fines. And within two months, the prices dropped by 200% or 300%. Additionally, new MVNOs going into the game had nothing to lose, so they could put a price tag of $6 and they'd still gain. And the regulatory procedures allowed them and encouraged them to add as many subscribers as they could.
As a company, what steps did you take to retain customers amidst these price wars?
As a large company, Cellcom took time to implement organizational change but with new developments, that had to change, and we had to quickly adapt. So this became a defining moment for Cellcom. So we'd convene at 12:00 p.m. every day, and we would agree on a price plan that would give the best solution. And by 5 o'clock, we'd have the price plan in place, and it would be ready to launch the next day at 8:00 a.m. This is how things should happen everywhere.
And from that point on, the loyalty policy changed because up to that point, we had big loyalty programs, large campaigns, and great benefits. It was all about surprise and delight. But people were no longer interested in that. People wanted the best price because that was what energized the market at that point. And as we moved forward, it became more about the service and ongoing relationship between the customer and ourselves. Honesty, transparency, and building customer trust became our most important values, and that's how we built loyalty.
How did this period impact you and your fellow employees?
It was an awesome period with so much adrenaline and excitement. But really, this is a magic moment for any company and for every professional where you feel that you have no limits and things you thought that cannot be done can be done; everything can be done if you can put your mind to it.
What lessons did you bring with you from Cellcom and Bezeq as you were transitioning to be the director of marketing for the Zap Group?
What connects Zap Group, the Israeli Yelp, and Cellcom and Bezeq is about identifying the needs and talking to the customers and understanding what makes everybody tick and going from there to developing the product that would best suit everybody's needs. Another common ground is technology and how you can use it to be a better marketer and to develop better products that make your customers happy, which is important in customer loyalty. I am a big fan of everything that's techie. When we see the last 20 years and what technology brought in for marketing, this is a small-time revolution. We went on from just having surveys into really having concise insights into buying persona and having immediate feedback about how a campaign is going.
What challenges did you face at Zap?
It was always about the marketing challenge, and the marketing challenge went both ways. It was a B2B challenge because we had to please the advertisers who were small and medium businesses in Israel. And on the B2C side of it, we had to offer value to the consumers that would be visiting and interacting with our consumer websites. And part of how we created a win-win situation for all the parties was through web personalization; customers got content that matched their needs, advertisers got relevant traffic, and the SEO went through the roof, which made advertisers happy.
What are three words that you would use to describe yourself?
Curious. Energetic. Hands on. I like to get my hands dirty because that's where you learn.
Michael Matias, Forbes 30 Under 30, is the author of Age is Only an Int: Lessons I Learned as a Young Entrepreneur. He studies Artificial Intelligence at Stanford University, while working as a software engineer at Hippo Insurance and as a Senior Associate at J-Ventures. Matias previously served as an officer in the 8200 unit. 20MinuteLeaders is a tech entrepreneurship interview series featuring one-on-one interviews with fascinating founders, innovators and thought leaders sharing their journeys and experiences.
Contributing editors: Michael Matias, Amanda Katz