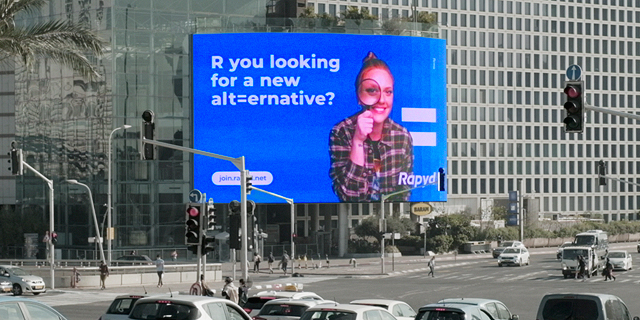 Israeli billboards shout: Looking for local high tech talent!
Rapyd launched a wide scale campaign on billboards across central Israel looking to recruit high tech talent. "People don't realize how expensive it is to recruit employees," says CEO
Maayan Manela
|
10:19 17.02.2021
Residents of central Israel couldn't help but notice the hundreds of ads plastered on billboards everywhere by fintech company Rapyd, calling for software programmers to join its workforce. In contrast to typical billboard campaigns, it wasn't designed to advertise the company's product, but rather to recruit employees. Although in the past there have been a number of companies that have run similar recruitment campaigns, the extensive efforts signified better than any statistic, that the battle over finding talented tech employees hasn't subsided amid the Covid-19 crisis, but rather escalated. Rapyd announced in January that it raised $400 million as part of its growth goals, and plans to recruit more than 200 employees within a year. "We chose the billboard campaign - which is very aggressive and located in almost every city - to get more resumes and raise awareness for our brand. It's a well-known fact that there aren't enough programmers in Israel, and especially when there are larger Israeli companies as well as multinational ones like Google and Facebook, all compete over the same people. Recruiting hundreds of people within a short time is a nearly impossible task, unless you start thinking outside the box and don't stick with standard methods like LinkedIn, outsourcing, and headhunter companies," Arik Shtilman, Rapyd's co-founder and CEO told Calcalist.