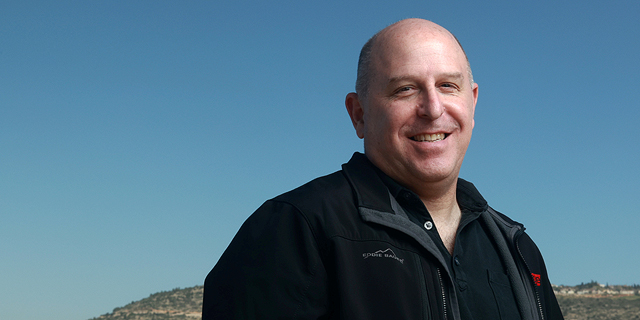 The man charged with keeping SolarEdge's current flowing
In his first interview, CEO Zvi Lando talks about becoming the highest valued Israeli company, and the loss of his friend and former boss
Diana Bahur Nir
|
09:40 20.02.2021
"My colleagues and I don't focus on stock market valuations and prefer to look at business performance," says Zvi (Zivi) Lando, falling into the cliche nearly all his fellow CEOs stumble into. It is safe to assume that CEOs do glance at their share price from time to time. Lando too. And if he did it at any time over the past year, he'd have reason to be pleased. Over the past 12 months, while the world was battling Covid-19, SolarEdge stock prices multiplied more than threefold, climbing from $100 per share last January to $330 this week.
"That is not on the table at all. Our desire, intent, and activity is focused on expanding the company into even more avenues in the field of green and renewable energy. SolarEdge is a horse you can ride into the sunset and that's precisely what we aim to do."
Guy Still Appears in my Dreams Telling me What to Do
The current produced by photovoltaic cells is a direct current. You need an inverter to turn it into the alternating current that matches the electricity grid. That was the first thing that SolarEdge developed. The company was founded in 2006 by five partners and it took them three years to develop their first product. When it was ready, it was no longer just an inverter but a tool that enabled remote monitoring and optimization of individual solar panels (according to the direction of the sunlight, shade, and other variables). It was at that stage that Lando joined the company as VP of global sales, and within several months, SolarEdge landed its first client, in Germany.
Since then, the company has grown significantly and for the past two years has cornered the market in the inverter sector (according to international research institute IHS). The company's list of clients and markets is consistently growing as are investments in it. In 2015, it went public in New York, and over the past two years, through a series of acquisitions, has also entered the electricity storage, electrical propulsion, and uninterruptible power supply markets. It employs 3,400 people in its global production and development centers, 1,800 of them in Israel. It opened its new 14,000 square-meter electronics plant in northern Israel just six months ago.
It is impossible, however, to talk about SolarEdge and its success, without mentioning Guy Sella, the founder, the driving spirit and the CEO of the company until August 2019, when he passed away from cancer of the bowels.
"Guy was a mythical figure," Lando says. "To this day, when we do something that he would have opposed, we glance at his photo that hangs in the office and say 'cover his ears for a moment'."
SolarEdge was largely built in Sella's image, who would have turned 57 next week. He served in the IDF's elite combat intelligence unit, Sayeret Matkal, and was injured in the line of duty. He later went on to study industrial management at the Technion-Israel Institute of Technology, returned to the military, where he served in the Intelligence Corp's technological unit, advanced in the ranks, was awarded the coveted Israel Defense Prize and after his discharge joined the venture capital industry until he founded SolarEdge together with some of his former army subordinates.
He was also the person who led to the establishment of the new manufacturing facility, which was inaugurated on the one year anniversary of his death and named in his honor "Sella 1." The first thing you see as you enter the factory is a commemoration wall in his honor, featuring the words of a song that he wrote and an electronic display that features photos of him and texts that he penned. The new battery plant that SolarEdge is building in South Korea will be named "Sella 2" and "there will be many more Sellas in the future," a senior executive at the company says.
Sella is often remembered for being determined and aggressive, a creative figure, colorful and tumultuous. One of his signature features was his affection for flip-flops, which he would often wear even at formal occasions. "I had big flip-flops to fill," quips Lando, with a smile.
"Guy was creative, but mostly he was determined. Sometimes we would take a long time deliberating a move, but once we had decided on a course we would do it with full force, marching to victory, clinging to the mission with complete determination, and everybody knew where it came from. Even now, we often joke amongst ourselves about who Guy visited in a dream and what instructions he gave us.
"But Guy was primarily my friend. We are roughly the same age and so are our children, our families spent a lot of time together. Shortly after I joined SolarEdge I was with my daughter at a tennis competition and happened to run into Guy who was there with his daughter. The girls became friends and we'd occasionally travel together for a few days to tennis competitions.
"I spent more accumulated hours with Guy than I did with my wife. We were both a bit older than the others and we discovered a shared curiosity, a great appreciation for professionalism, which manifested in our interest in sports, and biographies — he was a big fan of Winston Churchill and John McCain. We had a tradition during business trips to go out for ice cream at 2 a.m. We'd text one another 'ice-cream?'and head out."
You weren't exactly identical.
"We both had the same haircut," Lando says with a smile, indicating his bald head," but we came from different backgrounds and have pretty different characters, "I come from a more conservative background, not a big adventurer. Guy was more adventurous, dynamic, creative. Let's be honest, Guy had a much richer and more accomplished past. He was also much more sociable than I am. But still, in terms of our curiosity, appreciation of professionalism, basic perceptions, and values, when it comes to family and business, we were pretty similar."
He stayed on as CEO and chairman of the company until three days before his death. Did you have a chance to say goodbye to him?
"The two years during which he was sick was a complicated time, in many ways. Ten days before the last board meeting he chaired, I traveled to the U.S. When I landed in New York I had a message from Guy asking that I get back to him. He told me 'according to a test I did yesterday — it's over, a matter of weeks. We have to start preparing'."
What do you say in a moment like that?
"I told him: 'Guy, I love you,' and he answered 'coming from you, I know it is the truth'."
Did you try to encourage him, sow seeds of hope?
"He was a realist, a scientist. He knew exactly what was going on, what was left in his arsenal, he was not one to draw encouragement in his assessment of his condition.
"In the following two weeks he made arrangements for everything, on all fronts — both in his personal life and in the company. He spoke about what needed to be done in the future, including relaying that 'it all depends on you,' and he announced that I would be taking on the role of CEO. With an emphasis on 'announced,' he wasn't one to ask questions. He asserted."
How did you start off at the company? When did you first meet him?
"I was at Applied Materials for 16 years, running the company's Israeli division's business activities. Applied Materials' core activity is machines that produce semiconductors, but at one stage it entered the solar energy field. After it acquired a company in Italy, I was assigned to manage it and that was how I was first exposed to the solar energy world in 2008. At the same time, SolarEdge had a working product and it was time to figure out how to bring it to market. All of the founders — Yoav Galin, Meir Adest, Amir Fishelov, Lior Handelsman, and Guy himself — came from a military background in product development, but none had any business experience, and I had gotten tired of travelling back and forth to Italy. This all led to a meeting with Guy over a plate of Humus.
In flip-flops.
"Naturally, what a question. Afterwards I met with the other founders and in mid 2009 I joined the company to lead SolarEdge's business activity."
And then 10 years later, you find yourself taking over as CEO. How did you feel about it?
"Some people at the company compared it to Tim Cook and Steve Jobs. Comparing Guy to Jobs may be apt, but comparing me to Cook is an exaggeration."
Lando is carrying on Sella's path, but is also doing some things differently. For example "Guy was amazing at mechanics. Among his list of many attributes, he was a gifted mechanic and planner. We have excellent mechanics on the team, but it was customary for Guy to make the decisions when it comes to mechanics. To this day, when the mechanical team presents a new product and they are unsure on which screw to use, things go silent and everyone looks at me. And I tell them 'guys, the days in which the CEO determines which screw to use are over'."
Did you ever think you would replace him?
"I never coveted his position in any way. I was just planning to be part of a team that builds a substantial Israeli company."
When Elon Musk Messes With Your Stock Price
The renewable energy market has been scorching in recent years, alongside the increase in awareness about the gravity of the climate crisis and its catastrophic repercussions. The advance of technological developments that increased efficiency, and lowered the cost of solar panels and energy storage facilities, have also accelerated activities in the field. The election of Joe Biden to the presidency and the incentives he promised to expedite the shift to renewable energy, have contributed to the revolution too. But the industry is still subject to turbulence, sometimes coming from unexpected forces. One of those forces, who in recent weeks has also shaken up Wall Street, is Elon Musk. A month ago the founder of Tesla announced that his electric car company would replace the inverters that it currently purchases from SolarEdge with its own, causing the Israeli company's stock price to dive by nearly 16% in one day.
How does it feel to lose $3 billion in enterprise value in a single day?
"Tesla has been our client for more than a decade, and as a result of this decision, it will gradually reduce its purchases from us. For our part, we will attempt to show it that our products are good and that it is in Tesla's interest to continue purchasing them. Tesla remains a respectable client, but these days it is less substantial in terms of revenues."
The investors seemed to be spooked by the announcement.
"That's because the name Tesla carries a lot of weight, and it is indeed a significant event, but the impact is not that huge. It is only one of 50 concerns that keep me up at night."
Your stock is currently trading for more than $300 a share. Those kinds of figures strengthen the claim that renewable energy companies' valuations on Wall Street are bloated and that it's all a giant bubble.
"We were told similar things when our stock was worth $200 and $250 too. We don't think in terms of raising the stock value, only of raising the company's value, which means more sales, more profits, and more growth.
"A decade ago when we were looking for companies with a large solar market to operate in there were only 10, now there are 15 or 20. The basic market trends show an increase in solar energy and electric vehicles. These trends are rapidly advancing and irreversible. Quite a few countries are dedicating resources to these fields as part of their post-pandemic exit mechanisms. Sure administrations have an impact, but the basic trends are driven by life itself."
Lando (56) was born to a religious family, but now lives a secular lifestyle. He attended a religious high school and was active in a religious youth movement, which is how he met his wife, who is a psychologist. He was injured in a jeep accident while serving in the Israeli military and later served as an intelligence officer. He adopted his Israeli nationality when he was five years old, after his family immigrated from New Jersey, and to this day it is an integral part of the company's business activity which he insists will not seep out of Israel.
SolarEdge is only traded in the U.S., most of your production is carried out overseas, what is it that makes the company Israeli?
"All of our corporate management sits here in Israel, nearly all of our development takes place here and we currently also have a production line here. But from the start we had the far greater international market in our sights. I'm glad that the Israeli market has woken up to solar energy and it is nice to be playing in our 'home court,' competing for projects here, however our local activity makes up only a fraction of our total activity. We are a green technology company that was born in Israel, but has a global orientation."
Teva Pharmaceuticals also started out that way, but is currently very un-Israeli.
"We have no plans of going down that path. We haven't relocated any Israeli employees. Our U.S. manager is an American, the manager in Germany is German, the manager in Australia is an Australian, and the manager in India is an Indian. Though nowadays they seem more Israeli than I do. They often use the Hebrew words of encouragement 'Yalla,' and 'Kadima,' So much so that our U.S. manager calls me up and says 'Zivi, I want to make a Kombina' (Hebrew for deal). They've gone through a process of Israelification. Moreover, all the Israeli founders are still involved in the company in a sort of harmony that is rare for a successful 15-year-old company. Guy would always say 'prediction is always a complicated thing, especially when it comes to the future,' in that vein, I can assert that our intention is to remain Israeli, but I am not in the business of making promises and guarantees."
What is the financial reasoning behind the decision, after 15 years, to open a $50 million production facility in Israel at a time that nearly all companies prefer to shift to cheaper production in the east?
"Expanding production in Israel is indeed a slightly unusual decision, but beyond the patriotic motivation, it is important for the development of new products. We opened the Israeli plant to take advantage of the proximity to the development team. We want to design the manufacturing processes here, create the prototypes for new products, which can then be easily duplicated by our subcontractors around the world. On the surface it seems like any other large electronics plant, but what's unique about it is its level of automation. That is the way to cope with the high labor costs here, which are 10 times higher than what it costs us in Vietnam. Automation also upholds the quality of the product, which is meant to last for 25 years, otherwise repair costs are huge."
Growing courtesy of the Koreans, Italians, and Biden
Over the past two years SolarEdge has carried out three acquisitions that underline its intentions to expand into new fields. In 2018, it acquired Jerusalem-based Gamatronic, a 40-year old uninterrupted power supply systems (UPS) manufacturer for $41 million. Later the same year, it acquired Korean-based Lithium-ion battery manufacturer Kokam for $88 million, and in January 2019, it acquired Italian integrated powertrain technology company SMRE for $77 million.
These acquisitions indicate expansion into new fields. Is that because you've exhausted the core market?
"We are the global leaders in inverters for private homes, and one of the leaders in commercial rooftop installations, but at the moment we are not a major player in the market of large ground-based solar fields, so we still have a lot of room to grow in our core market. But the acquisitions also granted us entrance into the electric powertrain and energy storage sectors, both of which are fields where we identify significant growth potential. All of these systems have to do with energy conversion, whether it's of electric vehicles, solar batteries or UPS networks. They all relate to the technological capabilities that we've been developing for the past 15 years."
So what does your vision actually entail?
"Imagine a neighborhood in which many of the houses operate as power plants. It's easiest to imagine it in the residential sector, because the seeds of it already exist. Our individual homes will function as 'prosumers' (both producers and consumers). They will produce their own power, their devices will be planned in a way that fully maximizes the energy of the sun, and their inner systems will be smart and based on economic considerations, meaning they will be able to sell surplus energy they produce to others. It's a vision that can already be imagined.
"In all the futuristic movies we see these white devices that speak to their owners. We once made an internal company video on that theme, in which Amazon's Alexa wakes you up in the morning saying 'the water is at the precise temperature you requested and we saved a thousand trees from being chopped down — go take a shower.' That might be on the extreme end of the vision, but it will be difficult to stop."
How do electric vehicles fit in with the vision?
"Electric vehicles will require charging, and in certain conditions it can also provide power to the house. Maybe you'll charge your car at work and it will function as a backup battery for your home. It will store energy after all, and that energy can be converted."
You can use the energy in vehicles to power homes?
"Absolutely. The battery that we manufactured and which is charged by solar energy, is the same one they install in electric vehicles. You can both charge and discharge it. We will provide the inverter and the battery. The inverter is at the core of our technology."
Will the Administration change in the White House aid in things developing in that direction?
"There is a government initiative up for debate on reducing taxes on the use of renewable energy in battery storage. It hasn't been approved yet, but it may expand the market. Nowadays, 10% of private homes have a battery. If that grows to 30% or 40% it would be huge for us."