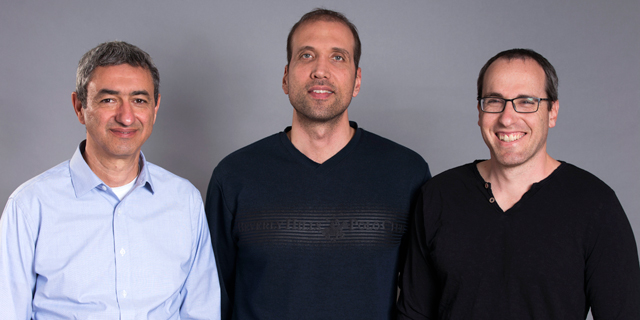 Pliops completes $65 million investment round led by KDT and Nvidia
The Israeli company aims to improve data center efficiency with its soon to be launched storage processor
Meir Orbach
|
17:00 24.02.2021
Very few Israeli startups can boast that the world's leading technology companies invest in them and even fight over the chance to do so. One such company is cloud storage startup Pliops Ltd., which announced on Wednesday that it had completed a $65 million financing round led by Koch Disruptive Technologies, the tech investment arm of U.S. giant Koch Industries, and with chipmaking giant Nvidia increasing its shares. Other participants in what Pliops described as an oversubscribed funding round included State of Mind Ventures (SOMV), Viola Ventures, Intel Capital, Softbank Ventures Asia, Expon Capital, Western Digital, Xilinx, and Sweetwood Ventures. A small portion of the capital was used to purchase shares from a previous backer. This is Pliops's second financing round, bringing its total capital raised since its founding in 2017 to $115 million.
joined Pliops' board of directors
. Mellanox invested in Pliops in 2019 and the new investment by Nvidia effectively increases its holdings.
"We have a substantial collaboration with them," Pliops founder and CEO Uri Beitler said of Nvidia. "We rejected offers from companies just as large as Nvidia and from major VC funds. The problem of data and access to it is a major one. There is a huge gap in what computing capabilities can provide and processors constitute a significant bottleneck. The market is in need of disruptive technologies to overcome these issues and solutions such as ours, which do disrupt things are seen as strategic for companies in the field."
"Companies that produce breakthrough technologies are in high demand. KDT, which led the round is seeking to build large companies. We haven't reached unicorn status yet, but we are sure to in the next round, which may also be an IPO. We have received and declined acquisition offers. We see other companies going public and growing to become substantial. We are aiming as high as possible," Beitler added.
The global chip and storage industries are currently experiencing a period of rapid acceleration and demand at a pace that the industry is barely able to meet. The Israeli company developed a storage processor that is at the core of one of the hottest industries around, the data center industry, which is currently dominated by giant tech companies like Google and Amazon.
The unrelenting demand for advanced storage and management capabilities and fast and cost-effective processing leaves the data center providers to seek out the most advanced technologies, which is where they encounter the Israeli company, which was founded by three industry veterans: Beitler, who serves as CEO and in the past led Samsung's research and development activity in Israel in the field of flash memory; Moshe Twitto (CTO) who used to be the chief scientist at Samsung's Israel development center, and Aryeh Mergi (chairman), who was among the founders of M-systems, ActivePath, and ExtremIO.
"The volume of data around the world is vast and we know how to provide rapid and continuous access to data that is stored on the cloud and in private data centers. The immediate market for our processor is a $10 billion market," Beitler told Calcalist. "We will be launching the first generation of our product in April and are already in talks with initial clients. We divide our clients into three groups: the major cloud players, giant companies that store their own data, like Apple, and Fortune 500 corporations. We already have initial agreements with such companies. The smaller deals are worth millions of dollars."
Pliops employs 70 people in offices in Ramat Gan and San Jose, with additional offices around the globe set to be opened this year. The company said it aims to double its size by the end of 2021.
"The cost of developing and manufacturing processors are substantial and we are expecting sales in the tens of millions of dollars over the upcoming years. The new capital is enough to take us to the next level. We have money left over from the previous rounds. We produce both the chip and the PCIe card that it sits on. The chip is made in the East and the card is assembled in Israel," Breitler said.
"Pliops is effectively reinventing the approach to one of the most critical, data-intensive challenges in a very large, expanding market," said KDT Managing Director Eli Groner. "The Pliops technology has broad applicability to not only today's workloads, but the emerging workloads of tomorrow."
"Pliops technology accelerates the fastest growing workloads that are driving demand for increased compute and storage performance in data centers," noted Nimrod Gindi, senior vice president of investments at Nvidia. "Combining Nvidia data center GPU and DPU product lines with Pliops' storage processor for accelerated cloud and machine learning solutions will provide exceptional performance and efficiency for our customers."