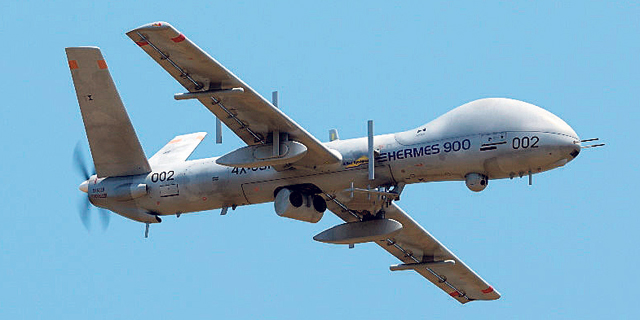 Elbit Systems scores major deal to sell Hermes 900 UAVs to East-Asian country
Elbit beat out Israeli rival IAI, which will reportedly have to settle for a smaller order from the Indian air force
Udi Etsion
|
10:58, 01.03.21
Israeli defense contractor Elbit Systems Ltd. has beaten out Israel Aerospace Industries (IAI) to win a lucrative tender to supply an unnamed East-Asian country with unmanned Aerial Vehicles. Calcalist has learned that Elbit will provide the country with dozens of Hermes 900 AUVs in a deal valued at roughly $300 million.
The purchasing country's air force already operates the smaller Hermes 450 aircraft and is seeking to expand on its reconnaissance and surveillance capabilities. The Hermes 900, which is capable of 30 hours of continuous flight and can carry payloads of up to 300 kilograms, can reportedly also be armed.
Elbit's Hermes 900 has already been sold to the air forces of Israel, Colombia, the Philippines, and Switzerland, in a deal that was delayed by three years due to difficulties in the development of a system that would enable the aircraft to fly in civilian air routes and changing out its engine with a heavier diesel-fueled one.
Despite the setback, the same version of the Hermes 900 that was sold to the Swiss for $250 million was recently acquired by Canada to carry out forest fire monitoring missions. In addition, the European Union's Maritime Safety Agency recently signed a 50 million Euro contract with Elbit and IAI for thousands of reconnaissance hours that the two companies will carry out for it. The contract is set to last for two years with an option for extending it, showcasing a new trend in which payment is provided for services instead of purchasing the aircraft outright.
IAI, which had hoped to sell the undisclosed country its Heron UAVs, will have to settle for a more modest order of four aircraft by the Indian air force, in a deal that foreign news outlets reported was worth several millions of dollars. "The company will issue an announcement once all the details of the deal are completed," Elbit commented on the report