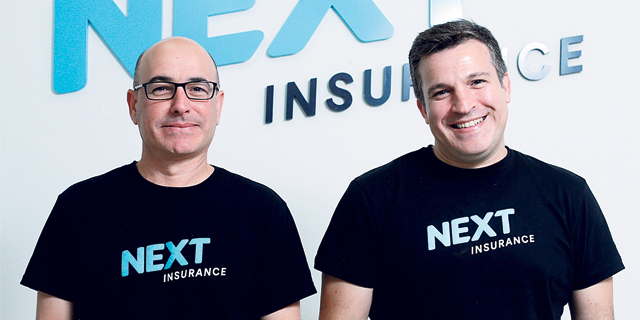 Next Insurance to acquire AP Intego in a potential $500 million deal
The Israeli-founded company will increase its SMB customer base to 200,000 and employee headcount to 550
Sophie Shulman
|
17:43 03.03.2021
Israeli insurtech company Next Insurance appears to be on a shopping spree. Just three months after acquiring Juniper Labs, the Israeli unicorn announced on Wednesday that it has signed a definitive agreement to acquire U.S.-based digital insurance agency AP Intego. This is a more significant deal as the acquired company boasts earnings of $200 million, on an equal footing to those of Next Insurance itself, meaning that following the merger, the Israeli startup will reach annual revenues of $400 million. In order to finance the deal, which is estimated to reach $500 million, Next Insurance is in the process of raising $250 million
as reported by Calcalist
last month. The company raised a similar amount just five months ago. According to market estimates, the new funding round is being conducted at an enterprise value of $4 billion, double its valuation last September.
The September funding round was led by CapitalG, the independent growth fund of Google's parent company Alphabet Inc., which invested $100 million and with participation by FinTLV, Israel's Bank Hapoalim, Psagot Investment House, Japan's MS&AD Insurance Group Holdings Inc., and existing investors German insurance company Munich Re Group and Group 11. Israeli insurer Migdal Insurance and Financial Holdings Ltd. invested $10 million in the round.
Next currently has upwards of $500 million of cash in its coffers having raised a total of $631 million since its founding. According to some market estimates, the new round may grow to $500 million. The acquisition of AP Intego brings Next Insurance's small business customers to over 200,000. The company's headcount is set to increase to more than 550 employees after AP Intego's 160 team members are brought in. Next Insurance's development center is In the central Israeli city of Kfar Saba, with the company's headquarters located in Palo Alto.
Next Insurance was founded in 2016 by Israeli entrepreneurs Guy Goldstein, Nissim Tapiro, and Alon Huri. Goldstein was among the co-founders of fintech startup Check Inc., which was acquired by software giant Intuit Inc. in 2014 for $360 million. Huri and Tapiro were both top executives at the company.
AP Intego, like Next Insurance, is a digital insurance agency that works with small and medium-sized businesses. Following the Merger, Next insurance will leverage AP Intego's distribution platform and its U.S. connections to increase its sales and streamline how small businesses shop for, purchase, and pay for products that help insure their livelihoods, their employees, and their assets.
"At Next Insurance, we're modernizing a centuries-old industry to better provide small business owners with convenience, value, and choice," Goldstein Next Insurance's co-founder and CEO said in a statement. "This acquisition marks an industry-defining milestone in our efforts to build a market-leading one-stop-shop for small business insurance. The combination of AP Intego's experience in insurance product distribution through partners and pay-as-you-go infrastructure combined with our approach to digital customized coverage will provide more customers with seamless access to innovative insurance products."
"This is a powerful combination and we are excited to become part of the Next Insurance team—a perfect match that accelerates our market leading embedded insurance offering through small business software providers," said Steven Hauck, Co-Managing Director at AP Intego. "Adding Next Insurance to our platform enhances the overall value proposition we are delivering our partners and their customers and allows us to truly innovate within small business insurance. In order to keep up with our partners' insatiable appetite for a superb customer experience, Next Insurance provides us digital product flexibility for the benefit of both our partners and their customers."