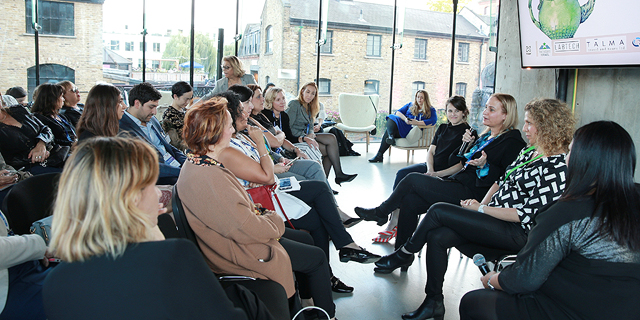 How do you bring female intuition to artificial intelligence and why will working from home set women back decades?
CTech Daily Rounup: The inflation of unicorns is not all bad for the Israeli economy
The inflation of unicorns is not all bad for the Israeli economy. Capital invested is far more significant than lofty valuations. The new millionaires will reignite the economy, but also widen socio-economic gaps.
Read more
Interview | The American company helping Israeli startups scale-up to the next level. Aerospike boosts the performances of the databases of Israeli tech giants such as AppsFlyer, IronSource, and Playtika, and is now eyeing the next generation of local startups. Read more
Last chance for early-stage startups to apply to SigmaFintech course. The course is organized by Sarona Partners, SigmaLabs, and Max. Read more
Amnon Shashua's Digital Bank initiates operations in pilot mode. The program will be expanded during the third quarter of 2021, and be available to the general public by the end of the year. Read more
SaNOtize to seek emergency approval for its Covid-19-fighting nasal spray. The drugmaker has completed a Phase 2 clinical trial in the UK, Israeli CEO says treatment can help vaccines defeat the pandemic. Read more
Interview | The startup that began in a bus ride is revolutionizing the debugging industry. Lightrun's technology is used to improve companies' development ecosystem and allows programmers to gather data on live applications and debug the code in real time.
Read more
Employer Branding | How did EX.CO reinvent itself during Covid-19? EX.CO thought it would be hard enough to attract top talent after a rebrand. Then came the pandemic, too. Read more
Interview | Bringing female intuition to artificial intelligence. Intel-Israel and Supersonas have gathered a large amount of data and advice from leading Israeli women to build the first female-intuitive artificial intelligence system. Read more
Interview | Working from home will set women back decades, says Amdocs CFO. "At Amdocs, I'm no longer the only woman in the room," said Tamar Rapaport-Dagim, but predicts that working remotely during the pandemic will harm women in the long run. Read more
NFT sells for $69 million ushering in a new era of art history. From a gif of a flying cat to massive auction bids on Christie's, art on the blockchain is changing the meaning of ownership. Read more
HR Post Covid | Ermetic: "In the post-pandemic world, geography will be less critical for sales." Cybersecurity company Ermetic is growing its team in a world of social distancing, making location largely irrelevant. Read more
Amsalem Tours Group launches ABT Cellular, an eSIM solution for overseas travelers. The eSIM technology can be uploaded through a QR code and function in 200 countries around the world. Read more