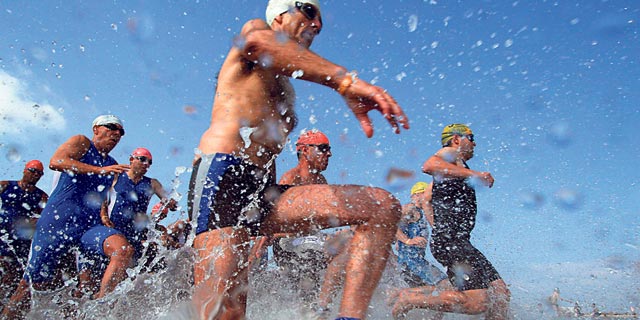 What I learned from sports and how it helped me as a tech entrepreneur
Israeli tech entrepreneurs Adi Zamir, Gal Rimon, Ilan Peleg and Marc Gaffan discuss lessons from their days as athletes and call on the government and authorities to invest more in youth sports
Ouriel Daskal
|
23:23 15.03.2021
Marc Gaffan has founded several startups and has got two exits of tens of millions of dollars to his name, but says he learned more about life during an under-12 tennis tournament. Ilan Peleg, CEO of Lightrun, was a member of the Israel national team as an 800-meter runner, and he is now seeking employees with the same attitude towards work as the Kenyan runners with who he once trained. Gal Rimon, CEO of Centrical, works with companies the likes of Microsoft, Adobe and Unilever thanks to the lessons he learned as a member of the Israel national volleyball team. Adi Zamir, founder of biotech company Pink of View, still remembers what it was like to have her fingers on the starting by line, waiting for the race to begin, and knows how it helped her excel as an entrepreneur. Zamir, Rimon, Peleg and Gaffan spoke to Calcalist about the lessons they learned from their days as athletes and called on the government and authorities to invest more in youth sports. Marc Gaffan - CEO of Hysolate, former tennis player Marc Gaffan was among the country's best youth tennis players before deciding to retire in order to enlist with the IDF's Golani Brigade. He is currently the CEO of cybersecurity startup Hysolate which has raised $35 million and is working on another round of funding. He was the Director of Product at Cyota, the startup co-founded by parliament member Naftali Bennett that was sold in 2005 to RSA Security for $145 million. Gaffan would go on to found and serve as the CEO of Incapsula, acquired by Imperva in 2015. 1. It's all in your head "In one of the first tournaments I participated in, when I was 12, I competed against someone who was bigger than me and who was such a favorite that they had essentially already put his name on the cup. But in the final I managed to somehow play at my very best and I won. For the first time, I beat someone I wasn't supposed to defeat. I think this was one of the most important moments in my development as a person. I remember telling myself after that win that there is no barrier that I can't overcome. A few years later, I was playing in a series of events abroad and I was terrible and only when the coach told me 'why don't you feel even more sorry for yourself' did I understand that I needed to lift my head, say 'fuck it' and show myself what I'm worth. Ultimately, it is all in your head."
2. The small wins are important
"You need small wins. When you are struggling in tennis you need to go back to the basics and create small wins for yourself on the court. It is the same in life. You need these small wins during the day to give you the confidence you need and give you a boost to help you rise about the everyday muck. It is more important than people tend to think." 3. You can give up, but you mustn't give up because things get tough "In work interviews, I don't necessarily look for athletes, but I am looking for an aspiration for excellence that every athlete has and I'm looking for overachievers. And most importantly, I'm looking for someone who doesn't give up because the going gets tough. You can give up. There are points at which you should stop and walk away. But not because it is difficult." 4. We must invest more in sports studies "There are seven hours of physics studies and seven hours of math studies and there should also be seven hours of sports studies. My family relocated to the U.S. on several occasions and children there have 4-5 hours a week of sports in their school curriculum. They learn about different sports and that is how you build a healthier sports and leisure culture."
Ilan Peleg - CEO of Lightrun, a former runner
Ilan Peleg is the co-founder and CEO of startup Lightrun. He sold the first company that he founded at the age of 21. He was an 800-meter runner before entering the tech world, winning the Israeli national championship on four occasions and twice reaching the semifinals at the European Championships. 1. A sense of mission in whatever you do "I was born in Georgia and at the age of 15 I was already part of the Israeli national team and represented the country in an event for Soviet Union expats. There were representatives from 45 different countries competing at the Olympic stadium in Moscow and for the first time I felt a sense of mission and great pride. This is a sensation that I try to take with me in everything I do."
Gal Rimon - CEO of Centrical, volleyball player
Gal Rimon is the co-founder and CEO of Centrical and was a former member of the Israel national volleyball team. Centrical's employee-centric success platform helps companies motivate employees to exceed their own KPIs by blending advanced gamification with personalized microlearning and real-time employee performance management as well as adaptive coaching tools, and well-being strategies. Rimon sees sports as an important tool in the development of his career. 1. A lesson in modesty "I was the best player in my year at school. As soon as we were introduced to volleyball I excelled at it. I was captain of the school team and then of the regional team and we won regional competitions. But then something happened which I wasn't ready for. I was accepted to Israel's national youth team and I quickly understood that I was the worst player on the team. I was the smallest and weakest. They had been practicing since they were six-years-old while I started at 12. It was a tough experience. I started practicing and putting in more work. At the next training camp I still wasn't the best player, but I also wasn't the worst. That is my strongest memory from sports and I take that with me everywhere."
4. Sport is the muscle core of life
"During Covid-19 we are seeing a rise in alcohol abuse and depression. We have added as part of our product in the work-life balance section the option of hearing the employee's thoughts. We ask questions like: How much did you train this week? Did you drink water? Did you go out in the sun? Did you talk to anybody? All very basic questions. We then go on to ask regarding the level of strain they are under and how happy they are, questions that will help to clarify the mental state of each employee. Sport is part of a healthy and balanced lifestyle. Sport is like the muscle core of our education. Sport builds layers of character, creates partnerships and teamwork and more. To me, this is the core. Math, English and sport, that is what should be important in the education system."
Adi Zamir - Founder Pink of View, sprinter
Adi Zamir is the founder of biotech company Pink of View, an AI startup that is developing a solution to help identify breast cancer. Zamir is the aMoon VC fund - Roche Partnership Leader at Roche and specialized in hurdles races when she was younger. 1. Memories that will last forever "I was a fan of Florence Griffith Joyner, the nails, the hair, everything. My most vivid memory from that time was looking at my fingers on the starting line a moment before the race began and all the thoughts that were going through my head, the looks on the faces of my rivals and the final breaths before the start...those are things that will stay with me forever."