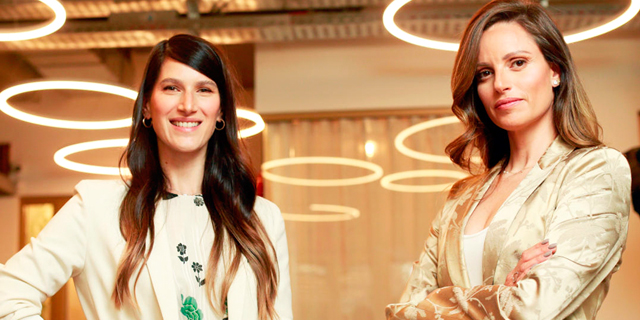 Interview
"One investor told us: you look like nice girls, you should go do something else"
After their VC fund iAngels marked two dream exits in a week, Mor Assia and Shelly Hod-Moyal discuss the secret to managing a successful firm while maintaining a work-life balance
Sophie Shulman
|
12:56, 28.03.21
This article first appeared on March 28, 2021 and is being republished as part of CTech's Top 10 stories of 2021.
The meeting with Mor Assia and Shelly Hod-Moyal was bookended by two scenes that don't typically take place in a venture capital firm's meeting rooms. It began as Assia (39) just finished pumping breastmilk for her newborn and fifth child, born three weeks ago, and ended when Hod-Moyal's babysitter brings her toddler and fourth child to the office right before they take off to go swimming.
Assia and Hod-Moyal jointly manage nine children from the ages of zero to ten, two husbands who are also CEOs -- Yoni Assia is the co-founder and CEO of eToro, while Kfir Moyal is the former founder of Matomy Media Group Ltd. and today serves as the CEO of BIScience. If they weren't overseeing $300 million at the iAngels firm they founded in 2014, they might seem like the perfect housewives who came out of a JCrew catalog, but they couldn't be further from that.
A little over a decade ago, they all returned to Israel, with Assia starting a position at Amdocs and Hod-Moyal working at Goldman Sachs' Israeli branch. Both wanted to found something together to couple Assia's technological experience with Hod-Moyal's financial expertise. The inspiration actually came from eToro. Why not examine what experienced angel investors were interested in and follow suit? eToro distinguishes itself from other trading platforms by offering a social component, enabling its users to mimic the investment portfolios of successful investors. "If we could go back then with what we now know, we probably wouldn't have done it," Assia said. "We weren't yet 30, and we didn't even know what we didn't know, but we were very determined and ambitious. Every day we would meet and think about what we would do that day."
"We entered the field of investment banking very naively," Hod-Moyal added. "We were sure that we would start a website, make a Facebook campaign, and that many people would rush to contact to hear about our investments with big angel investors."
And what happened in reality?
"We approached the angels and told them for every $100,000 you invest, we'll put down another $100,000. It seemed to us like a super-attractive offer."
Why did they even agree to meet with you? It seemed as if your first business model was to leverage your family ties and the connections you made in New York.
"It took a long time. Many people, most even, said 'no' to us," Hod-Moyal says, "we flew all over the world, we went from door to door for every $10,000. In the first round we raised $350,000."
Why did angel investors, such as Gigi Levi Weiss, who is one of the most successful in Israel and has invested in early stage startups like MyHeritage and SimilarWeb, even agree to meet with you?
"It's true that he met with us, but he also knows my husband Yoni. Gigi meets many people, he doesn't care about connections," Assia said.
iAngels' first business model was similar in essence to the of John Medved's OurCrowd, which is to not raise funds from financial institutions, but rather to allow a wider group of people to invest in technology, and organizes each investment around a type of newly formed fund. Only eligible customers, those who possess liquidated capital over NIS 8 million ($2.4 million) can invest. The minimum investment in iAngels was $10,000, but now the average is $60,000, and the fund has 20,000 customers.
The twist that differentiated them from what was available in the market back then, was the ability to mimic and match angel investors. But as the business grew, iAngels became a more standard venture capital fund. "Some of the founders whose companies we invested in and made exits became our clients, and now invest themselves. For others we are akin to a family office that manages their technology exposure," Assia clarified.
"Last year, we conducted eight new investments and another 20 repeat investments, of those 17 were up rounds," Assia added. Aside from the two big exits over the past week, the duo registered 15 exits on 100 portfolio companies with handsome positive returns, the most prominent of which was the secondary deal of cyber company BioCatch last April at a $1 billion valuation. Clear Genetics, which was sold for $50 million after a single funding round, was also one of their first investments. "The average lifespan of an investment at our fund is particularly short - less than three years - and following the eToro and Arbe deals we'll be able to return all the money we raised, with a lot more to spare," Hod-Moyal said.
"Nowadays we can't just mimic angels because we are investing $2 million in rounds, and not long ago we even issued someone a $10 million check. In these situations, we are already competing with angel investors," Hod-Moyal explains. "That's why we became a standard fund, and now lead rounds. Today, the concept of angels is less relevant because there are no longer rounds where companies raise $100,000 at a $1 million valuation. Today, companies' seed rounds start at $3 million."
So why don't you change the name of the fund?
"The name still rings true even if the meaning is slightly different," Hod-Moyal said. "Since investment rounds have grown to a degree that even those with $200,000-$300,000 find it difficult to participate, we enable even those who aren't billionaires to be angel investors."
What do you think is going on in the world of tech investments? It seems like it's going crazy.
"I don't think it will end," Hod-Moyal said, "of course the Nasdaq could correct and fall by 20%-25%, but we haven't reached the peak yet. The coronavirus (Covid-19) pandemic is receding, there is economic recovery, there is a new U.S. president who is going to pour $1.9 trillion into the U.S. economy and another few trillion around the world, and interest rates aren't expected to rise before 2024, so there's no better place to put that money than in technology. Today, investors are monetizing growth. And what the coronavirus showed is that software companies are much more secure and can be grown faster than other sectors."
"The pandemic will be a force for organizations and drive them toward efficiently implementing technologies, while on the other hand companies who supply them with the technologies are being pushed to create products at a much faster pace that can be easily sold and installed. Everything is now touch-free and that's wonderful news for Israeli software companies in particular," Assia added. "For the first time, we have companies, and not just eToro, who generate $100 million in revenues, sometimes even more. That's something that never existed before."
Companies are growing, and rapidly, but what about profit?
"Profitability is a decision," Assia determines, "when building a company with a 98% gross profit margin, every additional customer who joins improves the outlook." Hod-Moyal adds: "Today people raise money mainly to invest in marketing, and there are other ways aside from net profit to analyze the health of a company's business model."
There are companies that are doubling their valuations in mere months, what justifies such sharp jumps?
"Valuation is always derived from revenue multipliers. We have companies who jumped from zero to $20 million in terms of revenues, and that justifies their valuation's jump," Hod-Moyal said. "When we started our fund eight years ago, we spoke mainly about making million-dollar exits, it was a dreamlike goal. Today, our dreams are different. A company valued at $3-$5 million is stunning, but it's no longer a dream."
"Despite everything that is taking place around us, you shouldn't surmise that it's easy," notes Assia, "anyone who builds a billion-dollar company has an infinite amount of work and I've seen it from up close over the years. But, we do have founders who tell us that a $200 million exit is not worth getting up in the morning for and that the number needs to be tenfold. It's also interesting to see that the more experienced entrepreneurs are actually more humble in terms of valuations. They also better appreciate the money they get from investors."
"You don't need to move to the U.S. to succeed"
The ones who are pumping the frenzy even more are the SPACs, those empty investment companies who raised close to $100 billion since the beginning of the year, and a similar amount last year, and must identify companies with desirable technologies, and reel them in before the two-year deadline expires.
"SPACs would always come to life when the market was hot, but now the magnitude is completely different," Hod-Moyal says.
And how does that work behind the scenes?
"Good companies receive several SPAC merger offers, that's what's happened to most of our portfolio companies," says Assia. "We encourage them to field several offers, but valuation isn't the only parameter. It matters who raised the SPAC, the number of SPACs they have conducted before, and several other important factors."
A lot of money is flowing into Israel as a result of the sale of secondary shares. In the case of eToro, the founders, employees, and veteran shareholders made $300 million. In the case of IronSource it will be an unprecedented $1.5 billion. As to the question of how to close the socioeconomic gaps between two distinct economies that are developing, Assia and Hod-Moyal have an answer. "When I was a child, when one didn't know what they wanted to study in college, they'd pick law. Today, it's computers. It's a guaranteed career anywhere you go. That's why I think that more people need to pursue it to ensure their future. I really want my children to enter the field," Assia said. Hod-Moyal stressed her own line of work "I think that financial planning and investments are more important, and I'd also like to raise my children to be investors."
But whether they'll be investors or computer majors, the joint dream of Assia and Hod-Moyal, aside from making many more successful exits, is pretty straight forward. "Our big dream is to become one large family. By having more children that are of similar age, we're constantly increasing our chances," they joke.
And they want to do it all from Israel. "Especially now, after my husband raised $800 million for eToro while in his pajamas at home, we realized that we don't need to relocate to the U.S. to be successful," Assia concludes.