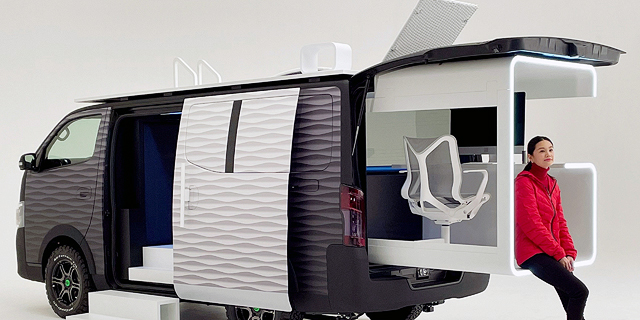 Automakers showcase pandemic-resistant innovation in Tokyo
Covid-19 has spurred automakers to add some surprisingly sophisticated gadgets and update older vehicle models, befitting the escape-like mentality
Tomer Hadar
|
20:15 29.03.2021
The Tokyo Auto Salon is the place where automakers go to go bananas. Compared to the straight-laced Frankfurt Automobile Exhibition or the elegant Paris Motor Show, where new models that are meant to become best-sellers are exhibited, Tokyo presents the models that won't go on sale to the public, those that encapsulate Japanese automakers' whimsy and innovation, meant to inspire. One of those trends on display is creative versions of existing car models: small cars that transform into 4 wheel drive beasts, flying cars, or vehicles that upon parking eject portable scooters. This year, the Tokyo exhibition, just like all the others, was held virtually due to the coronavirus (Covid-19) pandemic. The new models too began to reflect a new reality — gone are the days of unlimited funds and total freedom of mobility. Veteran automakers have taken a step back. It's not as if automakers began producing special vehicles for the pandemic period, but they did seemingly take on new characteristics, slightly reminiscent of the 1930s. Cars are no longer meant to simply take you from one place to another, rather they form a closed world, a portable bubble that provides momentary escape from a dismal reality.
Post-coronavirus vehicles
The pandemic's effect on the broader auto industry is more revolutionary than simply transforming a commercial vehicle into a remote office or cafe. A report by the McKinsey consulting firm from the end of 2020 analyzes the long term effects on the auto industry, and is based on several interesting assumptions that illustrate how the pandemic will affect car design. The first section looks at the equation calculating time vs. health: which types of vehicles will consumers use to both save time and ensure their health. That equation makes a crowded intercity bus ride, for example, cost prohibitive. A safe drive in a private car is thus 'cheaper' in comparison despite its much higher cost. For that to happen, cars will need to be much faster. Not in terms of breaking the speed limit, but rather in retaining the ability to drive smoothly and merge effectively with traffic, they must afford high connectivity, with reliable navigation systems that can predict traffic jams. Volkswagen, for example, revealed a few weeks ago its plans to present its electric cars, which in the auto industry are fondly termed "Tesla Killers" and plan to compete with Elon Musk's offerings. Volkswagen hasn't yet revealed the full details on its electric terminator, but it has emphasized that its new vehicle will have a very high level of connectivity. That fact isn't surprising and is also a heads up for the future: the coronavirus is also a wake-up call to the polluting auto industry which creates overcrowding and congestion on roads, something that over the past year, amid shutdowns, made the world realize that pollution and traffic aren't existential. Automakers will be required to make their offerings more suitable to demands that ensure that the positive sides of the pandemic - getting outdoors more, lesse pollution, and finding new uses for existing cars - will continue even after the pandemic itself passes.