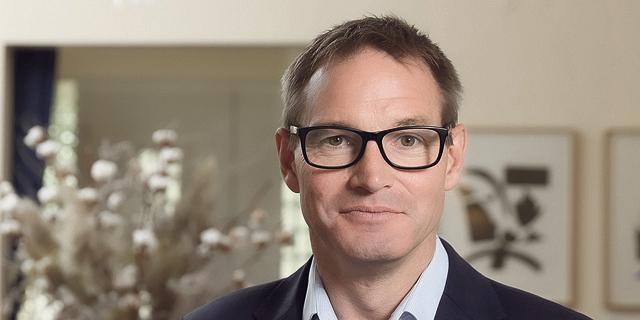 Interview
U.K. Ambassador to Israel: 80% of the embassy's activities involve economics
"Most of our time is devoted to technology," Neil Wigan tells Calcalist. He estimates that Brexit will improve trade between the two countries
Sophie Shulman
|
14:55 31.03.2021
"The last time I was here the embassy spent 80% of their time working on the peace process, and 20% doing everything else. Now, I probably spend 20% of my time on the Palestinian issue, and 80% on everything else. Aside from security issues, at least half of my job is about science, technology, innovation and cyber," Neil Wigan, who serves as the U.K. Ambassador to Israel told Calcalist in an exclusive interview. For Wigan, Israel isn't simply another appointment after serving as an ambassador to Somalia and the Democractic Republic of Congo, but rather a place he longed to return to since serving as Political Advisor at the British Embassy between 2002-2006. During that time, he met Yael, his future wife and mother of his two children. That fact helped Wigan and his family combat the loneliness when the embassy began working remotely during the coronavirus (Covid-19) pandemic. He began his current stint in 2019.
Since assuming your position, there hasn't really been a proper Israeli government. Has it affected your work?
"There always is a government, and the coronavirus has been much more disruptive than anything else. Usually we'd have far more government ministers traveling to and fro, and that has slowed down. Now things are opening up again, we expect things will resume. We haven't had any problems at the professional level, and one of our big priorities is the U.N. Climate Change Conference (COP26) in Glasgow at the end of this year in November. It will be one of the biggest diplomatic events in 2021, and we want to work with Israel on that."
"Brexit hasn't worsened our economic situation" The British government's plan to implement Brexit took a back seat to coronavirus, but still makes up a big part of the British Embassy's activity. Brexit created many doubts such as potential harm to trading conditions with the U.K., the weakening of London as a financial center, and the high level of uncertainty regarding economic activity in the country.
How has Brexit affected the British economy?
"Only two months have passed since then, and we aren't really drawing any conclusions yet, but I don't believe it has worsened the economic crisis. There have certainly been some short term disruptions in trade, but a new process is in place. In terms of the economic relationship with our partners, London is still by far the largest center of financial services in Europe. Our economy had become quite focused on trade with Europe, and I think now we'll try to do much more trade internationally, with the U.S. and East Asia, with countries like Japan, South Korea, etc. Israel is a really good example of a country where we think we could do more, because our economies match quite well. We both have big high tech centers, and have advanced manufacturing centers. Israel was one of the first countries that we signed an agreement with of how we would carry on trading after leaving the European Union." What did Brexit change for Israeli businesspeople? "I'm seeing more Israeli businesses that want to invest in Britain. Israelis have a lot of money to invest, and there are already 400 Israeli companies active in Britain, not just in real estate, also in technology too," He noted that 24 Israeli companies are listed on the London Stock Exchange. "We work with British companies, which are looking for the best technologies in Israel to make them more competitive. For example, National Westminster Bank, which is one of the largest U.K. banks, works along with an Israeli cybersecurity company which has saved them hundreds of millions of pounds in preventing fraud. BP has invested in Israeli StoreDot, which does smart energy storage solutions." Additional cooperation includes between British Dyson and Israeli Breezometer, Marks & Spencer and Site, and Asos and Namogoo. He also relayed that Israeli companies would find it far easier to expand to Britain instead of Silicon Valley, noting its closer proximity, shared language, and being a major European tech hub. "We have the U.K.-Israel Tech hub at the embassy that matches up Israeli companies with British customers and makes the market as efficient as possible, so British companies can access the best Israeli technology. Sometimes we work on translating Israeli business practices to British ones, and help navigate that. Every Israeli company wants to be a unicorn, and there are more unicorns in Britain than anywhere else in Europe." The hub also includes the UK-Israel Women Leading Innovation (WLI) initiative that was founded as part of the embassy in May 2020 to promote women in the tech industry in both countries. Due to the high rates of Covid vaccinations in Israel and the U.K., is there a plan to build a "green bridge" to allow travel between both countries? "I think the whole world needs to work out how it's going to be able to travel freely. We're just at the beginning of those discussions with Israel. We're also looking at how Israel issues its green passports, because Israel is a leader in these things. There's been a lot of cooperation between our health authorities and the Israeli ones." Vaccine "diplomacy" Wigan received the Pfizer vaccine in Israel, but "in the U.K. most citizens receive the AstraZeneca vaccine, because it was invented by British scientists at Oxford, and AstraZeneca is a British company. Logistically it's easier to manage than the Pfizer version, because it can be stored easier and is cheaper as well." So has Britain become a testing-lab for AstraZeneca vaccines, with the company collecting information on the public, much like Israel has been doing with Pfizer? "I don't think so. I am sure there is an exchange of information, but Israel is a special case since it decided that it would only use the Pfizer vaccines. While we mainly use AstraZeneca, we also use the Pfizer and Moderna ones. We're a population of 70 million people, which is too big to control for a cross sample."
Claiming potential side effects such as blood clot issues, European countries have temporarily ceased issuing those vaccines. Do you believe that Britain's AstraZeneca vaccination campaign has turned into a more politically-motivated crisis than a medical one?
"The evidence is very clear that the AstraZeneca vaccines are safe and effective. Our medical agency has approved it and the European medical agency has too, so we're very clear that it's safe and effective. I don't really know where all these stories come from," he laughed.
Is this connected in some way to the changing politics in the EU as a result of Brexit?
"It's a good question. I don't know. Now, there is the whole issue around controlling vaccines and vaccine exports, so some of this has become political."
A sort of vaccine "diplomacy?"
"Who would've thought?" Wigan laughed. "It's not in anybody's interest to scare populations and therefore slow down the vaccine campaign. It's dangerous at the individual level, but also at the national level, as it slows down the spread of herd immunity. We think it's in everyone's interest to have confidence, and the faster the vaccine rollout happens around the world - the better it is for everyone. It's a new process and it's been developed very quickly, so once nervousness spreads it can spread very quickly."
Has the Royal Family been vaccinated?
"That's a good question, and I don't know the answer," Wigan laughs, "my full title is 'Her Majesty's Ambassador' so I represent the Queen. But while I work for the Queen formally, day-to-day I work for the British government."