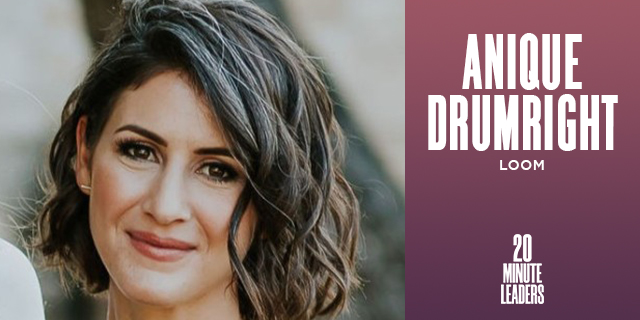 20-Minute Leaders
"In terms of great product management, I think it comes down to curiosity, leadership, and execution."
Michael Matias is joined by Loom's VP of product, Anique Drumright, who discusses how being a classroom teacher is similar to being a tech executive
You might not think being a classroom teacher would be similar to being a tech executive, but Anique Drumright, VP of product at Loom, says her time in Teach for America gave her a great foundation. The nonprofit trains leaders to place in high-need schools, and Drumright says she learned how to get people excited about goals, how to change course, and how to create a culture in her classroom. She took those lessons with her to Uber and TripActions before landing at Loom, which she was drawn to in part because of its ability to affect culture. Loom is a video messaging product that allows teams who aren't physically together to share feedback in a more human and genuine way. Drumright shares that company culture can become more efficient, effective, and lively using this form of communication, and she thinks it has huge potential for the future.
Click Here For More 20MinuteLeaders
You played rugby at Georgetown. How did that hint toward your life as VP of product?
I've been a big believer in team sports. I played more soccer in my lifetime than rugby. I went to college, and I wanted to pick up something new, so I found myself on the rugby team. It was super fun.
Rugby is the sport where everybody's piling on top of each other over this cone-shaped ball, right?
Yeah, it's huge in Australia and South Africa and pretty popular in Europe. After college, I really wanted to do something that mattered. I just thought Teach for America would be a great place to contribute. I had had the joys of a great public education system and obviously went to a really strong private university for college. I was lucky to be selected to be part of Teach for America.
What is Teach for America?
It is a nonprofit that takes high performing leaders directly out of university and places them into high-need school districts. It puts them through a distinct training, and then you work in high-need schools.
Looking at your journey, you study politics and government at Georgetown, then you go into Teach for America, and then you're going straight into high tech at Uber, TripActions, and now Loom.
A core belief of Teach for America is teaching is leadership. I didn't know at the time that learning about teaching and working at Teach for America was preparing me in many ways for what I do now. I learned: How do you get people excited to go after big goals? How do you break it down into medium goals? How do you build a culture? Those are some of the many things that product organizations do, and it's the same in the classroom. After Teach for America, I realized I wanted to challenge my brain in different ways. I got into Uber and navigated the company to get to the product side. The way that I found TripActions was I basically went through the process of who are seeds I believe in. I have to understand the problem; I want to be excited by the problem. I was the first product manager.
How many people were at TripActions?
When I joined, we were series A, 40 people. When I left, we were 1,200 valued at $4 billion. My team went from just me to about 27 split between Palo Alto and Amsterdam. It was a wild ride.
Why Amsterdam?
It was mostly that the operations team had set up there, and our CTO had gone out and met a team of pretty talented engineers there. Because TripActions is both a product and an operations company, there are good reasons for your tech team to be close with the support team or operations team, customer success team, sales team. There is a ton of empathy that's developed, so it was kind of a win all around.
You got to see the vision and strategy unfold along the way. What are some of the insights you gained there?
The first is as you begin to build a team, the people you bring in are so exciting. I think about some of the product managers that I hired, mentored, and learned from, and it's just so fun. The second piece from a product perspective that I learned in spades at TripActions is you should always be responding to the market. If you want to be winning, and if you want to be a true partner to your customers, you need to be both over delivering and also have a pulse on how things are changing.
How do you as VP of product have that pulse?
I think part of it is being pretty diligent about always being in front of customers. If I look at a week and I'm not in the field at least twice, I'll ping customer success and sales and say, "This a lonely week. I need to get out there."
What does that mean to get in front of the customer?
I push in on customer calls and sales calls, and if we're gonna lose a deal or if there's something at risk, I want to know it. It's my responsibility, but also there's so much learning to happen.
What are some of the most important things a product manager can take with them?
The first is curiosity. One of the mistakes is product managers being defensive of their product. The art of listening and balancing being empathetic and being genuinely curious while also taking ownership and taking responsibility for the product you developed: it's a balance that everyone's trying to constantly get better at. There's definitely times on calls where I didn't listen enough or I should have asked more open-ended questions.
In terms of great product management, I think it comes down to curiosity, leadership, and execution. I think that you need all three of those things.
What's the difference between open-ended and close-ended questions from a product management perspective?
It's asking, "Do you use X tool?" versus "Tell me about how you edit your videos." You're gonna get so much more information. You're gonna learn about their workflow, what their tech track is, and you want to know all of that. I think building that gut and that instinct is so important. One of my strongest product managers says we should be using different video services every week. Just constantly building our gut because I don't think you can be curious enough. What are other products that you're using daily and what makes you love them? Be conscious of them. Know what's going on in the actual market, the investor market, competitors, with your customers, sales, customer support team. Make sure you're getting in there. The third piece is learning from different types of products.
Tell me a little bit about what Loom is.
Loom is a video messaging product that essentially allows you to instantly create a video message and get a link generated and share it to other people. The reason why I joined is I had a tremendously difficult time giving design feedback to the team in Amsterdam at TripActions. I would sometimes sound overly harsh over Slack. Loom enabled me to create very quick feedback. The original form of communication was storytelling. Loom is an incredible product to put that storytelling, that human voice, that efficiency, that effectiveness in the forefront of how you work.
What about your role as VP of product? Is it exactly the same responsibilities you've had elsewhere?
The responsibility between TripActions and Loom feels pretty similar. The major difference is we have a design leader that runs the design organization. The responsibility is: What are we doing? Why are we doing it? Is it the right thing? What do our end users actually want? Then it's ultimately, are we delivering it?
What are some of your thoughts behind remote collaboration and what you've observed at Loom?
There are some similarities between TripActions and Loom in the sense that they're both B2B2C. The buyer may be a company, but ultimately both products rely on your end user loving it. Being very connected to the consumer is very important. It's incredible how much the Loom product has the potential to really elevate the culture of a distributed workforce. It makes your culture more effective and more efficient, but it also makes the culture more rich, more human, more lively.
What are three words you would use to describe yourself?
Gritty, loyal, and adventurous.
Michael Matias, Forbes 30 Under 30, is the author of Age is Only an Int: Lessons I Learned as a Young Entrepreneur. He studies Artificial Intelligence at Stanford University, while working as a software engineer at Hippo Insurance and as a Senior Associate at J-Ventures. Matias previously served as an officer in the 8200 unit. 20MinuteLeaders is a tech entrepreneurship interview series featuring one-on-one interviews with fascinating founders, innovators and thought leaders sharing their journeys and experiences.
Contributing editors: Michael Matias, Amanda Katz