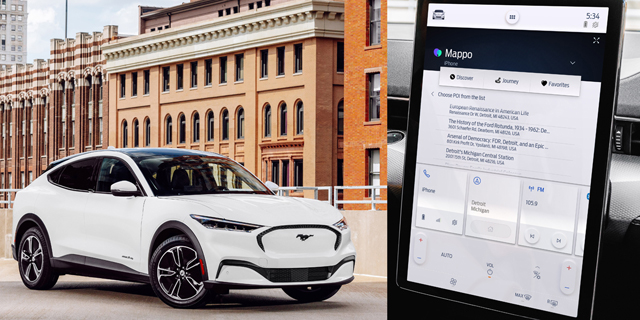 Ford partners with Israel's Mappo in-car app to make road travel more exciting
Ford is the first automaker to provide the app that offers cultural hotspots to travelers
Ford drivers who are looking to pass the time, whether on road trips or long rides, can rediscover old and new destinations with Mappo, an Israeli startup's new in-car app which will take travelers on adventures, both near and far. Drivers of Ford vehicles equipped with its SYNC 3 or 4 technology will be able to install in-car app Mappo to pass the time enjoyably, explore cities based on their interests and recommendations using advanced voice controls. Israeli startup Mappo's app will be available to users across North America, Europe, and Asia. The project was spearheaded by Ford's Israel research center that opened in 2019, and is its first collaboration with an Israeli startup.
"People love telling their friends about interesting places in books, movies, and music, and now they can share these passions with the world through Mappo," said Stuart Taylor, who serves as Global Director of Ford's Enterprise Connectivity division. "Mappo makes long drives or brief escapes richer experiences, whether people stay inside their vehicle or step out to experience a landmark."
The app uses innovative software that allows users to add interesting locations, and help travelers experience cultural, historical, and heritage sites through content that isn't simply shared or marked, rather includes interesting quotes, book clips, and trivia. By searching via an author, book, movies, music, or history, the app provides recommendations of famous sites that would interest users. Users can also add data for locations where there is none.
"Mappo developed a new way to consume culture-related content, in a way that is compatible with the most updated generation," said Deddi Zucker, Mappo founder and CEO. "Our vision is to create unique experiences at every destination."
"Through the strong presence of the Ford Research Center in Israel, we have been working with local companies and partners in Israel's tech community to advance innovations and push our research and engineering efforts forward," said Boaz Hartal, who serves as the technical director of the Ford Research Center in Israel.
Mappo is a Tel-Aviv-based startup that develops technology which extracts quotes and locations from texts and creates "layers" on maps. This technology selects only relevant and exciting quotes to share with people. The company was founded in 2016 by Deddi Zucker, who serves today as its CEO. Mappo began collaborating with the U.S.-automaker after winning the 2018 Ford 'MakeItDriveable' competition.