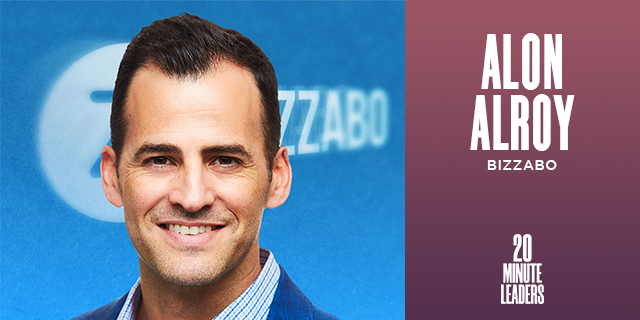 20-Minute Leaders
"We were very passionate about doing something related to connecting people at events."
Bizzabo's Alon Alroy joins Michael Matias on 20-Minute Leaders to advise entrepreneurs to stay agile, open minded, and optimistic when overcoming their own challenges
When COVID shut down in-person events in spring 2020, Alon Alroy and the rest of the leadership team at Bizzabo, an event management platform, had to execute a major pivot to be able to continue serving the market's needs. Within two weeks of the shutdown, they had decided to create a solution for virtual events, and soon after, they had their best month ever. Alroy attributes the fast pivot to having a strong company culture and values as well as the leadership's communication with and empathy toward employees who were also facing stress and challenges at home. He says there is much to learn about running great virtual events, but the need for connection for personal and business reasons is still strong. Alroy advises entrepreneurs to stay agile, open minded, and optimistic to overcome their own challenges.
Click Here For More 20MinuteLeaders
I bet the shutdown is more sad when you helped found an event management platform when there aren't too many events taking place. Like every good startup, Bizzabo has had our rollercoaster, and when that thing hit us (in March 2020), I looked at my co-founders and they were like, "How do we deal with that one, that it's not even legal to run events?" We took a decision very fast that people want to see each other. Events, at the end of the day, are an accelerator of business and of human connection, and if people do not have a way to meet in person, they're going to find the next best way, which is to meet almost in person over the virtual space. We decided within two weeks to launch a virtual event platform. Now we are six weeks in, and we've had the best month ever in terms of demand and sales. Business-wise, these are good times. What is an event success platform? What does that even mean? We handle professional events; we're talking about conferences, summits and so on. Events are very complicated; having said that, they are very meaningful for business. 24% of the marketing budget of an average B2B organization is being invested at events. We started with having a networking solution for events, but then we discovered that the needs are much, much bigger. We've built a holistic, all in one solution that is not just helping you to manage an event but is helping you to run a more successful event. In a single platform, we offer everything from creating the event website to promote the event, to selling tickets and managing the distribution, to providing a networking community for attendees and managing content, speakers, and sponsors. On top of that, there's a whole layer of data and insights that helps you take decisions that are based on data and help improve the impact of those events on the bottom line.
How do you adapt that to an online event?
For virtual events, the production cost is way lower, you do not need a venue, you do not need food, but they are complex and you need to be able to engage the audience. When you sit in a venue, you cannot really run away that easily. But in the virtual conference, the alternative is a click away. A real event in the virtual space needs to have all of the components of a successful in-person event: some serendipity to be able to meet new people, to have conversations, to be inspired by the content. The platform should enable you to do multitasking because that's a lost fight. There are many ingredients for running a successful virtual event, and we're all learning it as we go. In my virtual classroom experience, it's difficult to feel the urgency to be there in person when you have the recording two hours later. How do you tangibly create this value of networking and the serendipity? We're definitely not done, and I do not think we've cracked it. We're on the right track. We believe that events will be back because there's nothing like a face to face. I do think that what we see now and the market education around virtual events will cause the hybrid events category to rise. To have people actually join live by helping them connect with other people, that's the thing to crack. Where do you come from? How do you even get to Bizzabo? I met my two co-founders Boaz and Eran in IDC, which is a private university in Israel; we all got accepted to the Zell entrepreneurship program. The three of us had an amazing click, honestly, from day one. We were very passionate about doing something related to connecting people at events. We started in Tel Aviv, and I moved to New York when we were still 10 people without any product-market fit, without revenue, without anything. We started as a mobile networking app and kind of expanded to this event success platform after we started the markets. I have two amazing young kids, Noam and Dani, and I'm married to Tal. I was in the Air Force for many years, and I'm very passionate about amazing teamwork and being surrounded by very, very smart, capable people. Business-wise, challenges are making us stronger, and we believe that we have a team who is shining when it's difficult. How do you go and lead a team the day this thing hits when your company is directly affected by the executive order shutting down events? We were very, very lucky to have a very strong company culture and set of values that our people really believe in. When it hit, we had to really over-communicate and be very transparent on what our plans are and why we believe that there is a huge opportunity ahead of us if we move fast. We were able to rally the troops around us and be very agile. You need to be in front of your people on Zoom, to be very communicative, to really recognize and be empathetic to your people because everyone is going through difficult times. We had several people in the company who had COVID and recovered. That all happened while we were pivoting, so that made it even more interesting. Did you pivot the whole boat or did you take just the people that were sitting on deck and say, "I want you guys to work on this, and let's just see where this goes"? We did appoint a virtual task force, and they were in charge of really responding very fast to the market and constantly enabling and educating the rest of the team, so it was a very structured process. We met with our leadership team more often and with our board more often, and that enabled us to move faster. Give me a little bit of context as of January 2020, what is happening with Bizzabo? How many events are you doing? The first week of March when all the events were getting canceled, we opened our dashboards and saw that we had around 1,000 events planned on the platform in the next three months. We went from being in a very successful quarter with some of our biggest clients planned to all our customers canceling in a speedy period. That was challenging, as you could imagine, and obviously tons of uncertainty, a lot of stress among our employees.
Give me a piece of advice you would give to a rising entrepreneur. You went through possibly one of the hardest adversities that a startup can go through.
To stay agile, open minded. Rosh Gadol is key. Honestly, to stay cool and not give up. If you work for it, if you dare, I'm optimistic it will come. It's in your hands. I'd love to know three words that you would use to describe yourself. Family, optimism, and level headed, staying cool.
Contributing editors: Michael Matias, Amanda Katz